The Infidel
Written by David Baddiel, with music by Erran Baron Cohen
Theatre Royal Stratford East and Arvind Ethan David
Theatre Royal Stratford East
–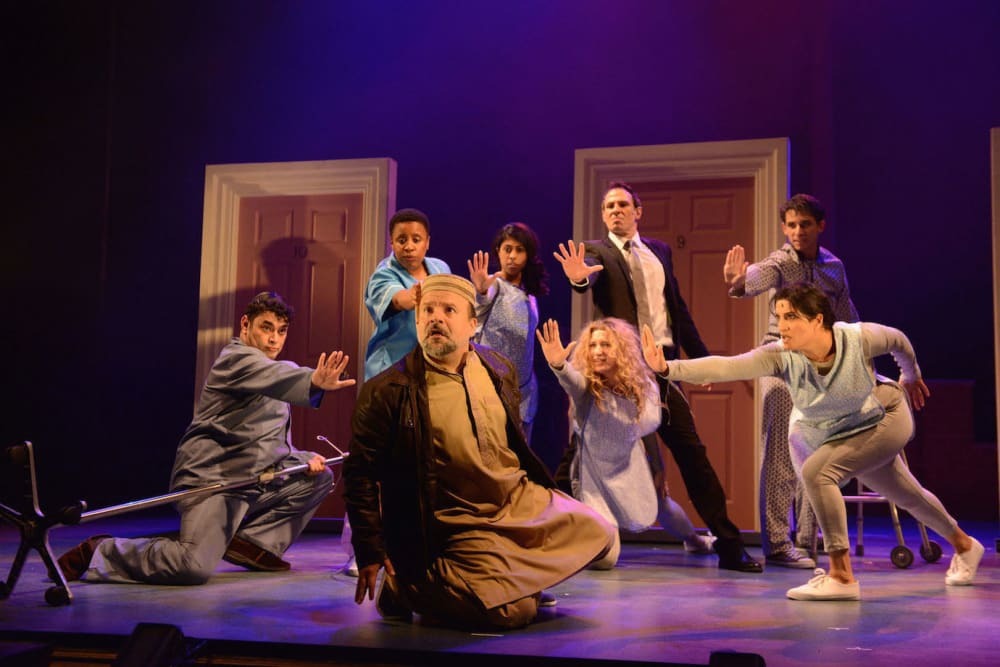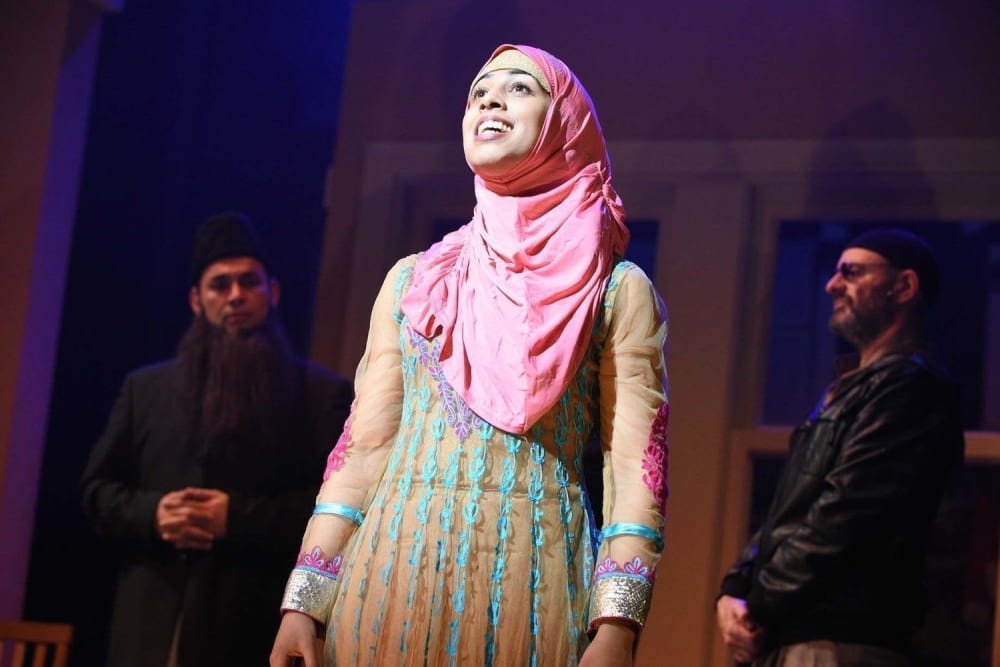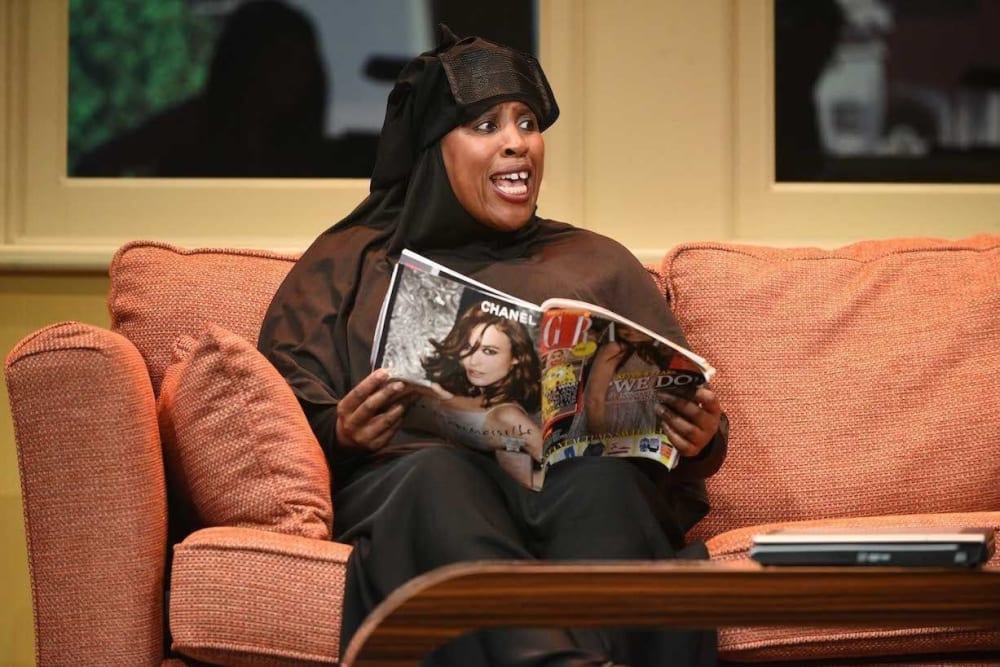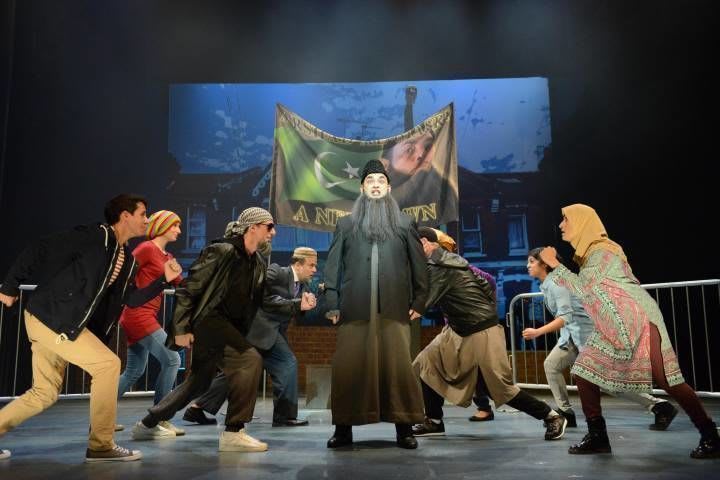 This isn't just another film to stage show. David Baddiel, who wrote the original film script, has rethought it in form as well as in medium.
The composer of the film music has turned his hand to song writing and the result is a broad stroke comedy buoyed along by lively music that runs through a whole range of popular song styles.
The story is that of London taxi driver Mahmud, a Muslim, who discovers that by birth he is Jewish. On the one hand, learning to behave like a Jew before being allowed to meet his birth dad, he is at the same time presenting himself more ardently Muslim to make himself acceptable to his sons fiancée's new stepfather.
It is fun-filled farce with serious undercurrents that satirises difficult subjects, but it is played with such warmth and obvious honestly that it just has to get away with it.
The staging is simple but stylish. Nick Barnes's design pushes doorways and furniture on stage in front of a suburban street scene to give multiple settings and a sofa turns into a taxi at the flick of a number plate. Liam Steel contributes sprightly choreography, including some slinky moves in a number that celebrates the sexual lure of a burqa and joint directors David Baddiel and Kerry Michael don't allow a dull moment. Not least there is an excellent band seen as dark shadows in front of the backcloth.
Kev Orkian is wonderful as Mahmud, a Muslim who doesn't live quite by the rulebook—though he carries out basic observances—who has to make himself acceptable to intolerant fundamentalist preacher Arshad. Alexander Andreou's Arshad, in his false-looking beard, is almost a pantomime baddie, an hilarious portrayal of extremism that makes Mahmud by contrast even more likeable—and the show's PC credential are firmly established in an opening number that presents a more realistic picture of peace-loving, tolerant Muslims.
Andrew Paul pairs Orkian as Jewish taxi driver Lenny who from reviled road rival becomes Mahmud's instructor in kosher culture. A Hampstead Garden Suburb bar mitzvah, packed with caricature pro-Israel Zionists, becomes the testing ground for how well he has learned from these lessons.
While the show pokes fun at extremism, including Steven Serlin's lively double of comic rabbi and imam (who thinks Mahmud's identity crisis is because he is gay), the main characters are given an endearing reality.
Mina Anwar is Mahmud's worried wife Saamiya, Gary Wood his lovelorn son Rahid and Siobhan his charming fiancée Ji-Ji (the name leads to a cleverly contrived personal problem). Melanie Marshall can be both serious and hilarious as burqaed friend Zadi and Melanie Masson pops up in a number of roles.
In fact everyone except the two taxi drivers doubles as dance-happy chorus, demonstrating Muslims or partying Jews. With numbers that include a song that compares the circumcised penis to Saint Paul's and a series of other monuments, you may guess that it is not an evening for subtlety, but the company look as though they are having fun and the audience certainly was, giving whoop-happy reception on press night.
Reviewer: Howard Loxton