The Insider

Teater Katapult
ZOO Southside
–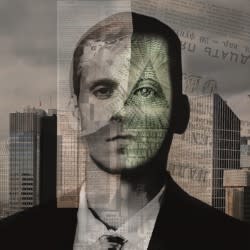 How does one turn complex mathematical and accounting law into a gripping and kinetic story? It's certainly a challenge worthy of any ambitious theatre company, and Teater Katapult has managed just this with The Insider.
It's a play exploring the depths of the Cum-Ex strategy, an illicit and complex scheme that saw over £50 billion illegally paid out to a complex network of lawyers and bankers, taking advantage of the labyrinthine bureaucracy surrounding share dividend rebates. Following a young lawyer as he is repeatedly interrogated, the story jumps around, depicting meetings, phone calls and holidays through a fractious and often deliberately obtuse barrage of sound, vision and physical movement.
Christoffer Hvidbjerg Rønje plays the lawyer, almost always bound within the construct of a large plexiglass cube in the centre stage, which acts as the various rooms and offices he moves through. Through projection and lighting changes, we learn the stages of how he was drawn into the scheme, helped recruit others, and how the complex crime actually takes place.
It's at times a staggering spectacle, as Rønje lopes and cringes or crawls, jumps and climbs around the set, sometimes appearing to move in slow motion or sped up impossibly. All the while, the binaural headsets the audience wear feed through distorted versions of his voice and lay over voices, arguing or conversing with him.
It's an honestly excellent piece of theatre, innovative, smartly executed and ingeniously devised. Despite that, the end does lack a little bit of punch, and the continued scenes of interrogation begin to grate almost as much for the audience as the lawyer as he is asked the same vague questions over and over. But despite this, it would be a crime to avoid a play that manages to create so specific and unique a vision.
Reviewer: Graeme Strachan