The Interpreter, Home
Hekate Papadaki
House of Orphans
New Century House, Manchester (24:7 Theatre Festival)
–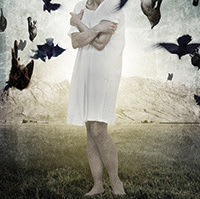 Papadaki's play for 24:7 takes us to the "Anfal" ("Spoils of War") in Iraq in 1988 in Iraq, a government-sponsored genocide of the Kurdish people, but it does so through the non-speaking character of Hevi in a psychiatric hospital in present day, nearly two decades after she escaped from Saddam's Iraq.
The interpreter of the title is Nalin, a student, who has been brought into the ward by consultant Dr Parry to speak to catatonic patient Hevi in Kurdish to try to get some response from her, as all she does is move furniture around. Nalin, inevitably, gets emotionally involved and is forced to come to terms with her relationship with her own family and with a country she left when she was one year old.
This is a tender and moving story that is well-told and leaves you with a tear in the eye; the ending is a bit of a cliffhanger, but it is moving in a direction that is, admittedly, predictable but works well.
There are a couple of little niggles. Some parts of the play consist of short scenes broken by long scene changes as though it was written more as a film than a play. Quicker, smoother transitions between scenes would have helped to improve the flow of the play. The other slightly clunky element is the character of Tracey, a fellow student who is really only there as a dramatic convenience to give Nalin a confidante through whom she can relate her feelings to the audience and so the character is poorly developed.
There are some great performances all round though, particularly from Jade Greyul as the central character of Nalin, Alice Brockway as Dr Parry and Hilly Barber as Hevi and the woman from the Kurdish café and great supporting performances from Steph Reynolds as Tracey, Laura Lindsay as Nurse Begg and Mete Dursun as Hevi's estranged son and also as a lovely character in the Kurdish café.
This is a very interesting piece that takes you on an emotional detective journey and also ties its story to the Kurdish culture and people and real events in recent history, both of which, perhaps, should be more widely known.
Reviewer: David Chadderton