The Invincibles
Amanda Whittington
Queens Theatre, Hornchurch
New Wolsey, Ipswich
–

Listing details and ticket info...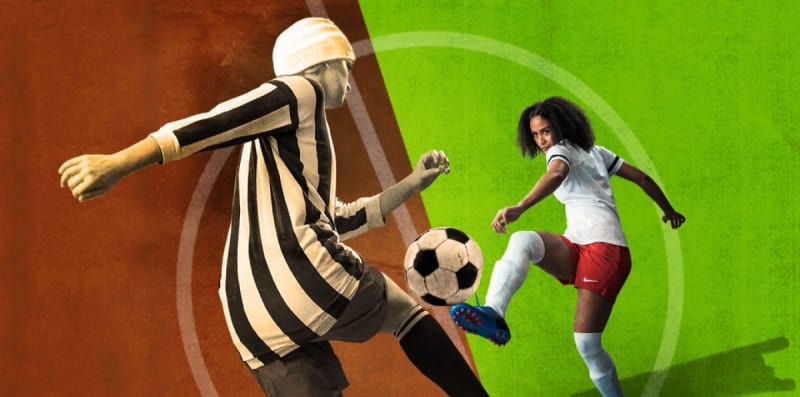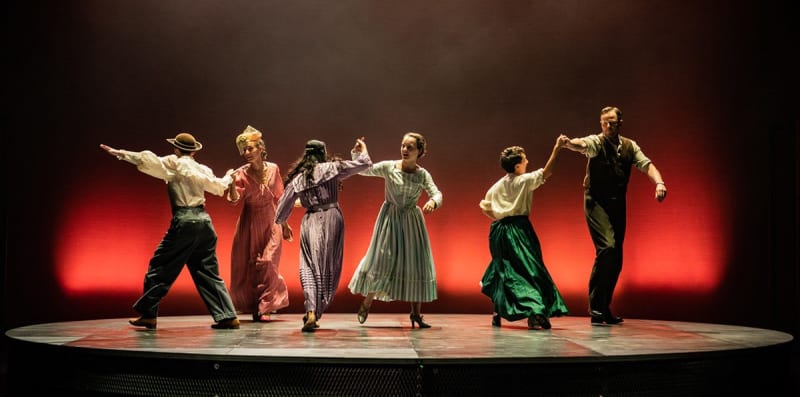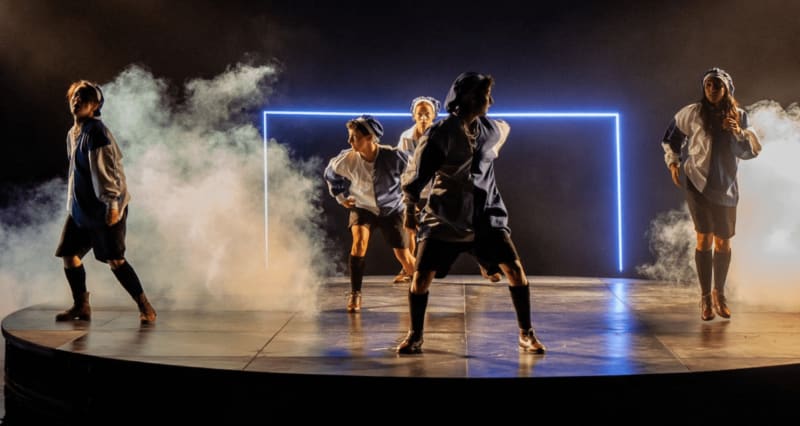 This year has seen a real resurgence in interest in women's football, culminating in the Lionesses' almost perfect World Cup run. But did you know that women were actually banned from playing professional football by the FA from 1921 until 1970?
This new play by Amanda Whittington juxtaposes England's 2023 World Cup story with that of a WWI women's team, Sterling Ladies, who played out of Dagenham, and in an unbeaten run came to be known as The Invincibles, but, in spite of their success, were forced to give it all up when the men came back from the trenches and life returned to some sort of prewar normality.
On a minimal set that features a turntable stage on which most of the action is played out, this production tells the story of this formidable bunch of factory girls who set about fulfilling their dream of playing football and in the process raise money for the troops fighting in Flanders fields. Their reasoning was they were working in men's jobs so why couldn't they play men's sport?
Meanwhile in London in 2023, young Maya—endearingly performed by Yanexi Enriquez—passionate about a game that injury has forced her to drop, defies her mother by avidly following the Lionesses' victories on her phone as they march towards the World Cup final and hoped-for glory, and she tries to decide what to do with the rest of her life.
The scenes cleverly interweave as we go on a journey with both Maya and the 1917 factory girls, a family of three sisters (and evacuee Nell) whose father James (the ever-versatile Steve Simmonds) is at first opposed to the idea of them playing the game he and his now soldier son Ernest so avidly supported, but eventually comes round.
The girls persuade their factory manager and ex-goalkeeper Cholly (Simon Darwin) to coach them, they borrow the Sterling men's away kit, discover there are other trades and firms which have also got women's teams ready to play and start out on a journey that takes them to the top of the football tree, only to discover that, however talented they are, they are forced to hang up their boots when "Tommy comes marching home".
Although it's always a little difficult to convincingly reflect such a physical games as football on stage, the cast work hard to bring the matches to life—the 1917/18 ones played out in mime to the background of commentary from the 2023 ones.
Georgia Bruce is particularly good as Ada—spiky, forthright, a bit of a tomboy and always the driving force. But the rest of the cast bring different aspects to each character and fill the stage with enthusiasm for 'the beautiful game' even as it's being snatched from their grasp.
The production is given a bit more pace and flavour of the period by the live singing of WWI songs between scenes accompanied by (usually Steve Simmonds) just one guitar to the side.
The costumes are excellent and reflect the period well.
The only downside was that some of the dialogue was difficult to make out at times due to some of the cast having a tendency to mumble or drop their voices when competing with the voice-over commentaries.
Other than that, this is an entertaining and informative production with lots of heart
Well worth seeing.
Reviewer: Suzanne Hawkes