The Iron Man
Ted Hughes in a version for the stage by Matthew Robins
Unicorn Theatre (The Weston)
–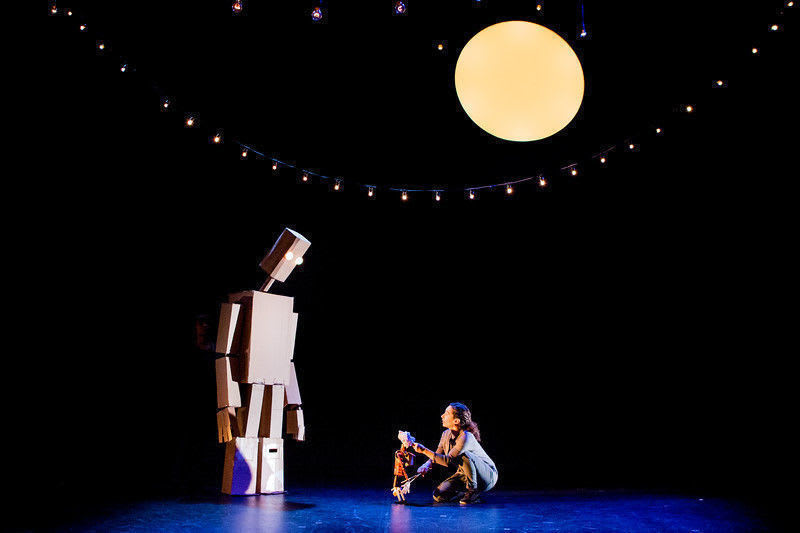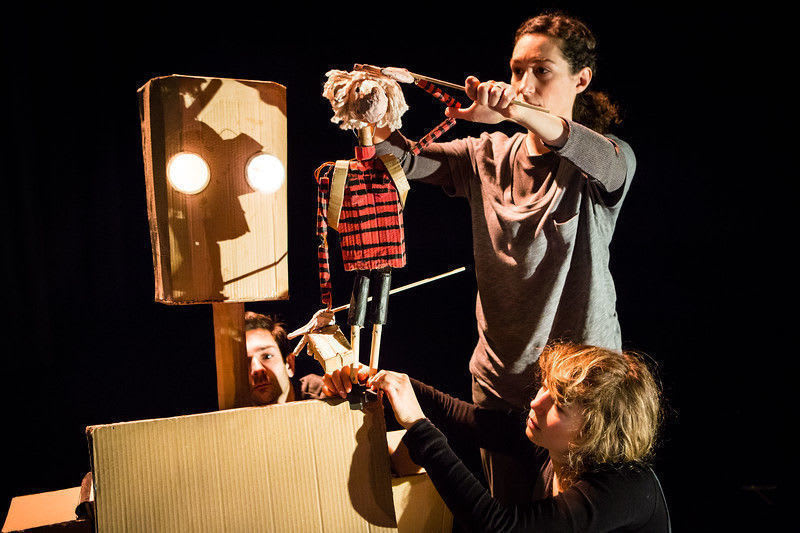 Ted Hughes's story of a giant Iron Man who devastates the countryside, eating up everything metal, is put on stage here with great imagination on the part of director Matthew Robins and his talented crew of performers/puppeteers. Robins is also responsible for the design, the puppets and the animation which he employs using video drawings and silhouette theatre.
The huge Iron Man is centre stage, motionless but dominating the theatre. He's not actually iron but made out of cardboard boxes. That doesn't make the image any less powerful but it already alerts the audience's imaginative faculties.
The play proper begins with the voice of Nima Taleghani telling the story (in a Caribbean-tinged, Sarf London accent totally appropriate for Southwark) as the puppeteers act it out in full view as silhouette shapes in miniature settings, simultaneously videoed across the back of the stage. When silhouette Iron Man walks to a cliff edge and straight over it, there is a magnificent coup de theatre as the huge figure crashes dangerously down towards the audience creating a great babble of excitement the blackout that follows.
When light returns, the giant starts putting himself together again: a hand scurries spider-like in search of a hand to reunite with and gradually the limbs, body and head become one again. As puppeteers Avye Leventis, Justyna Janiszewska and Daniel Naddafy make it happen, the careful observer can see how the Man is constructed: wire hooks and wooden dowels form hinges, this giant's joints. It's a fascinating insight that only increases one's wonder.
This sequence is not hurried and by taking its time it effectively increases audience concentration making it possible to hold attention and build the drama through a later blackouts resulting in a buzz of excitement.
As the story progresses, Robins changes scale to what best fits the action or shows events in sketched and brush-painted animations. The Iron Man strides across a tiny town, devouring its metal. Miniscule bulldozers dig a hole as local farmers set a trap for him, a scaled-down young lad comes out and clangs metal to attract his attention and a six-foot Iron Man puppet appears. Presentation keeps changing form, providing continual surprises as the story progresses, its techniques as engaging as Ted Hughes's story.
There are just few moments when the smaller Boy puppet is not clearly visible against his operators but the storyline which sees the Iron Man buried then emerging and being recruited to save the earth from an extra terrestrial dragon-like monster is crystal clear.
There is live flame when the Iron Man challenges the dragon to a heat contest and a wild dance for the dragon as it endures the sun's terrible temperature, all adding to the excitement of this fifty-minute drama.
Tim Hunkin played a part in creating the Iron Man sculpture and the production owes much to the contribution of lighting designer Marty Langthorne and the way in which Owen Crouch's music and sound design heightens the drama while the puppeteers/performers do a splendid job handling puppets of all scales. It all comes together to form an exciting theatre experience.
At just under an hour, it is perfectly timed for the 8+ age group that is its target audience and will leave them wanting more. You can add a nought to that eight too for no theatre-loving adult could resists this. Find a child and ask them to take you.
Reviewer: Howard Loxton