The Isle of Brimsker
Devised by the Company
Frozen Light
The Arts Depot
–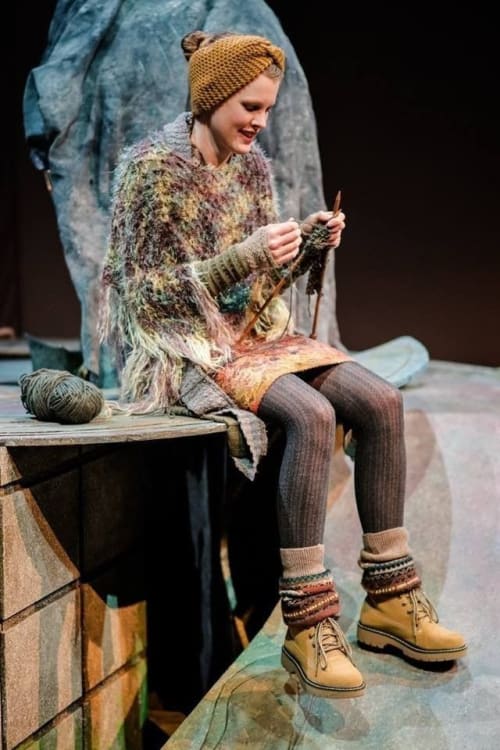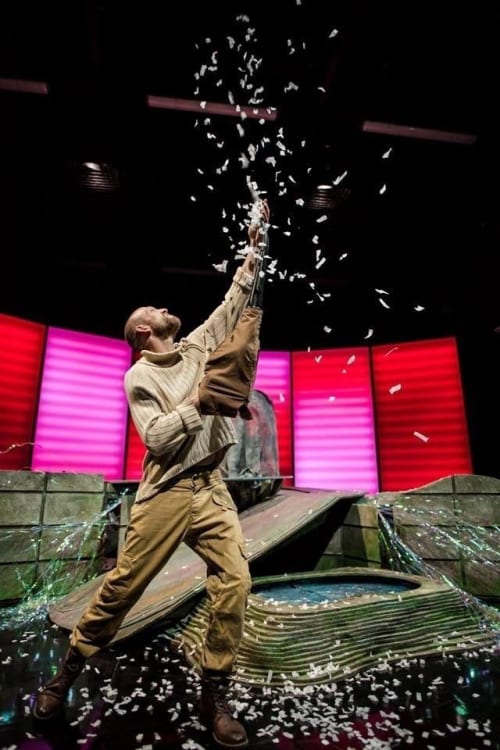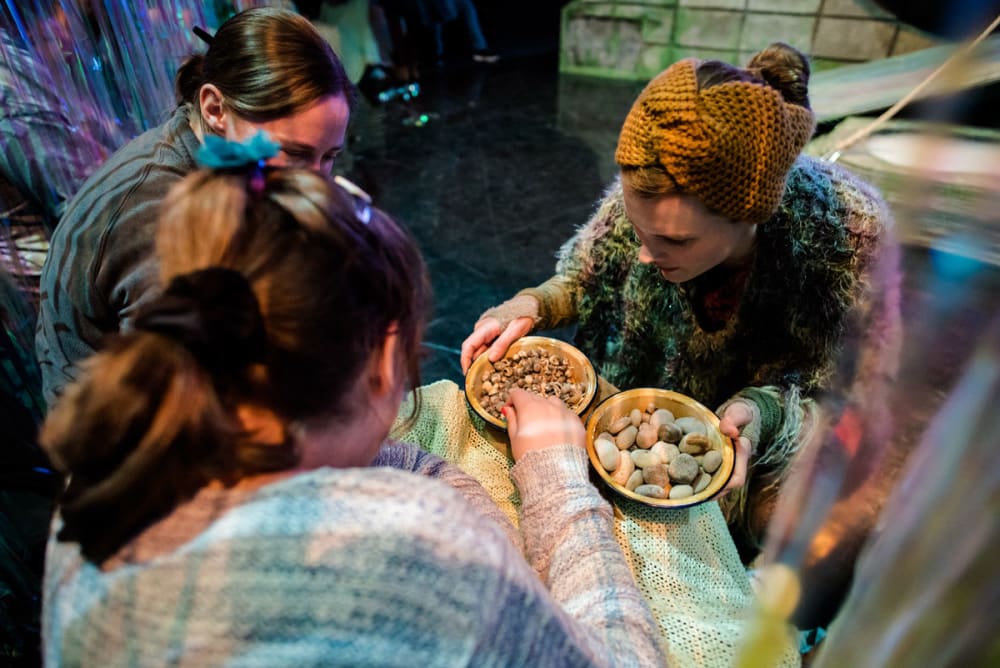 Frozen Light is a very special company. Its founders, Lucy Garland and Amber Onat Gregory, first began to develop their own form of multi-sensory theatre for people with profound and multiple learning disabilities (PMLD) when studying for Applied Performance MAs in Canterbury and formed their own company in 2012. Since then, they have been touring widely with productions specially created to take the pleasures of performance to their target audience who rarely get the opportunity to experience theatre.
The Isle of Brimsker is a tale of a young woman who runs away from her boring life and finds herself on a tiny barren island on which a lighthouse stands. It's a wild life sanctuary and the lighthouse keeper at first tells her she must leave but with a great storm on the way relents and lets her stay in the lighthouse to escape it. Next day, the lighthouse keeper must leave too, for the light will in future be controlled by a computer; there will be no longer be a need for a human to live there.
It is a story that embraces themes of caring for others, ecology and the replacement of humans by machines but Frozen Light offers an experience as well as a story: indeed, the level to which the target audience understand the story is less important than the pleasure they get from the other things it offers, though the more conventional play structure will engage accompanying carers and some of the PMLD participants.
To make sure those participants are as comfortable as possible with what may be a first encounter with theatre, the cast come out to greet them and take them into the performance space (and the company provides advance material explaining what they may expect). Each presentation has an audience of only six, plus their carers. This enables the cast of three to give each participant individual attention, adapting approaches and activity to match particular needs and respond to each one's reactions.
Placed in a shallow arc around the playing space, which represents the island's craggy outcrop with a central object later revealed as the flashing light of the lighthouse and mist-covered pool of bubbling water almost in touching distance, participants' laps are covered by grey-blue knitted blankets. It makes them feel cosy but with a suggestion also of being the sea lapping around them. Above each, there is a track from which a curtain of plastic ribbons is suspended that can be pulled around them, again a suggestion of water but also providing a texture to handle, a rustle and a sense of movement.
The setting is backed by screens that light up with patterns of colour and small hand-held boxes with flashing LED displays are carried round, providing more bright, moving colour but the overall aim is to create a sense of the sea and the shore.
There is atmospheric music and sound effects, weather forecasts and songs. One song is personalised and separately sung to each member of the audience, repeating their name. There are wind machines to blow up a gale, splashing water and salty sprays in the air. When the story makes mention, there are pebbles to hold, so smoothly sea-washed, so hard and so cold, little seashells to feel too.
When the lighthouse keeper Agata (Lucy Garland) produces a rope to help intruder Kaya (Sophie Coward) negotiate the rocks, everyone gets to hold it and feel vibrations going through it. When the weather turns bitter, a block of icy grated into the hands shows them how cold it is; when Agata makes tea for Kaya, a warm beaker with a light inside is offered for touching. Even better: there are little hot-water bottles to hold, each in a colourful knitted jacket, and when Kaya gets offered a biscuit everyone gets one.
There is a succession of things to look at and handle, the mood often set by musician Al Watts, sometimes calm and sunny then blowing a tempest, cosy when inside the lighthouse protected from the weather, a little sad at the thought of leaving and joyous when everyone is given a yellow balloon with a light inside it.
The actors reinforce speech with sign but there is so much going on when a participant is being engaged by a performer, demanding all their attention, that it is easy to stop listening to the story; but that doesn't seem to matter. This is more about sensory experience than anything intellectual.
Since audience members often are non-verbal, they can't describe what they get out of it but it is easy to see their engagement and their carers can interpret their more subtle reactions.
The three performers have to be ready for all kinds of reactions, including indifference and rejection. The participant comes first and if one approach doesn't work they try another. I noticed that when their approach got an insecure reaction, a little laughter seemed to be a first step towards relaxation.
There are many similarities between the work Frozen Light produces and that of companies such as long-established forerunner Oily Cart, but they differ in that at present they are the only company producing such work specifically for adults. By its very nature, it is expensive to create since the actor-audience ratio is so high and its intimacy keeps it small-scale. It is work that has to be subsidised, but response shows it to be very worthwhile, extending theatrical experience to people who would be otherwise denied participation.
I saw it with an audience with profound and multiple learning disabilities who were all wheelchair users. This made it impossible for them to dip hands in the set's rock pool but, with the help of carers and moving each wheelchair right up to it, a way was found for each to share its sensations. There are ways to make theatre for everyone and Frozen Light sets out to do it.
Further tour dates can be found on the company web site.
Reviewer: Howard Loxton