The James Plays
Rona Munro
National Theatre of Scotland, National Theatre of Great Britain, Edinburgh International Festival
The Lowry
–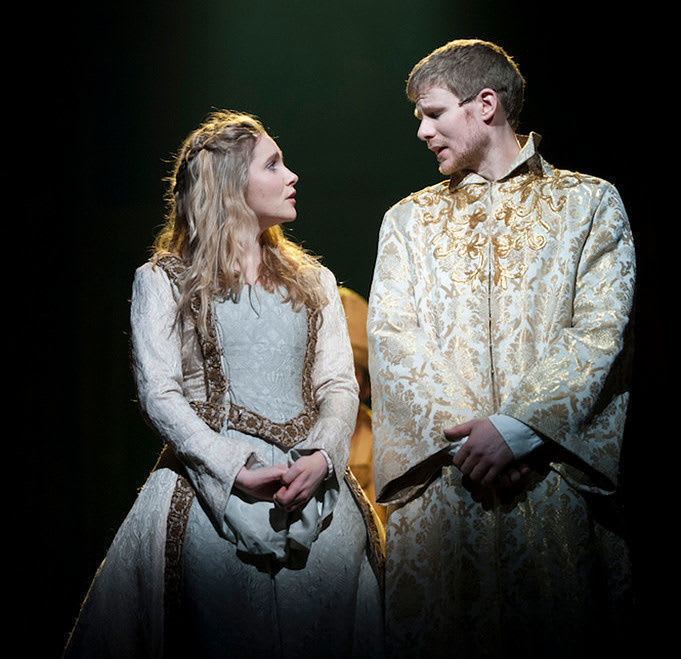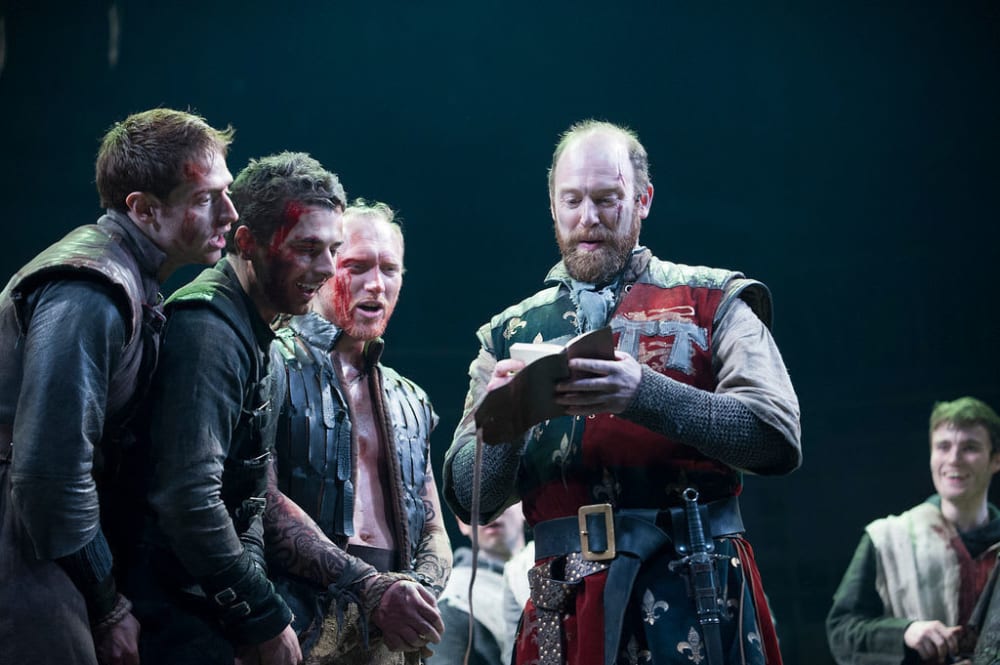 The day after his departure as artistic director of National Theatre of Scotland was announced, the tour of the work with which Laurie Sansom put his stamp on the organisation at the 2014 Edinburgh International Festival opened in Northampton. And what a resignation letter it is.
Rona Munro's epic trilogy attempts a Shakespearean examination of Scottish history through the reigns of the first three Scottish kings named James, beginning with the boy who was held captive for 18 years by Henry IV of England, but was well educated, appearing to be more of a poet than a warrior or ruler.
The dying Henry V (Matthew Pidgeon)—not portrayed as sympathetically as by Shakespeare—tells James (Steven Miller) he will be sent back to Scotland with an English wife as long as a ransom is paid. The Scotland to which James returns is wild and ungovernable, ruled by battling family tribes. Murdac Stewart (John Stahl), who acted as regent in James's absence, appears the most rational, but his wife (Blythe Duff) and sons prefer to bully and murder their way into power.
James is forced into exercising his power to bring order to his kingdom, but it doesn't go entirely according to plan and he ends up executing the rebels, breaking his agreement with Murdac. His wife asks, "are we monsters now?"
The second play begins in the middle of the story with the infant King James II (Andrew Rothney) hiding in a trunk after "they" had been killed, rescued by his friend William Douglas (Andrew Still). But are "they" his parents or something later in the story?
The kingdom has been taken over by Livingston (John Stahl), ruling for the young king while he holds him captive and teaches him what to say to officially ratify all of his own decisions. James doesn't forget this treatment when he becomes old enough to wield his own power. He protects his childhood friend William as he becomes wilder and wilder in his behaviour, but there comes a time when he can take no more abuse from him.
Number three begins in what looks like modern dress with a traditional Scottish slant, opening with a ceilidh with Scottish folk versions of some more familiar tunes (Pharrell Williams's "Happy", and later The Human League's "Don't You Want Me").
This King James (Matthew Pidgeon) is a playboy who has no interest in politics and works hard to annoy those who are trying to get him to attend to important affairs of state. While his wife tries to get the books to balance, he employs a choir to follow him around and flaunts his mistress in front of the whole court.
This isn't just about the kings and their political machinations; their wives are just as important to their political, as well as their personal, stories. Joan (Rosemary Boyle) is a naïve 17-year-old when she arrives in Scotland as James I's bride, keen to list her abilities at running a household as though at a job interview. She is shocked by the poverty and smallness of the Scottish court and frightened by the unruliness of the ruling families, and it takes her a long time to realise that James's love for her is genuine and not merely political.
Mary (Rosemary Boyle) comes to James II as the wife of a man who appears to be suffering from PTSD—he is plagued by nightmares and often hides in a wooden chest—after witnessing the slaughter of friends and family members and running for his life as a child. She manages to calm his nightmares and allow him to become the most stable of the three kings.
Queen Margaret (Malin Crépin) proves to be far better at running the country than her husband, James III, and continues to do so after he finally flees the court. In her final speech—which must have had a huge impact at its Edinburgh première during referendum year—she asks a question the audience has been pondering for the last seven hours: "who would want the job of ruling Scotland?"
This multi-generational family drama combined with a tale of political intrigue and deadly blood feuds is riveting from beginning to end. The performances are, without exception, perfect, Jon Bausor's wooden set with its giant sword thrust into the stage looks stunning and is beautifully lit by Philip Gladwell and Laurie Sansom's direction is perfectly paced throughout.
It's a big commitment to spend a whole day at the theatre, but this is one of those rare events that you'd be sorry to miss. The time just flies by, and you're left wanting more.
Reviewer: David Chadderton