The Judas Kiss
David Hare
Richmond Theatre
–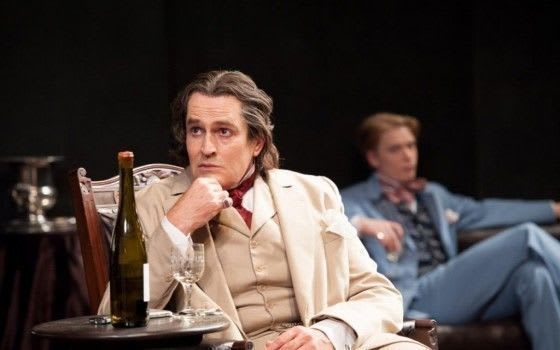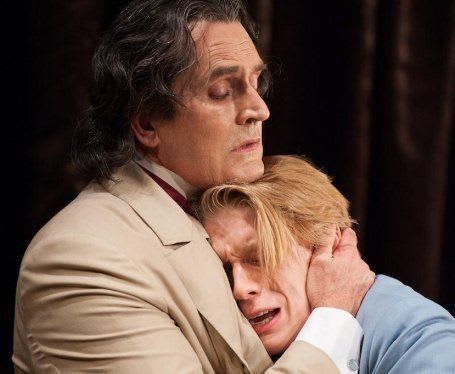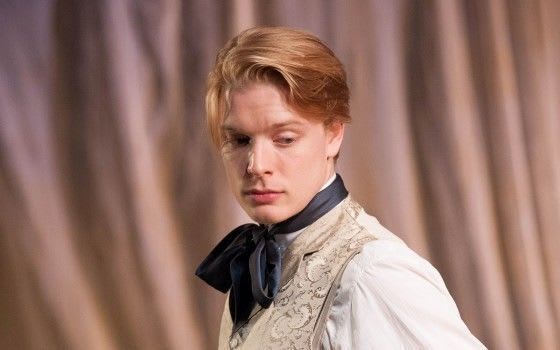 Freddie Fox's flair for flouncing is in evidence once again in Neil Armfield's production of David Hare's The Judas Kiss.
Playing Lord Alfred "Bosie" Douglas, Oscar Wilde's lover and downfall, Fox delivers a nicely-nuanced portrait of petulance, storming around the pair's hotel room, preening, and shouting at the staff. Partnering the fresh-faced Fox is Rupert Everett as Wilde: bulked-up, jowly, sunk with the disappointment of betrayal yet still suggesting a coolly appraising mind at work.
Hare's play about the Wilde-Bosie liaison was first seen in 1998 in a production directed by Richard Eyre with Liam Neeson and Tom Hollander in the lead roles. Armfield's revival for Hampstead Theatre has been more enthusiastically received, and now tours before its West End transfer. I found it to be a solid—sometimes stolid—production that offers some scattered moments of insight, but that isn't, quite, an evening to get wild(e) about.
Rather than attempting to cover a broad chunk of Wilde's experiences—as Brian Gilbert's 1997 film with Stephen Fry tried and struggled to do successfully—Hare hones in on two key moments in the writer's later life: pre- and post-prison.
The first act unfolds in the Cadogan Hotel between Wilde's court case against Bosie's father and his subsequent arrest. Here, having refused to sully Bosie's reputation by calling him as a witness, Wilde opts to stay and face the music against the advice of his friend Robbie Ross (Cal Macaninch), who urges him to flee to France.
In the second act, Hare shifts the scene to Naples and Wilde's experiences following on from his incarceration. Reunited with Bosie, who's busily entertaining his Italian lover Galileo (a seldom-clothed Tom Colley), Wilde reflects on the pain caused by his separation from his children, his writer's block and his career prospects, as he and Bosie edge towards an inevitable parting of the ways.
Hare, who originally conceived of The Judas Kiss as the first part of a trilogy on the theme of sacrificial love, is interested in where moral integrity meets martyrdom or even masochism in Wilde's story. He deftly avoids hagiography: Wilde, as constructed here, is an equivocal figure—one who can either be admired for his integrity or reproached for his tendency towards self-sabotage.
The material is interesting enough, but, dramatically, The Judas Kiss doesn't build up much of a head of steam, and never becomes truly moving. The mood is minor-key—Hare's dialogue avoids a predictable epigram-blitz though there are some funny lines—and the second half turns static, confining Everett to a chair—Hamm-in-Endgame-style—for the duration.
Still, having seemed relatively underpowered in the poor film adaptations of Wilde plays directed by Oliver Parker (An Ideal Husband and The Importance of Being Earnest), Everett is more assured and compelling here, especially in key moments that convey Wilde's vulnerability.
But though Cal Macaninch is quite effective as Ross, Hare hasn't really provided enough for the other characters to do. And the dialogue sometimes strikes false notes (Wilde helpfully reminds Ross: "You were the first man I ever slept with"), while a late speech resorts to spelling out the significance of the play's title for us.
As another addition to the gallery of Wilde portraits, The Judas Kiss certainly has interest. But Armsfield's production, though competent, feels more static than dramatic for the most part.
Reviewer: Alex Ramon