The Jungle Book
Adapted by Adam Dechanel and Simon James Collier from the book by Rudyard Kipling
An Evcol / Clockwork Digital Studios production in association with Giant Olive
Lion and Unicorn Theatre
–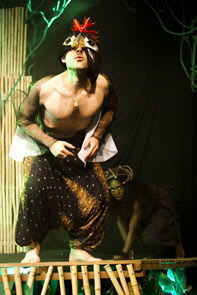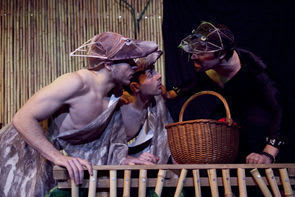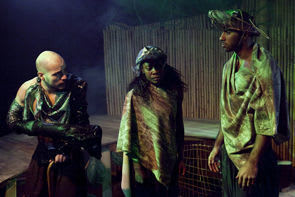 Rudyard Kipling's The Jungle Book and its sequel include many stories of animals, not all of them in the Indian jungle, but this stage adaptation is based on those tales that involve Mowgli, the Indian boy abandoned as a baby in the jungle, and his life with the animals.
It is a fairly free adaptation that follows a storyline not dissimilar to that of the Walt Disney animated movie version but somewhat closer in feeling to Kipling's original stories.
The result is an imaginative child-friendly version that moves swiftly. It is a dangerous world this jungle but, though a few tiny touches of terror will give a little thrill, there is nothing to give youngsters nightmares and the dangers are matched by the confidence induced by Mowgli's animal friends.
It is cleverly designed with bamboo and liana to suggest a jungle environment without trying to represent it. The animals' identities are indicated mainly by attractive head masks that leave the performers' faces visible so that the actors can incorporate expression in their characterisations.
Dmitry Ser as Mowgli captures just the right quality of the boy trying to play the man, helped by his still-boyish figure. He suggests a confident bravado that is always on the edge of trepidation, just right to make every youngster in the audience see him as themselves.
Bagheera, the Black Panther who discovers him as an abandoned baby, establishes the animal differences at the beginning by using his teeth to carry the basket in which little Mowgli lies. Samuel Treon (who is also a clear unseen narrator) gives Bagheera a strong but gentle presence. His initial four-footed leaps and movement establish his panther personality strongly enough to allow for much more anthropomorphic movement in some of the other characters.
By the time Yiltan Ahmet's Nag appears, his unmasked face can carry character while presenting the cobra (and later the evil python Kaa) as an extension of his arm, a solution for representing a snake, if a somewhat awkward one.
Bagheera prevails upon wolf parents Raksha and Rama Alexander, played by Augustina Amoa and Rishi Nair, to allow Mowgli to join their playful cubs and to rear him. The action then jumps to a life-sized little boy-cub, happy in the pack, but out in the jungle the perilous presence of Tiger Shere Khan is waiting.
Chuku Modu gives Shere Khan a dangerous edge. Michael Gonsalves is the laid-back Baloo who becomes Mowgli's buddy, a friendly fellow, though one wonders where he could have picked up a mid-west accent.
This is very much a team show. Except for man-cub Mowgli, the actors all turn up as many different characters from gambolling wolf cubs, amazed at Mowgli's street-dance-like gymnastics, to a crocodile, prickly porcupine or glittering peacock as well as a whole band of jabbering bandalog, the jungle's tribe of monkeys who capture Mowgli.
This isn't a musical (let alone a Disney one), there are no songs, but the music and sound score by James Corner with its constant jungle noises and Ciarán Cunningham's lighting make a major contribution to the mood.
With modest means, director Simon James Collier and designer Cory Roberts have ingeniously brought Kipling's characters alive and created a show that carries a young audience with it as they share these much-loved stories.
Reviewer: Howard Loxton