The Keepers of Infinite Space
Omar El-Khairy with contributions from Caroline Rooney
The Moving Theatre in association with Global Uncertainties
Park Theatre
–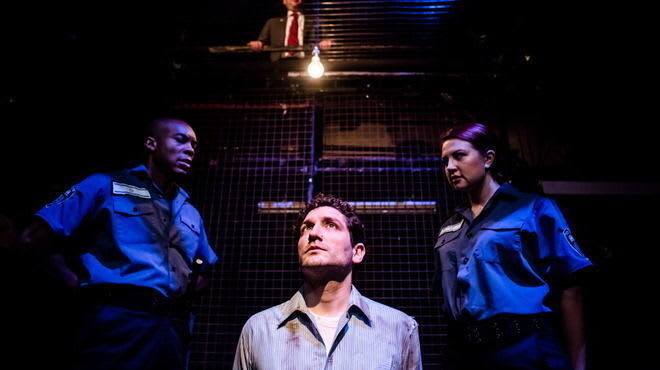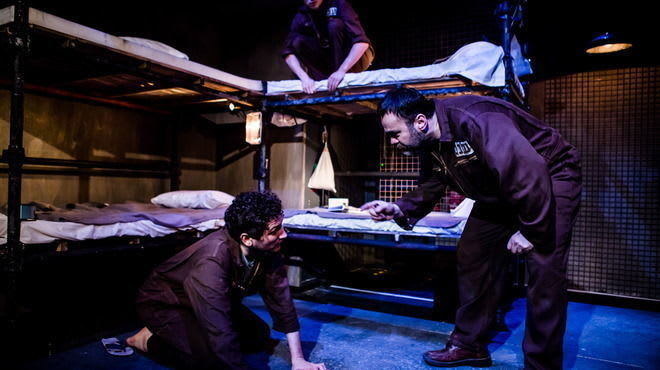 Khalil Shaka is a property developer presenting a new housing development to the potential international market, a massive development for 40,000 people.
It is, in fact, a new town to be called Rawabi, the first Palestinian planned city, positioned to give the US and Europe a "global gateway" to the Middle East, a public-private partnership between a Palestinian businessman and investment from Quatar and the Palestinian National Authority. It is a development intended to revitalise the Palestinian economy and international position.
But Khalil falters in his persuasive PowerPoint presentation, his eldest son Saeed has been arrested and scenes showing Saeed's treatment by the Israeli military and his first interrogation are intercut with Khalil's address to his audience. It is a contrast between what Palestine could be and the present situation, a metaphor rather than a reality.
The gruesome realities of this picture of incarceration of a gentle and innocent man arrested and subjected to indignities and torture simply because of his brother's suspected involvement in action against the Israelis are graphically enacted, but, in the interaction between guards and detainees and among prisoners themselves, we have been here before.
Designer Philip Lindley provides a setting of wire cages that the audience must circle round to enter the theatre and that gives a sense of them too being imprisoned, overlooked by guards above them, despite the absence of any actual locks on the sliding mesh of these cell doors.
Zoe Lafferty, credited as developer as well as director, gets strong performances from all her cast with Edmund Kingsley as bewildered Saeed stoically standing up to mental and physical assaults of his guards Yael (Laura Prior) and Ziv (Cornelius Macarthy), an Ethiopian refugee learning to coldly ignore his own humanity and the Israeli Defence Force officer Abner (John Wark) in command. Sharing his cell are long-serving prisoner, the veteran nationalist Muhib (Patrick Toomey), who knows the ropes for managing their situation, and porn video addicted teenager Shadi (Philip Correia).
Sirine Saba is gentle and caring as Saeed's wife Haneen, disguising any rift between them, and also plays the very different Asma, a student smuggling messages into to an imprisoned Kahlil in episodes of backstory. Hilton MacRae gets the chance to show the earlier character of the man already met as the property developer in a fine performance.
Other roles are doubled including journalist Claire (Laura Prior) who, in the only scene of direct polemic, questions Captain Abner who chillingly declares, "Order and justice don't always go hand in hand—especially not in this part of the world." "You send your terrorists to Guantanamo," he reminds her and, after referring to the camps of the Holocaust asks her "Should we—Israel—exist in these territories? If your answer is yes, then you must accept all the consequences." That question is the heart of this play.
Although The Keepers of Infinite Space is based on research by Caroline Rooney and its director and claims to be inspired by true stories, Omar El-Khairy seems to be attempting a microcosm for a much wider picture of the Palestinian situation. In fact the personal story of Saeed and his family is only gradually revealed and not explored deeply, though glimpses are offered of gender politics and the effect of Saeed's incarceration on his wife, the rift between generations and the change in former activist Khalil's attitude.
These elements show the wider human cost of the situation beyond the presentation of imprisonment and torture that has sadly become already familiar from other prison dramas. Saeed seeks to find a way to enable Haneen to bear his child—it is not spelled out but presumably by smuggling out semen. The terms for it happening will, at best, keep him in prison for life but this is the play's other message: that people are prepared to sacrifice their lives to give Palestine a chance of a future.
Dramatic though the situations may be, El-Khairy does not reveal enough about the several stories he blends in this play, either about Saeed and his family or characters such as the Ethiopian Ziv—how does he end up in Israel employed in a prison? How did another prisoner manage to father a child outside prison? What happened to change Khalil?
We never really find much out even about Saeed to know him as a person other than as a prisoner arbitrarily arrested. In spite of the actors' positive playing, this adds a distance like that of Khalil's opening presentation, a barrier to emotional engagment and empathy.
Reviewer: Howard Loxton