The Killing of Sister George
Frank Marcus
Told by an Idiot
New Vic Theatre, Newcastle-under-Lyme
–

Listing details and ticket info...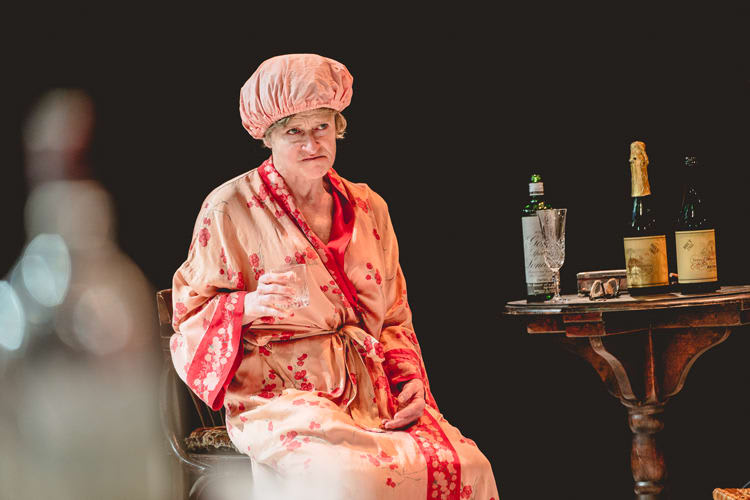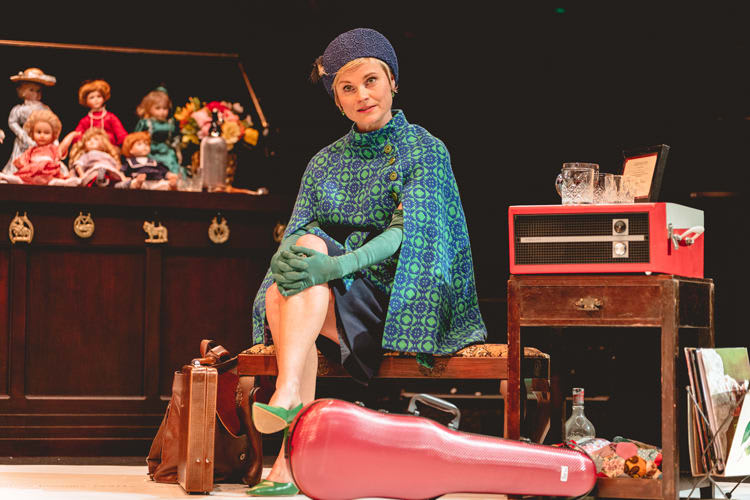 When Paul Hunter, artistic director of Told by an Idiot, stumbled across Frank Marcus's 1964 black comedy The Killing of Sister George, he felt it was ideal for his company where they have been "fascinated by inhabiting the space between laughter and pain".
Hunter's production, which is being performed in-the-round at the New Vic, seems to believe that Marcus's script is so dark that it needs to extract as much comedy as possible from the piece.
In The Killing of Sister George, we have cast members delivering sound via foley—a process used in film of reproducing sound effects in post-production—when they are not involved in a scene. So there is a section of the stage which resembles a 1960s radio studio. When an actor pours and takes a drink, you hear the sound of the drink being poured out and a slurping noise from the foley desk. It's done really well—but is it necessary?
Eventually, the sound effects detract from the acting. There's even a point late on in the show where the main character takes a drink and looks bewildered as there is no sound—no one is at the foley desk. It raises a laugh—but I'm sure it wasn't what the writer envisioned.
Other interludes introduced by Hunter involve an actor dressed as a nun carrying a doll to depict two nuns who had an upsetting confrontation with Sister George in a taxi; the main character appearing to forget her lines and having to be given a prompt by the foley artist; and a BBC executive providing dramatic music on her violin. It's played beautifully—but again, why is it needed?
The Killing of Sister George might have lost some of its original power to shock because it featured the first lesbian relationship on stage. But its disturbing issues of sadism, selfishness and self-importance are just as disconcerting today.
The play features Sister George, one of the characters of a radio soap opera Applehurst which is a bit like The Archers. Despite her popularity with listeners, BBC bosses are planning to write her out because ratings are falling. She protests—but "we know best," says a BBC executive.
Watching The Killing of Sister George, I got the feeling that almost everything was being underplayed. Hayley Carmichael, who is co-founder of Told by an Idiot, takes the role of June Buckeridge, also known as Sister George, and rarely displays the anger and venom that you expect from the character. She rages only when she accuses her partner Alice of fancying a man who lives downstairs and she becomes cruel only when Alice announces she is leaving.
Patrycja Kujawska as BBC boss Mercy Croft gives a competent performance, although her relationship with Alice could have been developed more.
Rina Fatania doesn't go over the top as eccentric medium Madame Xenia and shows true loyalty to both Buckeridge and Alice.
The success of the evening is Ada Player as Alice, otherwise know as Childie. She exerts maximum empathy from the audience for her abysmal treatment by her older lover. Player goes through a whole range of emotions as the troubled, masochistic, vulnerable Alice and catches the eye in a show-stopping performance.
The Killing of Sister George is an unsettling play to watch. Hunter's increased use of comedy doesn't make it any more enjoyable; if anything it diminishes the unnerving themes that the work is renowned for.
Reviewer: Steve Orme