The King and I
Richard Rogers and Oscar Hammerstein II
Music & Lyrics and Curve theatre Leicester
New Theatre Oxford
–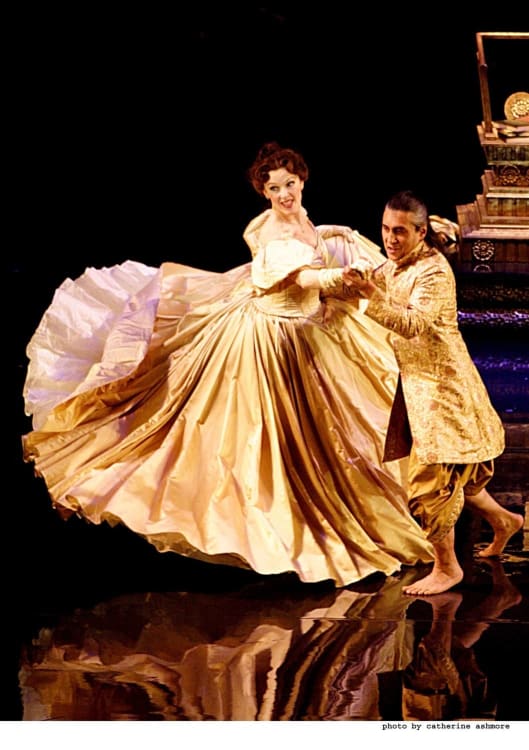 The start of The King and I at the New Theatre, Oxford was delayed for half an hour due to "technical difficulties" but the wait was certainly worthwhile for this is a lavish, effervescent production that is spectacular.
Designer Sarah Perks has created a delightful slice of Siam with a silhouetted oriental background of the city with sliding screens and two gigantic golden Buddhas that effortlessly move across the stage, and a set of wonderfully sumptuous costumes, beautifully lit by Philip Gladwell.
With memorable music by Richard Rogers and superb lyrics by Oscar Hammerstein II, this new production by Music & Lyrics and Curve Theatre, Leicester shimmers and shines with confidence.
The musical is based on the story of Anna Leonowens, a widowed English tutor who has been employed by the King to teach his many children. The youngsters, all 16 of them, are from the Stagecoach Theatre School and are charming.
Anna with clipped crystal clear language, the excellent Josefina Gabrielle, is determined to introduce some English ways to Siam. She sings delightfully with such songs as "Whistle a Happy Tune" and "Getting to Know You", but this is very much a foreign country with different customs and she is determined to gain her promised house and protect her young son Louis (Daniel Cornish).
The headstrong King Mongkut, powerfully portrayed by Ramon Tikaram, clings to tradition insisting on his subjects and family kowtowing to him when in his presence but he is also aware of the need to modernise his country, "etc etc etc."
There is sterling support from Chi Ming Chan as the sceptical Kralahome, suspicious of Anna and her new western ways, and Mary Sapone as Lady Thaing.
The young lovers Tup-Tim (Claire-Marie Hall) and Lun Tha (Adrian Li Donni) remind us of the passion of true romance in the songs "Hello Young Lovers" and "I Have Dreamed". The large chorus of wives and attendants are impressive.
The arrival of Sir Edward Ramsay (James Hirst) prompts the extravagant ballet "The Small House of Uncle Thomas" to prove that Siam can equal the artistry of the British, and the triumphant "Shall We Dance", when Anna teaches the King to dance, is a sheer joy to watch.
Musical director Julian Kelly's new orchestration brings vibrancy to the original score and Paul Kerryson's taut direction is spot on with some slick choreography by David Needham.
This is one of those evenings that has the 'feel good factor' and leaves you with a warm glow, as the enthusiastic audience expressed in their loud applause. Do catch it on the tour.
Touring to The Lowry Salford 21st-25th Feb, Nottingham Theatre Royal 28thFeb-3rd March, Cheltenham Everyman Theatre 6th-10th March, Cardiff New Theatre 13th-17th March, Southampton Mayflower 20th- 24th March and through till May.
Reviewer: Robin Strapp