The King and I
Music by Richard Rogers, book and lyrics by Oscar Hammerstein II, based on the novel 'Anna and the King of Siam' by Margaret Landon
Curve Theatre, Leicester
New Victoria Theatre, Woking
–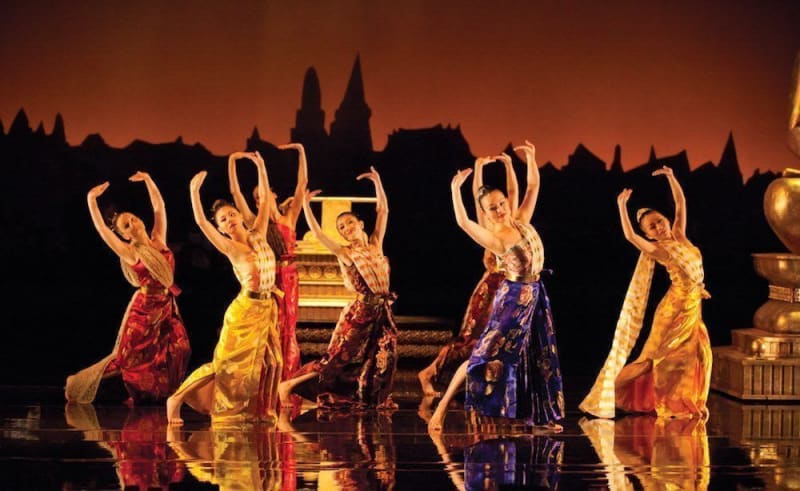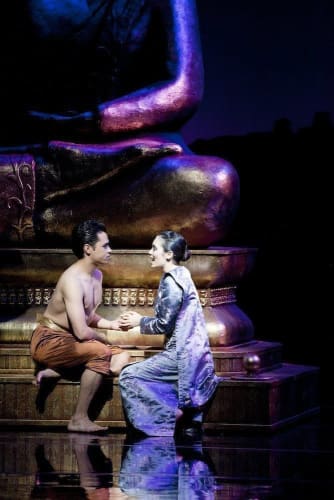 Paul Kerryson's production is a kaleidoscope of music, colour, dance and song with some of the most beautiful sets I have ever seen, but that's not to say it is completely flawless.
Overall, it is a joy with Hammerstein's songs and Rogers's lyrics always pertinent to the story and performed impeccably by this talented cast. I was disappointed though with "The March of the Siamese Children" which became interminably long as each child was presented in turn to make their bows to the King, then to the new governess, before each being drawn back by the wives. Nothing at all wrong with the children (auditioned from local schools) who were adorable and performed their parts perfectly, but I would have liked the 'March' to be re-instated, all filing in to parade around the stage before making their obeisances together. Much more effective and enjoyable in my humble opinion.
The governess Anna is Josefina Gabrielle who I feel could not be bettered in the part. Very much reminiscent of Julie Andrews, her enunciation is perfect without overemphasising, her singing voice true and pure, and nothing wrong with her acting either. It is obvious that her no-nonsense school teacher exterior hides a warm and loving heart, and her exchanges with the King give credence to every word and feeling, becoming very comical as Anna tries to put over her point of view diplomatically so as not to antagonise him.
Ramon Tikaram responds well as the King, fiercely and frighteningly autocratic, yet betraying an uncertainty that his ways are not necessarily the right ones "It's a Puzzlement". He manages to change indignation at the cruelty and injustice of whipping the runaway girl Tup-Tim (Claire Marie Hall) into compassion when seeing his resolve crumble under the accusing eyes of Anna.
A very young Alex Dingley plays Anna's son Louis with a confidence and professionalism way beyond his years, his voice projecting effortlessly to the back of the auditorium, clean and clear.
Basically the true story of Anna Leonowens, East meets West and each tries to understand the other, but the more serious aspects of the original—freedom versus slavery, women's rights (even in mid-nineteenth century) and patriarchy—are only briefly touched on, the main focus being music, song, spectacle and dance in which this exceptional ensemble excels.
The Oriental style cannot be easy, especially to those trained in the rigid 'turned-out' style of ballet, but they take to it like ducks to water and expertly interpret David Needham's stylish and wittily quirky choreography which is perfectly in tune with the storyline. "The Little House of Uncle Tom" was the most beautiful presentation of this 'ballet' I have ever seen and completely comprehensible.
Sets and costumes by Sara Perks are a dream of colour and originality with lanterns, birds boats and flowers floating across the backdrop and silhouettes delight as giant golden Buddhas look down on the throng and constantly sliding screens hide or reveal adding to the mystery of the East. Particularly beautiful is the setting for 'We Kiss in a Shadow' lanterns swaying above and all atmospherically lit by Philip Gladwell.
A ten-piece orchestra keeps the music flowing, and with well-loved songs such as "Whistle a Happy Tune", "Getting to Know You" and "Shall We Dance" I can only say it is "Something Wonderful".
Touring to Birmingham, Leicester, Bradford and Dublin
Reviewer: Sheila Connor