The Kite Runner
Adapted by Matthew Spangler, based on the novel by Khaled Hosseini
Nottingham Playhouse Theatre Company and Liverpool Everyman and Playhouse
Nottingham Playhouse
–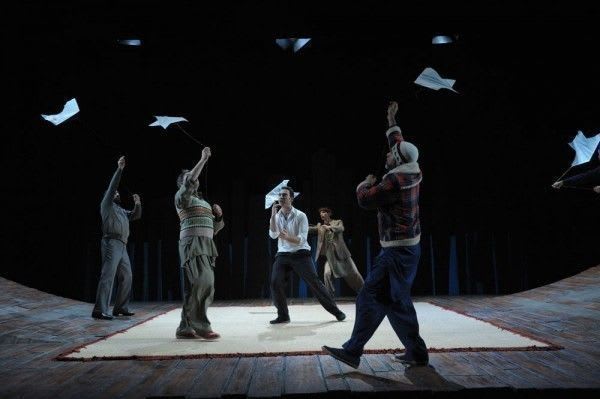 Khaled Hosseini's first novel The Kite Runner, published in 2003, was a huge international success and has been published in 70 countries.
Four years later the book was turned into a film which was nominated for an Oscar, a BAFTA film award and the Critics' Choice award.
San Francisco-based playwright Matthew Spangler turned The Kite Runner into a stage play which is now enjoying its European première.
Nottingham Playhouse artistic director Giles Croft described bringing The Kite Runner to the British stage for the first time as a "thrilling prospect"—and he has come up with a compelling production.
It is poignant, touching, sad and shocking as it proves that love, war, class and politics are never far away from one another and relationship problems can be the same whatever your race or colour.
The Kite Runner tells the story of Amir, a 12-year-old boy from Kabul who is close friends with Hassan, the son of his father's servant.
Amir is desperate to win a kite-fighting tournament to gain his father's approval. Kite-fighting is a popular Afghan pastime, with pieces of crushed glass fixed to the kite's string so that a competitor can slash an opponent's line and bring his kite down.
Boys too poor to have their own kites rush to retrieve the losing one as it falls—they are known as kite runners and Hassan is one of the best.
Amir's and Hassan's bond is put to the test at a time when Afghanistan is facing a series of tumultuous events, from the fall of the country's monarchy through the Soviet invasion to the rise of the Taliban.
Amir and his father leave the dangers of their homeland for Pakistan and eventually settle in the USA. But Amir has to return in a bid for redemption over the way he treated his friend.
Ben Turner gives a towering performance as Amir. He is on stage for virtually the whole of the play and is always the focus of attention.
If there is one slight fault in the adaptation, it's that much of the story is told through the eyes of the narrator Amir and action can be rather limited. But Turner gives a captivating display that more than makes up for the occasional lack of pace.
Farshid Rokey also commands attention as Hassan. He can convey so much with just a glance in his portrayal of the fiercely loyal friend for whom nothing is too much trouble.
There are solid supporting roles in this ensemble production from Emilio Doorgasingh as Amir's strict yet proud father Baba; commanding Antony Bunsee as General Tahiri; and Lisa Zahra as Soraya and Mrs Nguyen.
Giles Croft directs with positivity and confidence while Barney George's set and Hanif Khan's tabla playing add an authenticity to the Afghanistan environment.
Not having read the book, I can't comment on whether Spangler's adaptation is faithful to the original. But the play is a phenomenally powerful piece of theatre which for many people will portray Afghanistan in a totally new light.
It will no doubt fly just as high when it features at the Brighton Festival later this month and when it transfers to Liverpool Playhouse in June.
Reviewer: Steve Orme