The Kite Runner
Khaled Hosseini, adapted for stage by Mathew Spangler
Nottingham Playhouse, Liverpool Everyman & Playhouse
The Lowry
–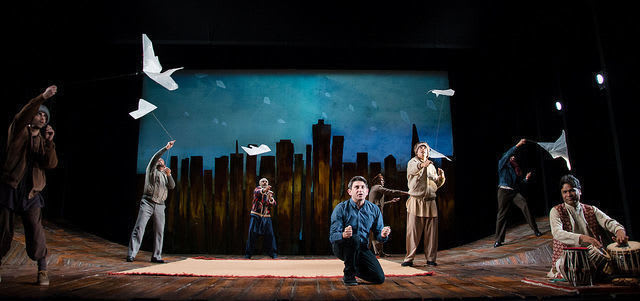 Khaled Hosseini's best-selling novel The Kite Runner received its first theatrical debut in in 2009, two years after the film adaptation. This version, a co-production between Nottingham Playhouse Theatre Company and Liverpool Everyman & Playhouse, is a sparse and stripped-back staging that puts focus firmly on the protagonist—but not always with positive results.
The Kite Runner tells the story of Amir, a young boy in 1970s Afghanistan, and the three key relationships in his life: with his father, with his eventual wife Soraya and with childhood friend Hassan. Amir and Hassan are inseparable, reading stories and flying kites together, until a horrific event involving Hassan brings an abrupt end to their friendship.
To someone who had neither read the book nor seen the film, this event was a complete surprise and therefore shouldn't have its impact lessened by being described here. It is built on cultural and political tensions—Amir is from a wealthy Pashtun family, while Hassan is a poor and discriminated against Hazara—but its impact is limited to the small circle of characters that the play encompasses. This is not a historical epic, but a story of three generations coming to terms with terrible consequences.
Amir (David Ahmad) is on stage for practically the whole performance, narrating the story and playing both his child and adult self. Transitions between these two roles are frequent and often jarring, with dramatic changes in both pitch and accent—Amir's emigration to the United States as a teenager sees him develop a strong American influence. The choice to tell rather than show means that many scenes which would have been interesting to watch are only described by Amir, though this is also down to time constraints. Even with this measure taken, the second half of the play is 80 minutes long.
In spite of Amir's hold over the narrative, it's hard to understand his perspective on things. Compared to the compassionate, faithful Hassan (Jo Ben Ayed), he is not a likeable character. He spends most of the play trying to atone for a cowardly act of abandonment. He is self-centred, obsessed with how his father sees him, and even when praying for someone's life to be saved he prays first for himself. Ahmad portrays Amir brimming with emotion, almost constantly on the verge of tears.
Barney George's set design is simple: sloping sides like skateboard ramps allow the characters to flow on and offstage, whether flying kites or dancing at weddings. Two large canvas kites projected with patterns, fireworks or menacing shadows open and close across the stage like wings, revealing Amir's memories.
Music and sound are therefore key to evoking the play's Afghan setting—onstage tabla player Hanif Khan is accompanied by atmospheric Tibetan singing bowls and schwirrbogen, large wooden rattles that when spun create the whirring sound of unspooling kite strings.
Standout cast performances come from Emilio Doorgasingh as Amir's proud, curt father and Jo Ben Ayed as the heartbreakingly loyal Hassan.
This production is generally enjoyable to watch, thanks to its strong plot and beautiful soundscape, but the heavy emphasis on Amir as narrator prevents it from becoming something more special.
Reviewer: Georgina Wells