The Knight from Nowhere
Andrew Shepherd
ACS Random
Park Theatre (Park 90)
–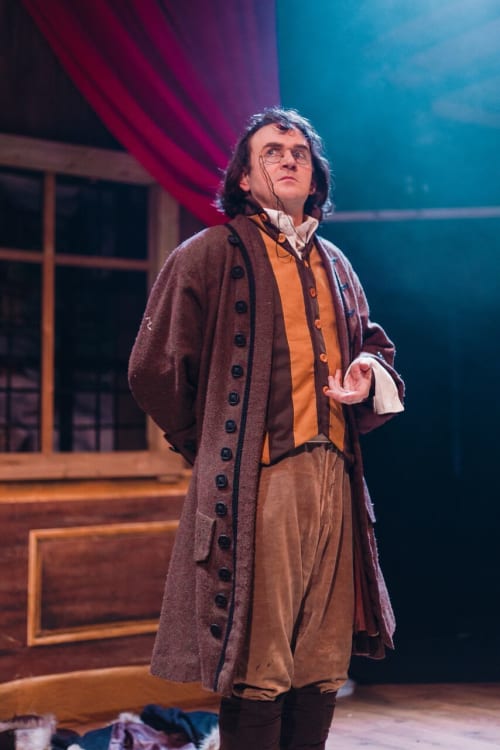 The knight of this play is Henry Irving, the first actor to get the accolade. It opens in a typical actor's nightmare with him upon a strange stage not knowing what play he's in. In fact he's just died and here in limbo must justify his life not to a recording angel but to a courtroom clerk (Simon Blake).
It is a device to present a potted biography that introduces first his puritanical Cornish mother, formidably played by Lynsey-Anne Moffat, and then figures from his stage career. He seeks advice from older actor W H Chippendale, Polonius in Kean's Hamlet, here given sonorous life by Will Seaward, and weds Rosie Frecker's Florence O'Callaghan, the wife he left abruptly when she scorned his profession.
He recruits Bram Stoker as his Lyceum theatre manager and Ellen Terry as his leading lady, played with restraint by Gary Summers and theatrical flamboyance by Angela Ferns, and suffers the criticism of John Paul Conways's acerbic Bernard Shaw.
Along the way, there are snatches of some of his greatest roles from Hamlet to Shylock, of which he was particularly proud, the flicker of flames denotes the tragic loss of all his costumes and scenery to fire, allusion to other productions (including The Bells, which follows this as the paired play of the evening) and a meta-theatrical marriage ceremony celebrating the Irving-Terry partnership.
Zahra Mansouri's setting, with swags of crimson and panelling on a painted cloth, suggest nineteenth-century theatre and drop-in elements add effect to some Shakespearean extracts while an edging of simulated snow is there to suit Leopold Lewis's companion piece. Lucy Foster's direction seems to encourage the actors to outdo each other to gain attention, which may not be so far from what they were like in life.
For those who already know the Irving story, The Knight from Nowhere is a lively encapsulation delivered with a nineteenth-century panache, an indication of a nineteenth-century style down to the painted scenery rather than a recreation of it.
For those who don't already know about Irving, this is a quick gloss that may arouse deeper interest but it doesn't really give any real sense of Irving's approach to acting and production or his efforts to gain respectability for his profession.
Perhaps inevitably, it is the melodramatic element in Andrew Shepherd's playing of Irving that attracts most notice. He hints at the awkward gait and vocal idiosyncrasies that marred his acting but can't (who could?) recreate that special charisma that made him the leading actor of the day despite them.
Reviewer: Howard Loxton