The Knight of the Burning Pestle
Francis Beaumont
Shakespeare's Globe
Sam Wanamaker Playhouse, Shakespeare's Globe
–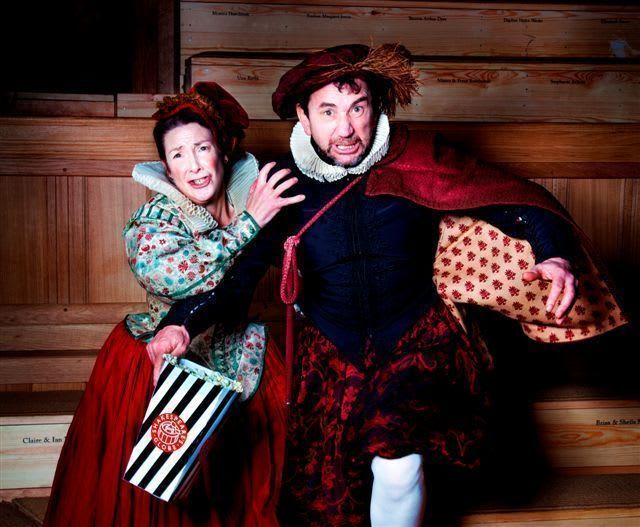 When first performed in 1607 or 1608 at the indoor Blackfriars Theatre, this play, by the "Children of the Queen's Revels" (one of the boy companies of Jacobean London), flopped. Last time I saw it revived, I quite saw why. It is a muddle, though an intended one.
The actors, interrupted by suggestions from a citizen grocer in the audience, complain that he is wrecking their plot. "Plot me no plots" he says "I care not what become on't".
Adele Thomas, director of this production playing in the candlelit indoor theatre like that at Blackfriars, which now pairs Shakespeare's Globe, has capitalised on its close proximities and emphasised that madcap chaos. She sets the pattern from the start with comic pratfalls even as the candelabra of the house are lowered down to the stage and the candles lit.
As someone who sometimes finds that the playing to the audience in the "outdoor" theatre becomes too self-indulgent, I feared for the worst, but Thomas keeps her production so tongue-in- cheek, encouraging the audience to relish the tricksiness, that a packed house out to enjoy itself clearly loved it.
The actors announce their show as The London Merchant, but the grocer and his wife, fearing perhaps that this is going to be another show in which the city shopkeeper is made fun of to amuse their "betters", intervene. They insist on a play of their choosing and that a role be found for their young apprentice Rafe, they claim an excellent actor.
Thus he appears as a knight errant in a romance of thwarted love and comic derring do with Quixote-like consequences. There is a Pythonesque quality to this production which shows that strain of British humour as part of a centuries-old practice—there is even a place for funny walks.
Phil Daniels and Pauline McLynn are great as citizen Grocer and his outspoken spouse, sitting at the front of the pit or climbing up on stage and Matthew Needham's Rafe, pushed on with amateur unreadiness blossoms into a confident performer as the ever-so-earnest knight in the impromptu plot in which he plays. His May Day call to London to celebrate the festival is particularly delightfully delivered. (Even if you don't know this play you may know it as a joyous section of Benjamin Britten's Spring Symphony: "London, to thee I do present".)
Alex Waldmann is young lover Jasper, paired with Sarah McRae's Luce, personality carrying them confidently through the strange switches of the plot to win her against the competition of the man her father (John Dougall's grumpily grave Venturewell) proposes. That official suitor is pompous pink-clad Humphrey, Dickon Tyrrell deliciously over-emphasising rhyme and rhythm, who even on his first entrance orders lesser beings to "walk around me".
Jasper's father is big-bellied, sweet-voiced Merrythought, a role in which Paul Rider scores a triumph, for he lifts the spirits: this is a show that seems to full of songs include surely quite a few that are sections of spoken verse newly set to music by composer Nigel Hess. So jovial is Merrythought that his wife Hannah McPake has had enough of his carousing and takes off with their young boy Michael (Gils Cooper) and her jewellery, which she promptly loses in a "forest" frightened by Rafe's chivalrous knight who then sets out to protect her.
With Brendan O'Hea as an innkeeper mistaken for a castled knight and a barber hilariously turned into towering ogre, Dennis Herdman and Dean Nolan as Tim and George, a double act like a panto's broker's men who take any role that's going from bully boy to exotic eastern princess and the ubiquitous Samuel Hargreaves as the theatre company's singing-dancing, lute-playing boy, this is a company that gives heavy-handed humour a light touch.
Intriguingly, the production divides the five acts of the play with short breaks when Tim, George and the Boy provide entertainment, a reference to the breaks and jigs of Early Modern theatre, when patrons can buy extra refreshment as well as at the one main interval. They become part of the show which is nevertheless a little too long (at least for those with deadlines), though that didn't seem to worry most of the audience who might happily have had it go on longer.
Reviewer: Howard Loxton