The Lady Vanishes
Sidney Gilliat and Frank Launder, adapted for stage by Antony Lampard
The Classic Theatre Company
Exeter Northcott Theatre
–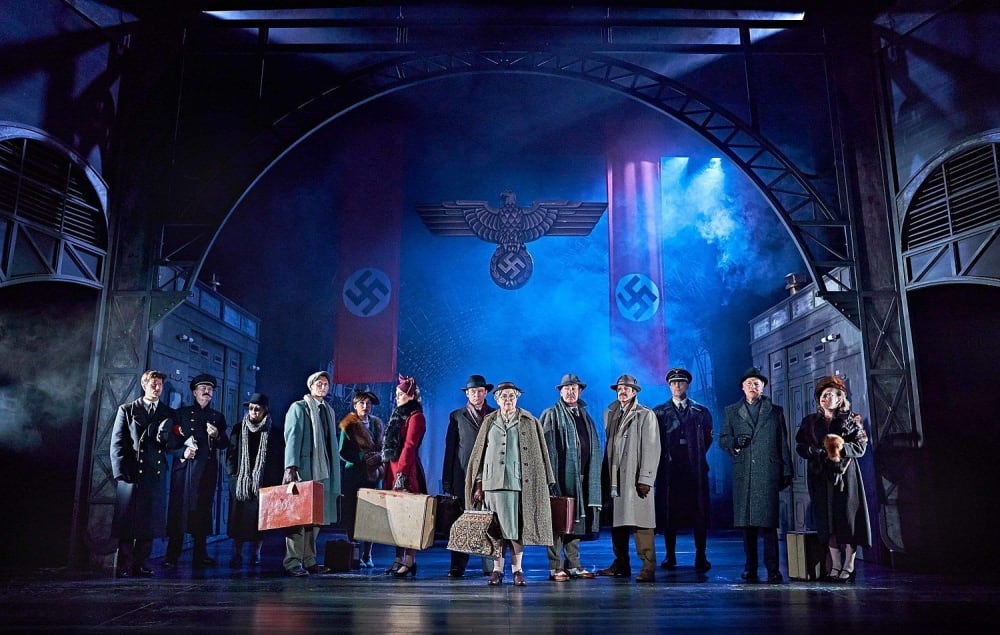 It is 1938 and a train full of passengers is held up due to an avalanche on the Austrian side of the neutral Swiss border. Nazi flags hang from the arches of the train station and officers patrol the platform. War has not yet been declared but the menace is clear thanks to Joe Reisig's tall, striding Nazi officer.
We are introduced to each passenger as they fill time waiting for the train to restart its journey. Socialite Iris Henderson (Scarlett Archer) is on her way to London to marry her society fiancé. Governess Miss Froy (Gwen Taylor) is returning to England after years of teaching abroad. A secretive 'couple', Eric (Mark Wynter) and Margaret (Rosie Thomson), are returning from a romantic trip to Venice and then home to each of their unsuspecting spouses. Two cricket-mad gents, Charters (Denis Lill) and Caldicott (Ben Nealon), are desperate to get to London in time to make the connection for the last day of the Test at Old Trafford. Engineer and amateur musicologist Max (Nicholas Audsley) is returning home for his next project.
By the time the train's whistle signals the avalanche has cleared, Iris and Miss Froy have struck up a friendship and share more time together on the train until the older lady inexplicably disappears. By now, the passenger list on the train has grown due to the addition of some rather suspiciously behaving people: a German surgeon, a nun with high heels, a patient completely wrapped in bandages, an Italian magician and a menacing SS officer. Attempting to find the missing lady, Iris meets a conspiracy of denial about Miss Froy's existence. Persuaded by Dr Hartz that she is confused by a bump to the head, she is almost gaslighted into believing she is mistaken until she finds clues to back up her version of events and convinces Max to help her trace the apparently genial older lady.
It is a classic thriller made famous by Alfred Hitchcock's 1938 film of the same name. As the train rattles across central Europe, the pressure to find Miss Froy grows before they cross the border.
Initially rubbing each other up the wrong way, Iris and Max develop a strong detective double act, fending off diversions and deliberate attacks from the bad guys. Both Archer and Audsley work well together as detectives but there is little chemistry between them to suggest any romance, which is a disappointment. Sadly, Archer's accent meandering from upper crust to US east coast and back again throughout the evening is something of a distraction.
Along the way, the heavily moustached Denis Lill and Ben Nealon have great fun channelling their very best impressions of Tintin's Thomson and Thompson to provide comic interludes as cricket-mad fans of the era born with enormous brushes on their upper lips. Determined to avert anything from delaying the train so they can make that last day of cricket in Manchester, they initially, at least, turn a blind eye to the efforts of Iris and Max.
Morgan Large's set is a marvel. A huge, arched cast iron station changes into a train carriage by pulling in two large hinged wings to form two seating compartments, complete with sliding doors. There is little to suggest the motion of the train, which is oddly missing. Nevertheless, the set is hugely atmospheric and works well for most of the scenes and for hiding the bodies, although frequent scene changes to the restaurant carriage and back are a little disruptive.
Produced by Bill Kenwright's Classic Thriller Theatre Company, The Lady Vanishes is sure to keep audiences happy. It's a cracking story. This version does lose some of its pace from time to time, some of the dialogue interchanges could be tighter and the fight scenes made more believable if they were sharper. It certainly goes for the comic and caricature at the cost of the suspense and menace of the famous film version which may not please some. But it is such a good story it can't fail to leave the audience satisfied.
Reviewer: Joan Phillips