The Ladykillers
Graham Linehan from the screenplay by William Rose
Salisbury Playhouse, New Wolsey Theatre Ipswich and Queen's Theatre Hornchurch
Salisbury Playhouse
–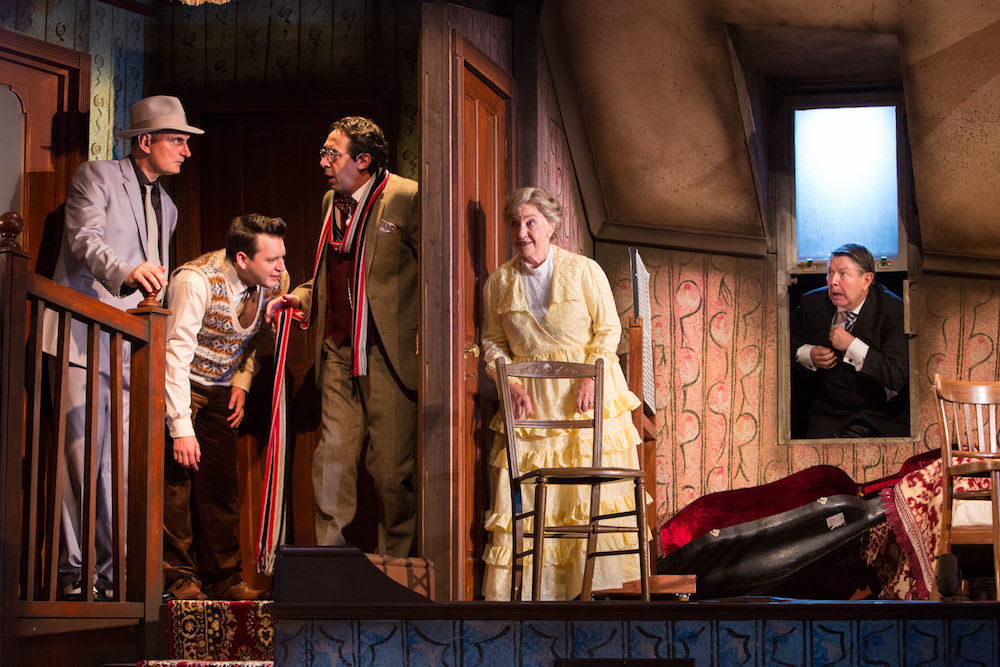 Is it really seventy-two years since The Ladykillers, that unforgettably hilarious Ealing comic thriller, first appeared in our local cinemas? With all those legendary stars? And don't we miss them still? Alec Guinness, Jack Warner and Peter Sellers? Even Frankie Howerd had a part as a barrow boy.
If you are—almost certainly—far too young to remember these great pillars of the entertainment world of 1955 and after, you can look forward, still, to seeing the stage version of The Ladykillers in Salisbury this week.
The original screenplay by American William Rose has been adapted for the stage by Irish writer Graham Linehan, creator of perennial favourite Father Ted, and involves a group of five robbers who, having acquired a large quantity of money by nefarious means, need some help in ensuring its safe transfer from the railway station to their own pockets.
Who better to fit the role of unsuspecting enabler than little old lady Mrs Wilberforce, offering to escort the bag containing the loot to her home and completely unaware of its ill-gotten contents, there to be safely stored in the capacious body of a cello case?
Dear, sweet Mrs Wilberforce (Ann Penfold), always at hand with tea and biscuits and an encouraging comment or two. They're not going to let her come to any harm are they? I mean, she's taken in so-called 'Professor' Marcus (Stephen Elliot), 'Major' Courtney (Graham Seed, formerly Nigel Pargetter in The Archers) and the three others in urgent need of somewhere safe to plan the next stage of the villainous scheme to transfer their ill-gotten loot.
There's Harry Robinson (Sam Lupton), habitual thief with an attractive Cockney charm and a rather endearing need to be constantly dusting and polishing, Louis the foreigner, whose particular forté happens to be knife throwing, and One-Round (Damian Williams), the biggest, strongest and stupidest of the three. Totally unable to keep any kind of pretence going, and, strongly averse, after making the acquaintance of Mrs Wilberforce, to causing her to come to harm in any way—no-one is going to injure his 'Mrs Lopsided' if he's got anything to do with it—seeds of conflict among the gang are inevitably sown.
Of course, the law has to be involved, in the form of Constable Macdonald (Marcus Houden), the friendly policeman who, understandably enough, has learned to ignore Mrs Wilberforce's frequent reports of occurrences in which she feels he should be taking an interest.
So a bit of a recap. They've done the deed and got the money. And if we're curious to know how, we're presented, at the appropriate stage of the plot, with a drop-down map showing the sequence of events. And if you're not that interested, well, it only lasts for a few minutes.
But if you really can remember the original film you'll be wondering about those outdoor scenes, the slightly down-at-heal Victorian terrace and, particularly, the dropping of the signal at King's Cross station. How are they to manage that in the theatre? And the indoor scenes are pretty complex too, aren't they? Where the one set has to serve as kitchen, entrance hall and living room downstairs, with a cupboard capable of holding the whole gang, while upstairs we have, not only a landing and several doors leading off, but visible access to the roof.
Thank goodness for the revolving stage.
There are some particular delights of course in this entertaining production. The gang members, who have no idea how to hold their instruments even, being forced by circumstance to play a supposed piece of 'modern' music to the crowd of village ladies and the surprisingly convincing conversations Mrs Wilberforce has with General Gordon, her parrot.
But perhaps the best part was the recognition of bits, long forgotten, of the original Ladykillers. Don't suppose our local Odeon or Arts Centre could get hold of a copy, could they?
Reviewer: Anne Hill