The Last Abbot of Reading
Beth Flintoff
Rabble Theatre
Reading Abbey Ruins
–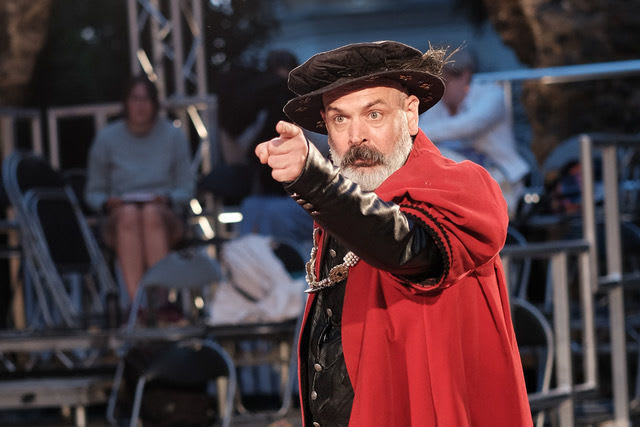 There is a true sense of history sitting in the 900-year-old ruins of the Chapter House of Reading Abbey for Rabble Theatre's impressive production of The Last Abbot of Reading.
Skilfully written and rigorously researched by Beth Flintoff, this play traces the relationship between King Henry VIII and Abbot Hugh Farringdon during the tumultuous times of the English reformation.
Alice (Joanne Howarth) engagingly plays Hugh's mother who relates local stories of the hard life the populous had to endure whilst the brothers in the monastery lived in relative wealth.
Timothy Allsop gives a sensitive, dignified performance as the Abbot who has been given this position through a surprising friendship with the King. His rise from a humble peasant background to this high role causes him to question his duty, personal weaknesses and even his religious beliefs.
By contrast, Alex Hughes powerfully plays the bully Henry VIII with a confident swagger who likes to play pranks on Hugh including imprisoning him in the Tower of London and humiliating him. Yet he desires to be loved by the people. However, he will prove to be Hugh's nemesis.
But the King plans to "take back control of our own laws and not bow down to the continent" and the "elite Catholic church." More than a nod to Boris and the present day Brexit. He even changes his mind on policy on a whim.
A new act to dissolve the monasteries is issued by Cromwell (Robin Kingsland) who also splendidly plays the vulnerable brother John, the keeper of the monastery's relics.
Enforced by the Head of the Inquisition, Dr London, in a striking portrayal by Dominic Allen who relishes in his role in finding heretics and inspecting religious houses and issuing surrender documents including one to Reading's Abbot. He defiantly tears it up, leading to inevitable disastrous consequences.
There is a clever parallel story of the neighbouring nunnery who are also forced to leave the Priory in degrading circumstances. Dani McCallum plays the humble prioress and also a feisty Anne Boleyn, forever complaining during her pregnancy and angry at her husband's infidelity with Jane Seymour (Emma Denly).
Strong support is provided by Nathan Ives-Moiba as the loyal brother Jack. Sarah Jane Booth's beautifully rich costume design and mosaic raised set reflected the period perfectly.
Assuredly directed by Jonathan Humphries and with a haunting sound scape by composer Benjamin Hudson. This is an enthralling production.
It's an immersive experience. Do go.
Reviewer: Robin Strapp