The Last Ever Musical
Book by Simon James Collier, music and lyrics by Richard Bates
The Okai Collier Company & Ercol Entertainment in association with The White Bear
White Bear Theatre
–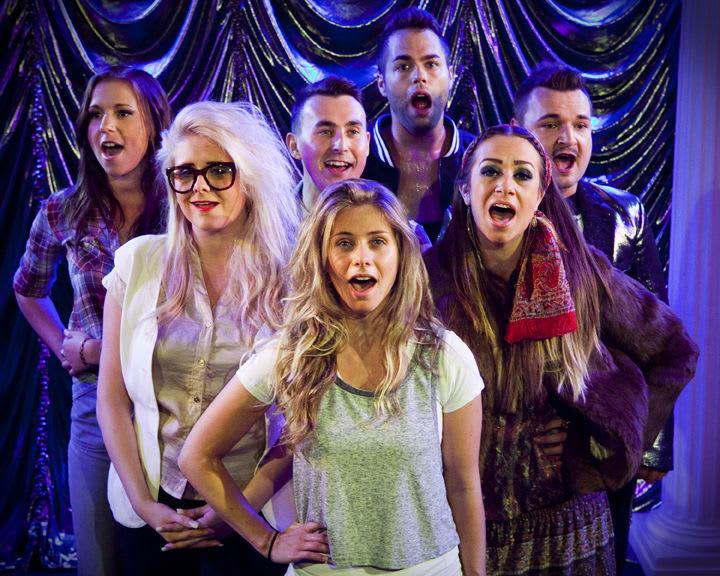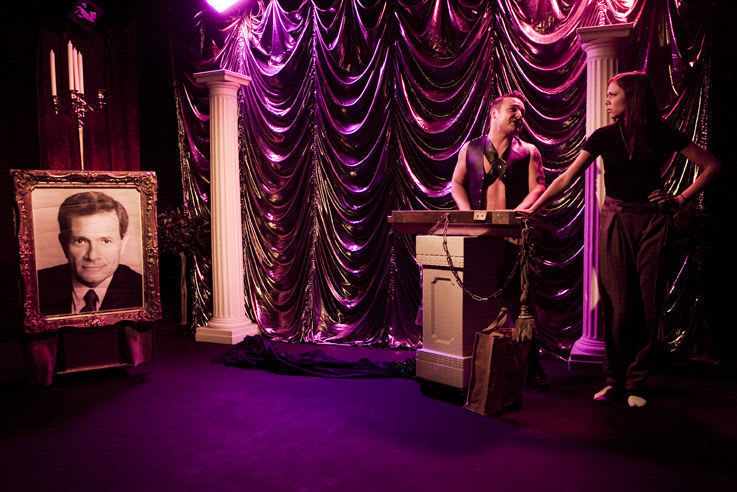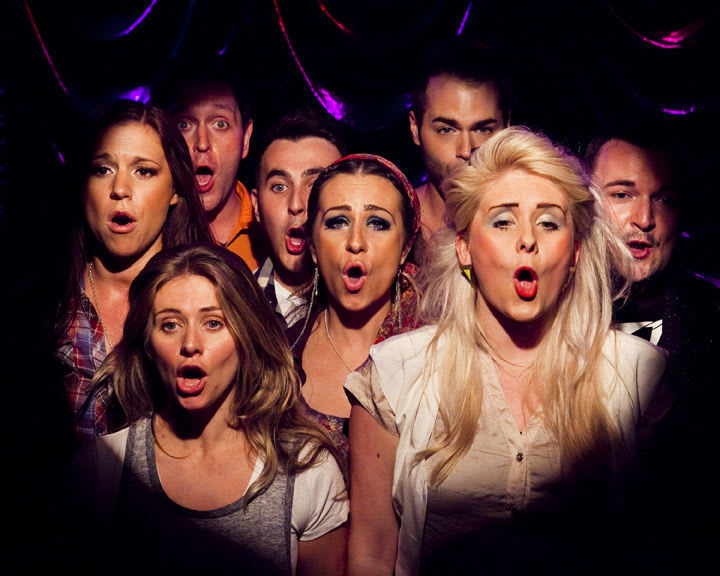 A musical about putting on a musical is not exactly a new idea. From vehicles for Garland and Rooney to The Producers it has been a stock storyline and, despite the title, this certainly won't be the last. But with one written and directed by a producer as productive and innovative Simon James Collier you can be pretty sure that it is going to stretch the form.
This show is a producer's nightmare and like a nightmare isn't entirely logical or real. Which bits are supposed to be happening and which are figments from producer Brian Wilts's (or Collier's) worst dreams I would not like to say. In this wild world truth often is much stranger than the fiction.
Someone is bound to tell me that Roxand Smarts, the kilted leather queen composer / lyricist whose boys act out being dogs (and who is boldly brought to life by Leejay Townsend), is just like someone whose show they just worked on—but only in fantasy could you possibly be commissioned, as here, to create a musical based on the life story of a tampon. Yes, a tampon! The funds for this one come from the Femlete Feminine Hygiene Corporation and they want their product promoted.
This kind of funding doesn't come along often so Wilt grabs it. He has commissioned north country lesbian novelist Harriet Pie (Rebecca Hood) to write a feminist play but now, when he's used most of the cash up on other loss making ventures, the backers are asking for an all singing all dancing musical.
Wilt has to put a show together. He hopes that Smarts, Lovelace Lewis (Stacey Victoria Bland) transcendental director with whom he has a personal backstory, and Pie can quickly cobble something together around her script. The show follows the process from coaxing his collaborators to participate, auditions and temperamental rehearsals through disaster to a freak success. Part tongue-in-cheek send-up, part affectionate celebration of theatrical energy and optimistic enthusiasm, it is a mixed bag that isn't going to challenge Les Misérables but will tickle the fancy of those who know the territory.
You are unlikely to encounter anything stranger than a depressed producer singing a love song to a sanitary accessory (that must be nightmare surely, along with his other visiting phantoms) but Richard Bates has come up with some attractive numbers and some clever lyrics, though at the preview I saw some of the singers had trouble getting them heard over the volume of his keyboard. With Jonathan Barnes as Wilts, Emma Kurij as Marlene, the stage manager who ends up in the lead, Rick Tolley as sexually predatory Ben and Lauren Harvey and Jeroen Robben as a couple of engaging hoofers, this is a company that captures works together to transmit that show business enthusiasm whatever the obstacles helped by Omar F Okai's spirited choreography, including a sparkly show-off solo for Robben and a sequence that encapsulates in just a few bars the company's complex erotic entanglements.
When needed there are some glitzy costumes by David Shields against a simple but shiny setting, with Ciaran Cunningham's careful lighting among the best I have seen in this venue; like Collier's direction they keeps things simple and concentrate attention on the actors.
The Last Ever Musical sets out primarily to amuse but behind some of the frothiest fun lie some home truths. I do hope that character Brian Wilts's decision to make this his last production don't apply to Simon James Collier for that would be a serious loss to London's theatre.
Reviewer: Howard Loxton