The Last Five Years
Jason Robert Brown
Life In Theatre
Epstein Theatre, Hanover Street, Liverpool
–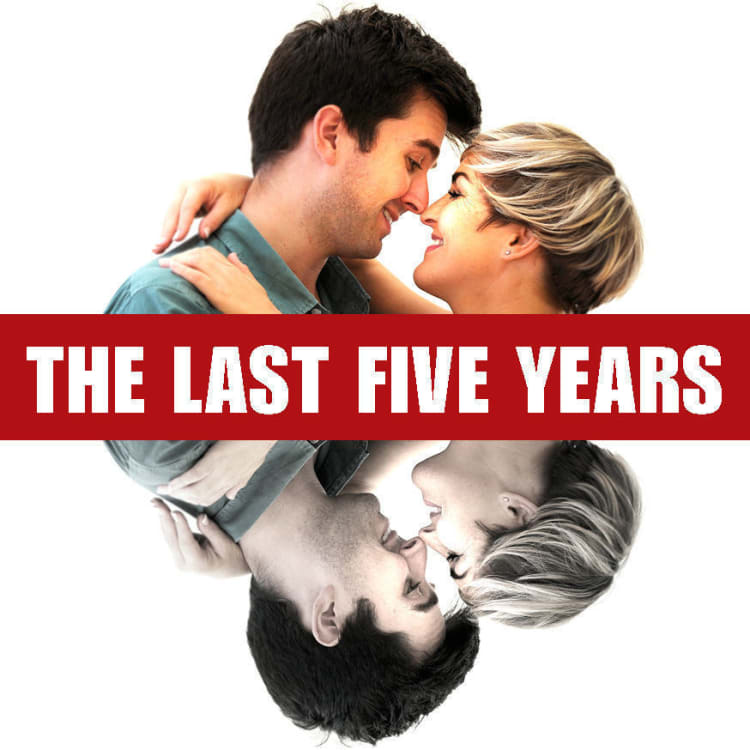 I'm going to tell you a secret about Jason Robert Brown's The Last Five Years. The show tells the story of the five year relationship between Jamie, 'an up-and-coming novelist' and Cathy, 'a struggling actress'. Don't worry, my sharing this "secret" won't spoil your enjoyment of this fine production, it will enhance it. Here's the "secret", lifted directly from the programme notes:
...Jamie's story is told chronologically, while Cathy's story is told in reverse.
You need to know this, just in case (like me) you're not smart enough to work it out for yourself, because knowing it will add to your emotional engagement with these two characters and the story of how their careers clash with their love for each other. It's especially important in the closing scene to be aware that one of them is looking forward to a beginning, while the other is looking back at something ending.
Helen Carter (as Cathy) and Stephen Fletcher (Jamie) are gifted actor/singers, articulating complex and often demanding lyrical structures with great clarity and emotional veracity. Given that The Last Five Years is told entirely through song, the ability of the performers in this two-hander to enunciate tunefully and in character is crucial. Carter and Fletcher display excellent technique and versatility.
The show's opening scenes ask a lot of Carter, as Cathy is thrown straight into the dark pit of grieving for her broken marriage, whilst Fletcher has the uptempo, hopeful numbers of a Jamie who has at last found his "Shiksa Goddess". Jamie's lively, witty numbers grab the early applause, but the audience is storing its appreciation of Carter's ability to exude pain and anger through song and, once a pause in the score permits, she too wins warm applause.
The device of opposing timelines for the two lovers may be clever, with one moving forward to the end of their marriage, one backward to their first date, but it exacts a heavy price. There is only one duet—"The Next Ten Minutes" (the story of their wedding)—set, naturally, where the two timelines cross. For the rest of the play, the story unfolds in musical monologues, the sense of Cathy and Jamie as a divided couple emphasised by their very different trajectories—when he is happy and hopeful, for example, she is bitter and despairing, and vice versa.
As a consequence, we never see the two as a couple sharing life experiences. The enduring sense is of a relationship doomed to fail, and this impression of inevitability serves to undermine the impact of their separation. I wonder whether another director might have been able to mitigate this, where Fletcher chooses to run with it.
A cynic might detect in The Last Five Years a case of art-as-revenge by the author, for it would not take much effort to read into it the message 'you drove me into the arms of another woman through being jealous of my success' (note the character glosses: he is 'up-and-coming', she is 'struggling'.)
That said, I urge you to put aside any disquiet over the imbalance of the two stories (which the author no doubt worked hard to overcome) and simply enjoy ninety minutes of outstanding performance. Helen Carter is strong throughout but excels herself on "When You Come Home to Me", a what-I'm-really-thinking account of the audition process (you don't need to be a performer to live every moment of comedy, frustration and humiliation with her). Stephen Fletcher shows himself to be a natural storyteller, investing each song with life and imagination, even managing to save "The Schmuel Song" from the beckoning chasm of cheesiness.
These two are well worth their standing ovation—credit also for Nick Phillips (piano), Emily Roe (violin) and Luke Moore (cello). Live musical accompaniment is more responsive, more vibrant, more theatrically urgent than any prerecorded soundtrack.
The final scene, with Cathy's excited, hopeful "Goodbye Until Tomorrow" set against Jamie's bitter valedictory "I Could Never Rescue You" is all the more poignant once you know the "secret".
Get along to the Epstein before 23rd June for a fine little show in a fine little theatre.
Reviewer: Martin Thomasson