The Last Ship
Music and lyrics by Sting, director and book by Lorne Campbell
Karl Sydow and Kathryn Schenker in association with Northern Stage
Royal and Derngate, Northampton
–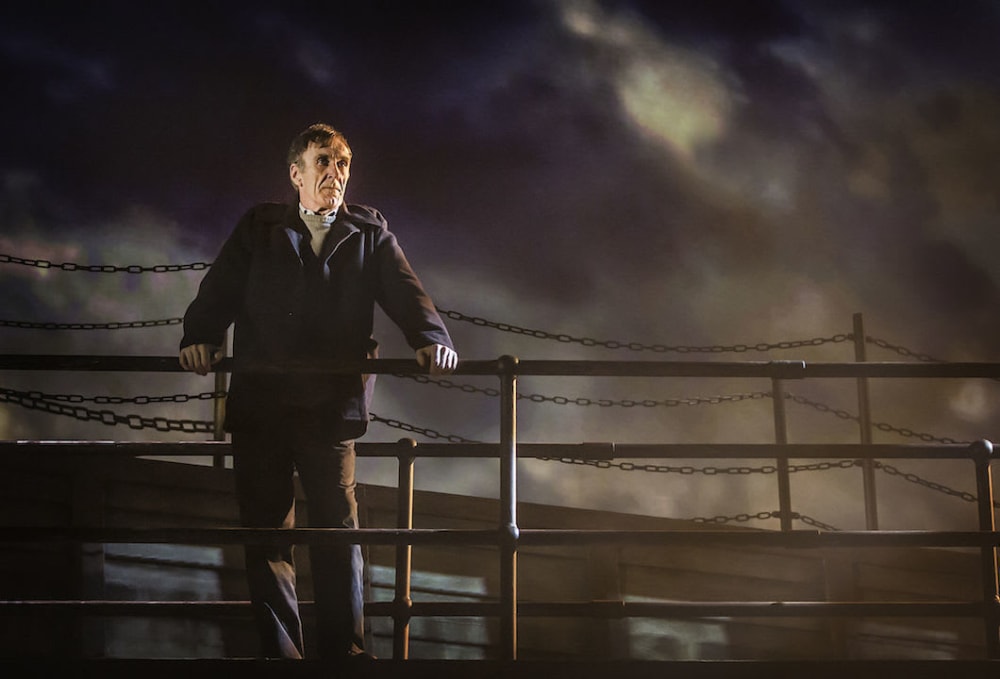 Described as Sting's "personal, passionate and political" musical, The Last Ship feels like a love song to this global rock star's Geordie childhood, as well as a lament to the shipbuilding past of the North East.
Now at its third location on a 12-stop UK tour, this musical has been several years in the making; originally, and somewhat inexplicably for such a peculiarly British show, opening on Broadway in 2014 for a short run, then revived and re-launched in 2017 with new producers Karl Sydow, Kathryn Schenker in association with the Northern Stage, opening at its 'home' venue earlier this year.
The Last Ship tells the tale of shipbuilding town Wallsend, where the heavy plant construction of the latest ship towers over the terraced streets. A young Gideon Fletcher wants no part of this and runs away to the Navy, away from home and his sweetheart Meg (unaware she is pregnant by him). He returns 17 years later to Thatcher's Britain, the shipbuilders on strike, Meg now owner of several businesses and a daughter Ellen, who wants to escape to London with her band.
The shipbuilders have almost completed a new vessel, Utopia, a symbolically significant name given the government and the company owners deem the ship is too costly to sell and should now be dismantled for scrap. As the health of their stoic foreman Jackie White deteriorates, the community takes action to try to save the ship and their town.
As we hear at the start, this community are "the tellers, not the telled", and the Wallsend story they tell is typical of many nationalised industries of the 1980s at the mercy of political ideology and the marketplace.
Sting's lyrics and Lorne Campbell's book have a poetic strength, although frequently veer into simplistic, predictable rhyming couplets, occasional cheesy sentiment and stereotypical characters. That said, the choral power of Sting's music gives this show real heart and soul, with stunning vocal arrangements and songs mainly in a folk style (often accompanied with emphatic stamping), along with a few jazz, soul and Latin-inspired numbers.
59 Productions' design is a key element to this production, evoking coastal, crashing waves, the community church's stillness and arched grandeur, as well as the cranes and metalwork of Tyneside's skyline. On-stage projections are an effective addition to many shows currently, and this is one of the best I've seen.
A busy stage, the cast of 18 (and just-on-stage band of five) all deliver strong performances, dynamic and full of energy. Whilst this is very much a male-dominated industry, I found the female relationships and performances of more interest, particularly Frances McNamee's independent, proud Meg nuanced with her fears for her daughter Ellen, a spirited performance by Katie Moore doubling as narrator.
Charlie Hardwick as Jackie's wife Peggy is tender, but strong when she needs to be, and her scenes with Joe McGann (Jackie) are sincere and convincing as a long-married couple. Richard Fleeshman (Gideon) sings in a similar style to Sting, not a bad thing but an interesting reflection of his position as returning local boy having made his name elsewhere in the world.
As the musical nears its end, the plot is in danger of floundering on the rocks of cliché and implausibility, however, a rousing speech by Moore (notwithstanding a rather left-field plea to "save our NHS") and a storming, stomping finale bring this ship home to a heartwarming conclusion.
Reviewer: Sally Jack