The Last Supper

Reckless Sleepers
The Continental, Preston
–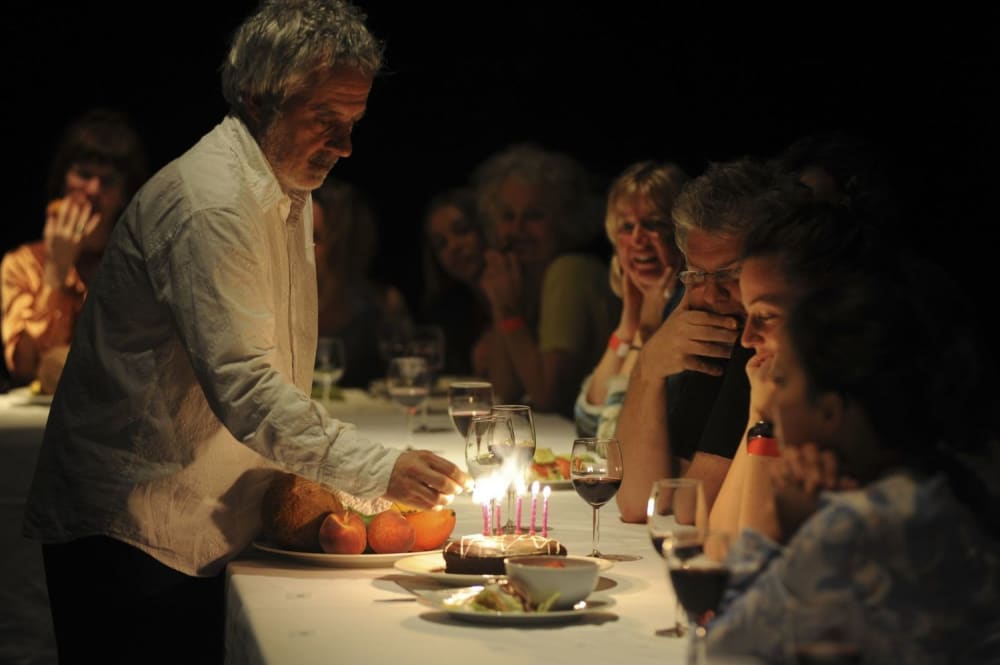 The tables are set for an elegant supper, the audience take their seats around them and are offered a glass of red wine, for this serving of a unique form of theatre.
Three performers ranged across the top table act out the last moments of a host of saints, sinners and celebrities; their final actions, food choices, and words—which are themselves promptly eaten, on rice paper.
Ten audience members are also treated to the actual last supper requested by a series of condemned prisoners... in my case a light salad with peach slices, and a banana!
It all becomes a form of dramatic communion in a performance that theatre company Reckless Sleepers has been touring around the world for a dozen years.
Staged here for two nights, in the perfect proportions of The Continental's pub theatre, it's acted out for an audience of 20 to 30. Also 'present' are the spectral figures of everyone from Che Guevara to Leonardo Da Vinci, Copernicus to Rasputin, and Einstein to Bogart.
It's an instantly accessible, entertaining and relaxed form of delivery—maybe just a little too relaxed on this occasion since all cast members, one or two of them new to the production, read through the script on the table in front of them leading to a rather too static delivery.
The dramatic potential is more evident, and compelling, when they recount the last moments of the Russian royal family, the Wicked Witch of the West, or the particularly poignant last phone call from Marilyn Monroe.
But Elvis Presley's last moments, for instance, could have provided a much more dramatic focus, not to mention a bizarre setting.
It would be unfair, though, to bite the hand that feeds you here and no-one should be dissuaded from experiencing a novel entertainment that delicately straddles the increasingly blurred line between theatre and performance art.
Reckless Sleepers hopes to bring it to Blackpool (one-time home to artist and performer Mole Wetherell) and you would be advised to take up the dinner date.
Reviewer: David Upton