The Last Witch
Rona Munro
Pitlochry Festival Theatre
Traverse Theatre, Edinburgh
–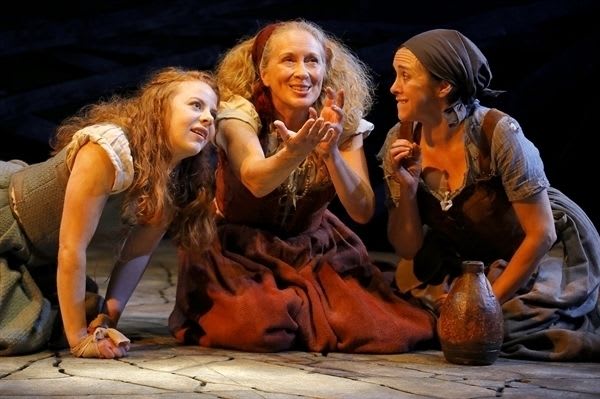 A timely revival of Rona Munro's play which originally appeared in 2009: a lot has changed in that time, unfortunately making the play more rather than less relevant.
Janet Horne (Deirdre Davis) is the last woman executed for witchcraft in Scotland (and Britain); her and her daughter Helen (Fiona Wood) are both accused, but Helen escapes.
Despite being a key moment in our history leading up to the 1735 Witchcraft Act (ending the capital offence, creating minor pretending offence), the details are rather vague, even her name is just a generic colloquial term for a witch and there are uncertainties about the year too. This gives Munro not only a relatively blank canvas, but also a sense this dark story needs some enlightenment.
Munro does just that, imbuing Janet Horne with many of the most poetic lines and a strong, not always nice, but certainly intriguing character.
Wood relishes Munro's language and is clever, witty and sexy as the sharp-tongued and often arrogant protagonist.
The link between witch trials and the subjugation of women is detailed in Silvia Federici's Caliban and the Witch. This is brought to life in Munro's play through the relationship between Captain David Ross (David Rankine) and Janet.
The Captain's relationship with Janet starts amorous but turns sour, sealing her fate. Rankine plays the cold-hearted, fresh-faced villain of the piece and the production doesn't hold back on the brutality with Janet in chains pulled by the Captain.
The Captain is assisted in his trial and torture by the far less enthusiastic Niall the minister (Graham Mackay-Bruce) and Douglas Begg the neighbour (Alan Steele).
Steele is very good as the neighbour, an everyman who has fallen out with the feisty woman next door, but baulks at the idea she will be put to death on his words.
Munro adds a pinch of folk horror to her bubbling cauldron with the addition of the character of Nick (Alan Mirren) a tall dark figure who appears as if summoned by Helen.
Helen and Nick's subplot adds a dark humour and almost a relief from the central tragedy, and of course Helen escapes in the end.
Amidst the fire and brimstone, there is one redeeming relationship: the friendship between Elspeth Begg and Janet is quite sweet. Indeed Elspeth is perhaps the play's only sympathetic character, although old Nick has his moments.
In The Crucible, the Salem witch trials are an allegory for political witch-hunts; here, though, we see the past shine a light on the present more like a mirror.
Reviewer: Seth Ewin