The Laundry
Brandon Force, Nicole Palomba and Audrey Thayer
15° Degrees in association with Drayton Arms Theatre
Drayton Arms Theatre
–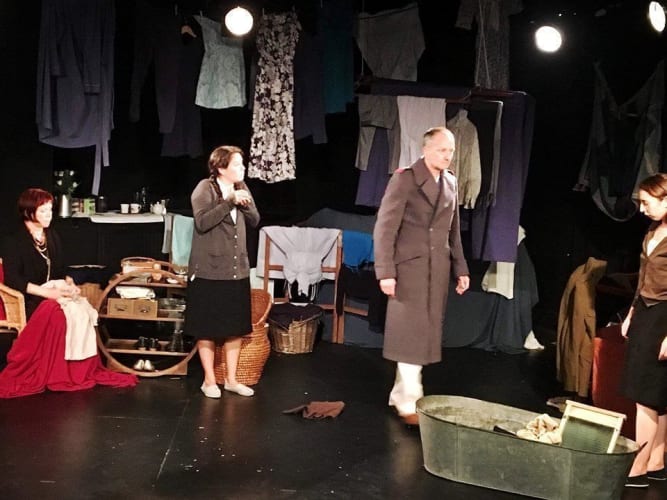 The Laundry is an ambitious story of three generations of women living through momentous historical events across two continents, though the events such as St. Petersburg 1917 and the Second World War get little more than a name check.
Extending the play's reach beyond the known world, characters occasionally talk with ghosts.
No wonder the women yearn for a clearer idea of who they are. The dislocation must be immense.
Blink and you might miss something. Even if you don't blink, you are likely to miss something. It wasn't just the characters who wanted more clarity in this performance.
Why for instance did they keep putting pairs of shoes at the front of the stage? Was it to signify a memory or a particular identity? And what was the purpose of Hannah popping over to Panama to raise with a stranger interesting ethical issues about the Panama canal which didn't seem to connect to the rest of the story?
Early scenes are framed as a memory of Ava (Fiona Watson) as she sits in a British care home waiting for a visit from Hannah, the grandchild of her sister Anina (Nicole Palomba).
She recalls school days with Anina, their attempt to escape from Russia and their consignment to a gulag forced labour camp where they worked in a laundry. Their life is slightly eased when a guard takes a shine to Anina.
This is part of the history that has shaped them that Anina's daughter Anna (Nicole Palomba) and Hannah (Verity Williams) are shown separately wanting to know about.
We glimpse interesting stories and the performance is fluent and engaging. But the characters and their situations are too fleeting for us to care much about.
There are also improbable moments that distract us, and I am not referring to the conversations with ghosts.
Would Ava really respond to the news of the death of a child she has raised as her own with the words from Shakespeare's Macbeth: "she should have died hereafter"? Would Anna suddenly deliver a monologue of family secrets to a bored-looking, non-responsive stranger who is trying to read a newspaper?
Despite the broad canvas of this play's landscape, its focused concern with women "chasing who I am" feels incomplete and distant.
Reviewer: Keith Mckenna