The Lavender Hill Mob
Phil Porter after the film
Patrick Myles, David Luff and Act Productions, and Sandy Marshall with Tulchin Bartner and Weird Sisters Productions
Festival Theatre, Malvern
–

Listing details and ticket info...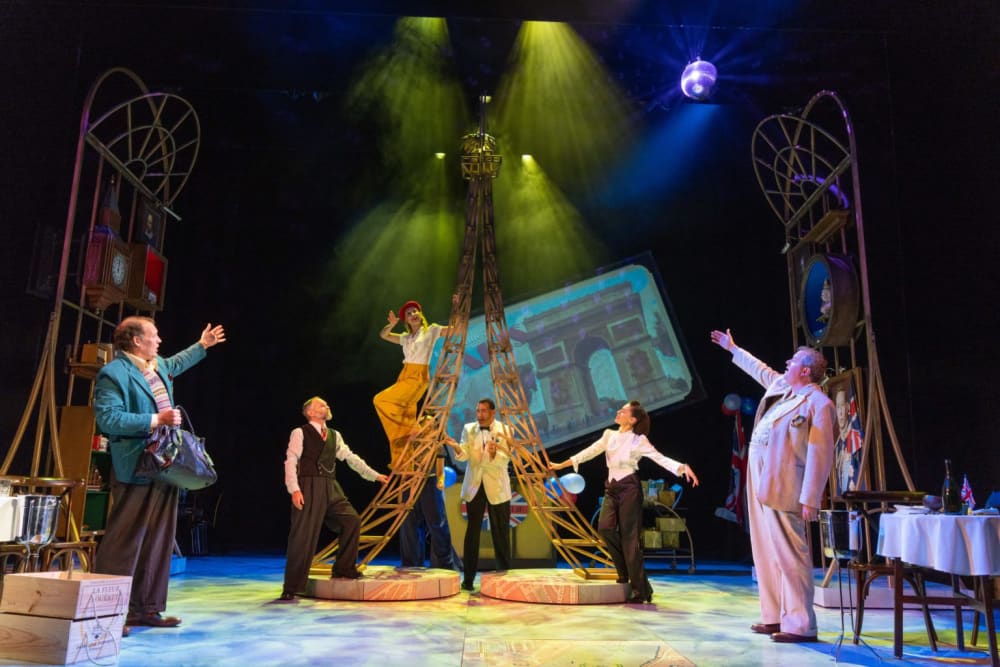 Henry Holland is on the run after masterminding a gold bullion robbery, and, like Mr Biggs 20 years later, has taken up residence in Rio de Janeiro. But there the resemblance ends.
Henry is no thug, but one of those cheery British spirits, a charming eccentric who has surrounded himself with memorabilia from home at his Union Club and is fond of telling his chums, including the compliant local ambassador, about his great criminal exploit.
Phil Porter's stage play faithfully follows the plot of the 1951 Ealing Studios classic that starred Alec Guinness and Stanley Holloway. Yet it's best if audiences put that film out of their minds, for while the story is the same, the style is completely different—and none the worse for that.
It's not just that Guinness's gang members, Sid James and Alfie Bass, are played by women, Victoria Blunt and Tessa Churchard, but that director Jeremy Sams abandons caricature for the sake of comic invention by the whole ensemble. The result is a delight.
There's nothing remotely sinister about Miles Jupp's Henry, "a very small potato" at the Bank of England who plays on his ordinariness to plot the theft of gold bars on their way to Threadneedle Street. Jupp has just the right disarming innocence, aided by a lugubrious Justin Edwards as his co-conspirator Pendlebury.
But the highlights of this frothy entertainment are the collective scenes, the cast crowding together as tube train passengers, as participants in a car chase, or in a memorable long take as Henry and Pendlebury try in vain to board a cross-Channel ferry in pursuit of their lost loot.
As always, a few anti-French gags go down well when the pair visit Paris, as do the French anti-British lines, just to preserve the égalité. There's that tired old joke about what seagulls do best, but Blunt, who seems to stock a BBC radiophonic workshop of sound effects in her repertoire, adds to the fun with her seagull calls, the second time with a French accent.
A thoroughly silly caper. Makes me feel proud to be British.
The show tours until February to Richmond, Brighton, Chichester, Cambridge, Guildford, Glasgow, Bath and Truro.
Reviewer: Colin Davison