The Legend of Captain Crow's Teeth
Based on the book by Eoin Colfer
Unicorn Theatre
–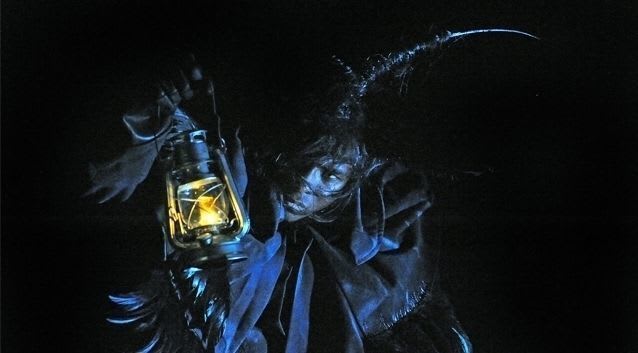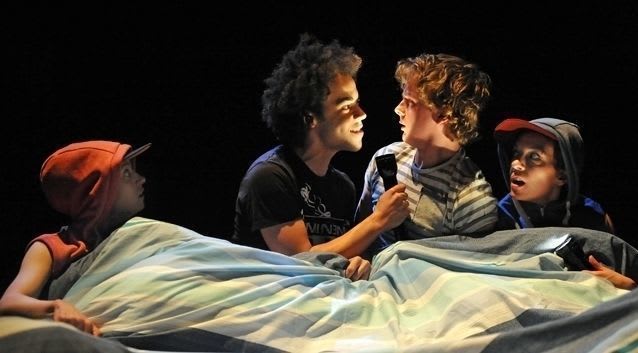 Captain Crow was a pirate and a wrecker. His men would put a lamp out on the cliffs so that ships thought it was the lighthouse and sailed on to the rocks and then they could steal their treasure. One ship in particular, the Lady Jacqueline, he followed a long time but when he caught up with her and found the treasure chest a nine-year-old cabin boy stepped out of it. "I may be small, but I am mighty" he said and aimed an axe that stuck the captain right in the middle of his forehead. That was four hundred years ago, but Captain Crow's ghost still wants revenge. He's still searching for that cabin boy or any other nine-year-old will do.
That's the legend, and when nine-year-old Will's elder brother tells it in the dark while he and all four brothers are in crammed in bed in their holiday caravan, Will is really really scared. Those haunted rocks are just down the road on the way to the village and the locals call them Captain Crow's Teeth, because on certain nights you can see the treasure glittering on them like a set of gold teeth.
This staging of Eoin Colfer's story by director Matthew Lenten begins with the pirates all spooky in the night mist. A couple of his crew are a little bit jokey so at first they are fun rather than terrifying, but you still wouldn't want to run into them, especially Miles Yemini's Crow, a tall black figure towering above everyone else.
They disappear as the lights come up on a bright summer day and Will bounces in to tell us all about himself and his brothers. Alasdair Hankinson, making his professional debut, is rather big for a nine-year-old and doesn't affect piping juvenile tones but he captures his boyish exuberance as he builds a rapport with the young audience.
With Cath Whitefield and Itxaso Moreno as his young brothers, Ashley Gerlach as elder brother Marty and Yekinni as Dad we meet the whole family—and the actors are kept busy doubling a half dozen more characters in this fast-moving production. That mixture of family love and sibling teasing is well captured and by the time a bench / table unit is upturned to become their bed, the audience's imagination is well working.
Dad says that the glitter on the rocks is caused by phosphorescence, but when Marty tricks Will into walking home on his own from the 9- to 11-year-old disco and has to take a short cut across the teeth 'cause he's late, his courage is really put to the test, and maybe yours too as Captain Crow comes stealing up through the audience.
It is a simple story simply told for the 7+ audience it is aimed at, well-paced and well-played with Garance Marneur's design (including a lovely model ship to ride on the bed waves) and James Mackenzie's lighting making it extra spooky and at just over an hour well within this age group's concentration span.
Reviewer: Howard Loxton