The Legend of King Arthur
Caroline Devlin
The Guildford Shakespeare Company
The Spiegeltent, Challengers' Field, Stoke Park,Guildford
–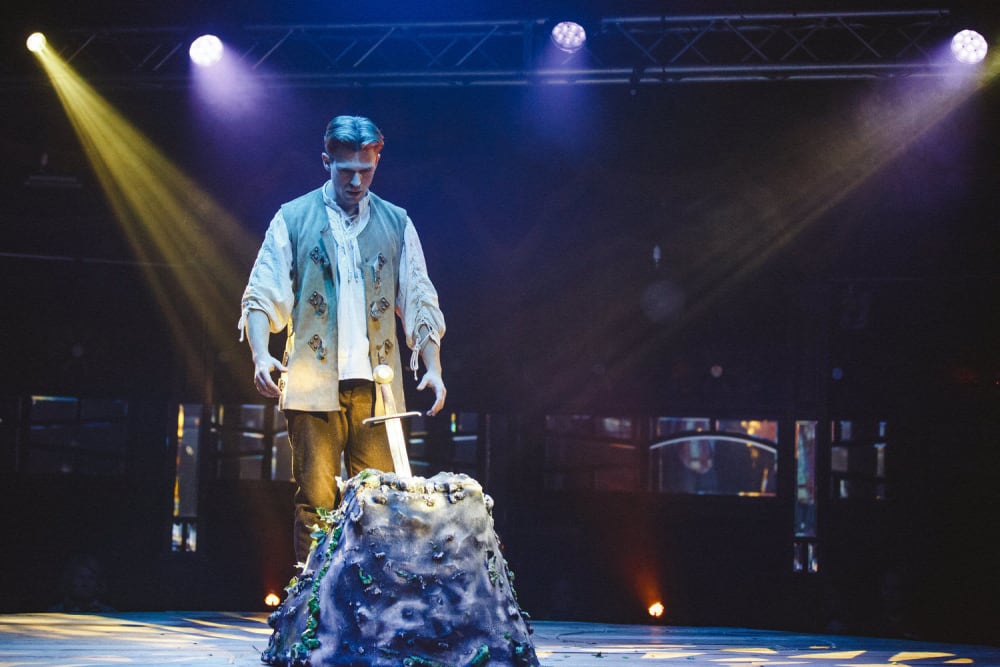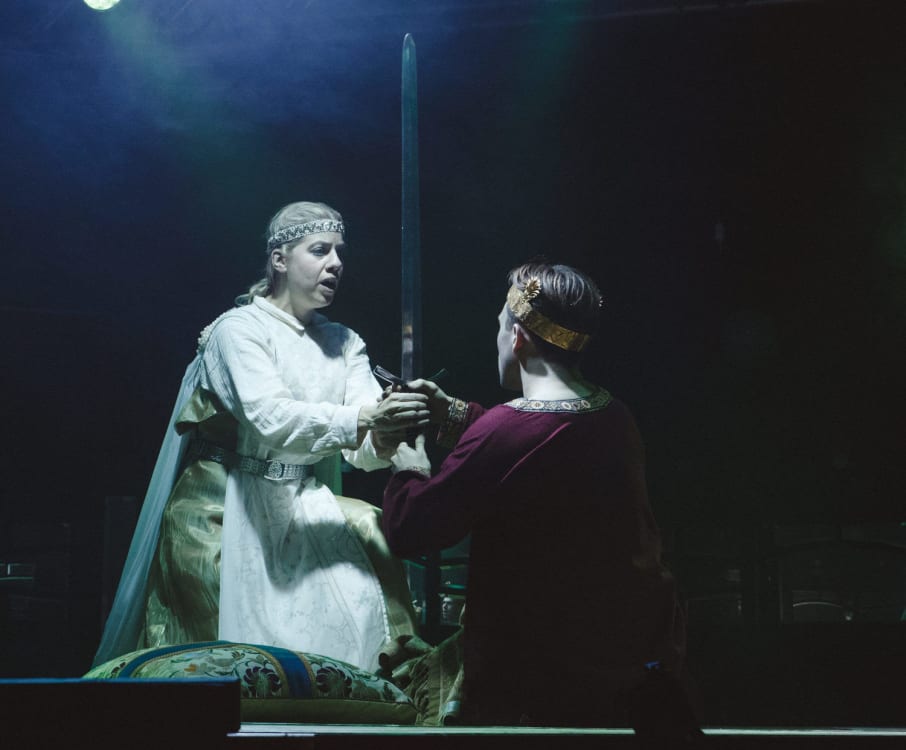 Once again the imposing and colourful Spiegeltent has been imported from Belgium and again sits splendidly elegant in Challengers' Field with its fascinating little wooden box office inviting us to step inside.
These tents were originally created as mobile dance halls in the early 20th century and with the mirrors and booth seating around the 'walls' it's easy to imagine how exciting and glamorous it must have been.
Today, it's excitement of a different nature with mystery and magic as The Legend of King Arthur unfolds, the mirrors reflecting from every angle adding illusion and enchantment, not to mention the unmistakable voice of Brian Blessed as the Divine Unseen creating fear and apprehension as it booms "Blessedly" with threats and warnings.
This company is always amazing. With only five actors, they create a cast of twenty-one very believable characters which, as there's no concession to gender, can be a little confusing at first. Emily Tucker plays Morgan, a girl disguised as a boy, while Emma Fenny (a gloriously quirky Puck in Midsummer Night's Dream) is Sir Kay, a girl playing a boy, all becoming obvious as the tale continues.
There's no such confusion with Simon Nock and his 'larger than life' characters of Lady Helena and Auntie Audrey which are played completely for comedy as is his Fen, the Leech Collector and Pooper-Scooper man, both of these producing gasps of delighted horror as well as laughter. Every appearance of this genial man invites laughter and badinage.
I was caught up with the story from the beginning when Alexander Varey's feckless King Uther gambles away his children to the leader of the Wolf Men in spite of wizard Merlin's warning. Flash forward sixteen years and recently graduated Varey is now the young Arthur (looking very like his father) and unaware of his heritage until he pulls the famous sword from the rock and becomes the king of Camelot, but this king is very young. He makes mistakes and alienates his friend Morgan unleashing The White Dragon's destructive magic.
It's a very physical production with these young performers constantly on the move, running, jumping, up and down steps, disappearing under the raised circular stage and, most of all, fighting. Fight director Philip d'Orléans must have had his work cut out with so many scuffles, wrestling matches, a little judo and a lot of excellently performed sword fighting and movement director Laura Weston also had a job on her hands with the non-stop action and so very many changes of costume, but it all works like very efficient clockwork.
My favourite character here is Noel White as Merlin. He may be a wizard but the pleasures of earthly flesh are not lost to him and he "cannot resist a playful nymph". I liked too the slightly wicked humour in his eyes and the often throwaway amusing comments, understated comedy that I found very effective.
My only negative comment is that after all the action, excitement and fun in this very enjoyable production the ending seems a little unsatisfying. Director Caroline Devlin (also the writer) keeps it fast and furious until the speeches when Arthur must return the sword and the change of pace seems to reduce attention span. It's also not quite clear why he has to die, even though he will be at peace with a father who gambled him away—and what will happen to Camelot? Maybe that's another story.
Reviewer: Sheila Connor