The Legend of the Ghost Shark
Anthony Morgan
Ultramarine Productions
New Century House, Manchester (24:7 Theatre Festival)
–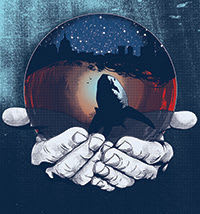 Billed as "a surreal comedy", Anthony Morgan's play is about a writer, Jason, who has promised to write an article on fish for magazine editor Jacqueline and also a story for the sinister Lucien by midnight—or there will be dire consequences—but he prefers to continue to write what he refers to as his "legend", narrated by the character Wendy who appears alive in the room.
His long-suffering wife Catherine, a doctor, tries to keep everything together, but two policemen, Conway and Morello, threaten to bring the whole house of cards crashing down.
There are a few warning bells ringing before we start on the play. Firstly, there are a few good examples of writers writing about writing, but they are greatly outnumbered by bad, self-indulgent examples. Secondly, the writer's note in the programme appears to be trying to justify, perhaps even make excuses for, his approach to writing the play. Finally, there's the use of that word "surreal", which rarely has anything to do with the surrealistic school of art and is more often used to justify stringing together random events without much artistry.
The warnings turn out to be justified. The plot is certainly non-naturalistic but is not surreal—in fact within its own world, this simplistic and banal storyline is told in a very conventional way. Some of the characters are inexplicably American and speak entirely in clichés from American films, performed with some appalling accents. But worst of all, not only is this "surreal comedy" not surreal, it isn't remotely funny, which makes this a rather tedious hour to sit through.
Christopher Bett is fairly likeable as Jason, Iona Thonger comes across well as Wendy, Victoria Brazier is particularly good as wife Catherine and James Nickerson certainly gives the character of Lucien his all, but the shouty Americans—Alison Darling as Jacqueline, Tony de Angelis as Conway and James Kerr as Morello—quickly outstay their welcome.
Reviewer: David Chadderton