The Leisure Society
François Archambault (translated by Bobby Theodore)
Trafalgar Studios
–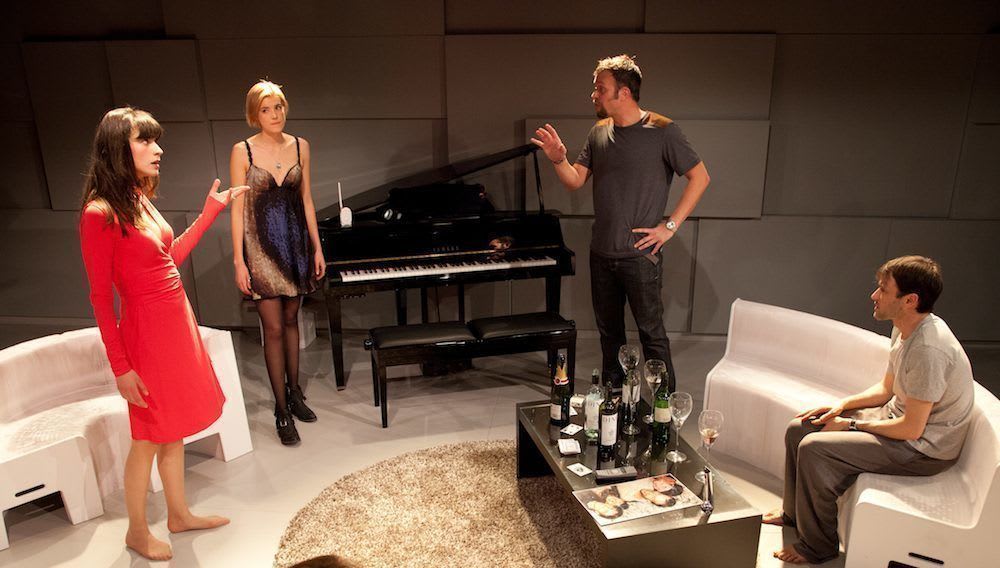 French Canadian dramatist François Archambault presents us here with a snapshot of yuppie angst.
Peter and Mary are a couple of thirty-something professionals who've got everything: good jobs, nice home, kitchen with all the latest gadgets, a pool and even a grand piano (though neither of them can play it) and a baby. They'd like another to keep it company but don't want the effort of going through another year of sleepless nights so have decided to adopt. That's where we see them first, at the adoption agency (probably the one that advertises in the programme "specializing in gifted children from the far east" for they'd like a Chinese little girl who will have the talent to play that piano (the jokes aren't just on stage).
They may want another little girl, but meanwhile, next Tuesday, Mary is booked in for an abortion and tonight they are having Peter's recently-divorced friend Mark round for dinner to tell him that he's not their friend any more, presumably because he no longer fits their life style. That sounds so preposterous that this must be a farce, for farces are usually built around accepting one preposterous circumstance, but despite the way that it develops I think this play is meant as savage satire.
These aren't people you'd want to know except as characters in a play, even Paula, the uninvited 21-year old Mark brings (along with a crate of wine) whom he describes as a "special friend" which means he hardly knows her; she is one of several he regularly sees for sex.
Mary and Peter are both supposed to have given up drink and cigarettes, though there are fags and booze cached in the grand piano, and it sounds as though Peter has pretty well given up sex; he's too tired and not it seems very good at it, though both of them fantasise about a threesome with a stranger. Since Mark is soon to be a stranger Mary thinks he'll do; Peter has other ideas.
These aren't people for whom you feel much sympathy, you just wonder how more awful they can get, but they are beautifully cast to deliver what the play demands. Ed Stoppard and Melanie Gray look suitably gorgeous: she elegantly fetching in a red dress, he more uptight as she gets bitchier, gradually crumbling. John Schwab's Mark is boisterous and randy—you can see why he won't fit the corporate world they move in—while as Paula, Agyness Deyn, making her stage debut in a bosom-revealing frock, hints at a nice girl trapped in this not too bright bimbo. It is a creditable follow up to her success as a model and on screen. There is also a first rate performance by the wailing infant on the baby monitor positioned on the grand piano, which also allows us to keep up with other intimate offstage action.
Designers Simon Scullion and Helen Woolfenden give it a chic elegance and director Harry Burton drives the pace, even the music that bridges the breaks between scenes is a comment on the glossy façade of this "leisure society". The episodic format, which gives successive glimpses as time passes, presents an evening with what could be the boring bits removed. On a superficial level it works, thanks to the bold way the actors present it. If the boring bits were left in you might begin to understand, even feel for, this foursome, but with the confessions from them you do get, would you want to?
Reviewer: Howard Loxton