The Lemon Table
Julian Barnes
Wiltshire Creative, Malvern Theatres, Sheffield Theatres and HOME in association with MGC
Crucible Theatre
–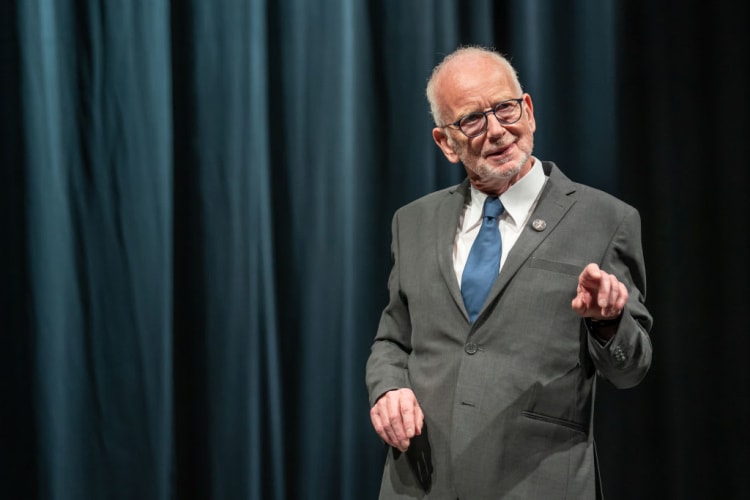 This must be one of the most exciting theatrical events to have emerged from lockdown. Combine Julian Barnes's thought-provoking and witty script with Ian McDiarmid's supreme acting performance and Michael Grandage's understated but compelling direction and we have a tantalising as well as entertaining short evening in the theatre.
Grandage provides a masterclass in the elements of theatre. A minimalist set, one actor playing two roles, the action divided into two sections: The Vigilance, presented by a near fanatic concertgoer, and The Silence, reflections by Sibelius on his life and work. The use of lighting and sound effects is carefully measured out to create maximum impact at significant moments.
In the first and very humorous section, the concertgoer describes his fury over distracting and unacceptable noise and fidgeting at moments of extreme beauty in the classical music he is listening to and the measures he employs to confront, humiliate and punish the perpetrators. These are based on his partner's accounts of retaliatory behaviour as a cyclist when nearly knocked off his bike. This includes the use of the foulest language possible, the ripping off of wing mirrors and thundering on the roof of the car as it drives away. In his imagination, the concertgoer relegates persistent coughers to the electric chair.
In the second half, we meet Sibelius late in his life after he has composed seven symphonies and won international plaudits. But now, inspiration has dried up and he is unwilling to produce inferior work. On several occasions in his life, he has succumbed to alcohol, much to his wife's despair, and has a bonfire of unfinished work not long before the end. Far from the adulation of composers expressed by the concertgoer, Sibelius is self-castigating and despondent.
He recalls occasions in his life when he was thrilled to see flights of migrating cranes, but of late these had been obscured behind grey cloud. But a day or so before his death at 90, he saw a flock of cranes approaching and one bird broke away to circle once above his home.
The lemon is a symbol of death in China and the 'lemon table' is a table around which people gather when they want to talk about death. Sibelius's reflections, memories and regrets are part of this process.
Julian Barnes's play script provides enormous emotional range for the actor and McDiarmid amply responds to this challenge. His is variously mischievous, scathing, angry, confrontational and coarse, and as Sibelius, sensitive, thoughtful, despairing, drunk and eventually ecstatic.
The simplicity of the setting and Grandage's imaginative transformation or use of the table and two chairs is continuously interesting, and subtle lighting effects transform the dingy back curtain into a cloudscape or a state of mind. McDiarmid's performance is rich in symbolic body movement, not least in the final image which could suggest a crane's wings, a composer conducting an orchestra, or the flight of a soul to God.
Reviewer: Velda Harris