The Life and Loves of a Nobody
Nick Chambers
Third Angel and Crucible Theatres
Crucible Studio
–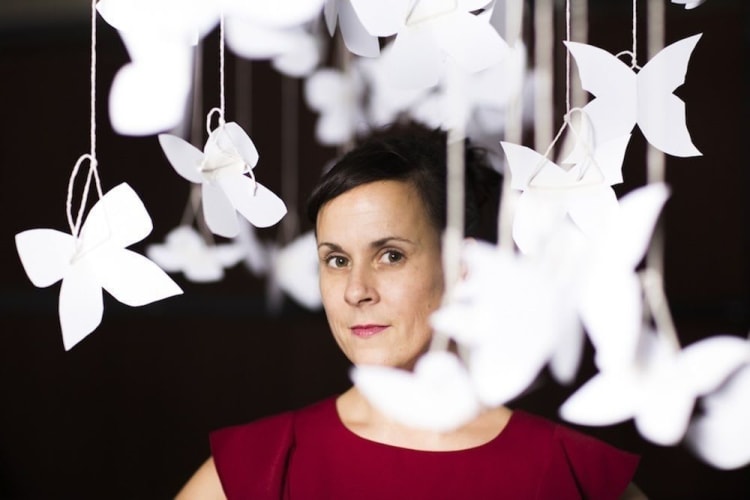 Third Angel is a Sheffield-based company which 'produces work across the territories of theatre, live art, film, video and photography'. Since 1997 the company has premièred a number of shows in the Crucible Studio and has also presented work in a number of non-theatrical spaces, including local Art Galleries.
The current offering, The Life and Loves of a Nobody, is a devised piece, which leans heavily on non-verbal visual episodes. The show started life as a solo item, a story about a young woman joining a circus, but has since been developed into an hour-long two-hander with a more extended storyline.
The company's strength seems to be in non-verbal, visual experimentation, which, in this case, includes sequences in which origami butterflies are painstakingly moved into the central stage space, a parchment house (which obscures the actors and renders them virtually inaudible) is slowly razor cut to provide windows of visibility and an actor trapped in a suspended raincoat makes an arduous escape.
This kind of slow-paced, 'significant' action does not sit easily with the third person narratives delivered by the two performers, and would be more at home in a gallery.
The show is given a transverse setting, with two banks of audience facing one another. Audibility is an ongoing problem, good when the performer is facing your way, but otherwise not. The devised language of the piece is not inspiring, usually taking the form of low key third person narrative, and the show is essentially untheatrical, with little variation of pace, or genuine dramatic action. The slow movement of the 'performance art' sequences is interesting but not a substitute.
There is a confusion of content and style in this piece. Theatre and literature often explores the experience of a nobody, as Beckett, Pinter, Dostoevski attest, but it takes a good writer to do it. This piece would provide a better experience if it was radically edited and presented as art rather than theatre.
Reviewer: Velda Harris