The Life and Times of Mitchell and Kenyon
Daragh Carville
The Dukes and Oldham Coliseum Theatre
Dukes Theatre
–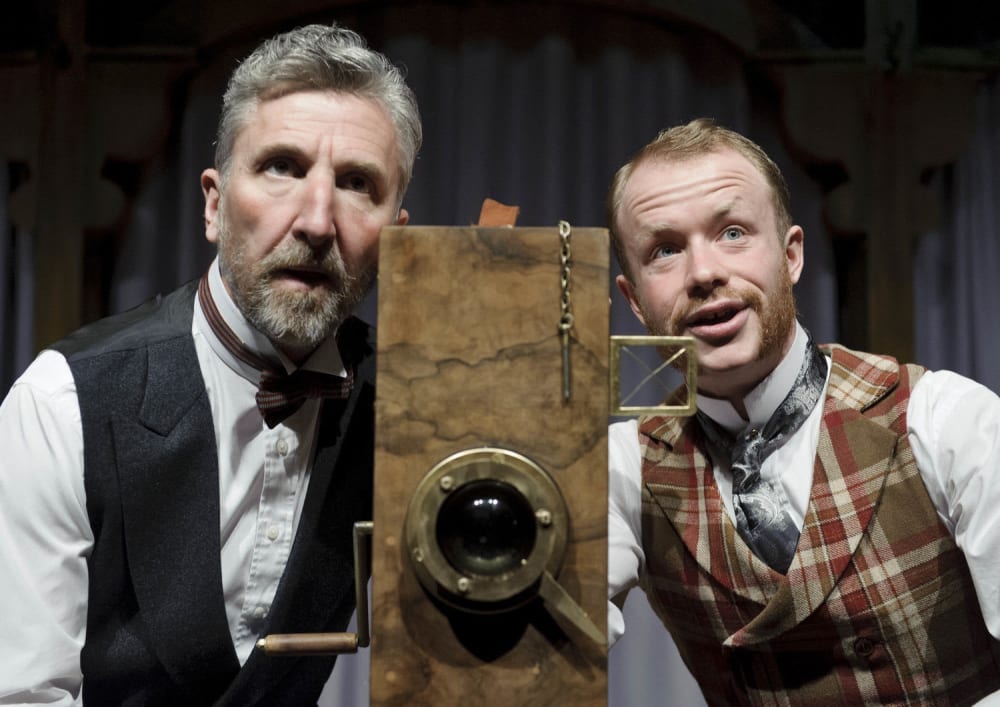 During rebuilding work in 1995 at a long-closed shop in Northgate, Blackburn, two milkchurns were found to be filled with rolls and rolls of film.
Instead of sending them to landfill, the contents were given to a local historian, Peter Worden, who catalogued, cleaned and restored this unique collection before donating the films to the BFI in 2000. Sagar Mitchell and James Kenyon filmed people at factory gates, in the streets of the north west and on holiday in the coastal resorts between 1899 and 1913.
Using a cheerful and lively music hall format, the cast of five take an enthusiastic audience through the meeting of the energetic young Mitchell and the older, more cautious, established businessman, Kenyon.
With a brand new, cutting edge camera, the pair started by filming the people of Blackburn, processed the film and showed it the same day in the local variety theatre—'Topicals', they called them. Soon they were showing topicals at fairgrounds, and then moved on to simple short films.
Gareth Cassidy is the enthusiastic Sagar Mitchell, Christopher Wright the quieter James Kenyon. Jo Mousley, Liam Gerrard and David Westbrook take on the other eleven parts of assorted wives, showmen, journalist and BFI technician. Peter Worden and Herman Page between them, play the piano and farting horse.
After learning about the story of Mitchell and Kenyon, director Amy Leach saw the potential for a production. Amy contacted Joe Sumsion at the Dukes. Joe took on the idea, together with Oldham Coliseum, commissioned Lancaster writer Daragh Carville.
Then with designer Barney George, composer John Biddle and with video and lighting design company Imitating The Dog a fascinating new play was born.
The north west is still up there and innovating. Many of the factories and mills with their smoking chimneys are gone but the people are there making things and making good.
A very enjoyable evening looking at the early history of film in the north west through music, original film and humour.
Reviewer: Denis W McGeary