The Life I Lead
James Kettle
Jonathan Church Productions and Exeter Northcott
Wyndham's Theatre
–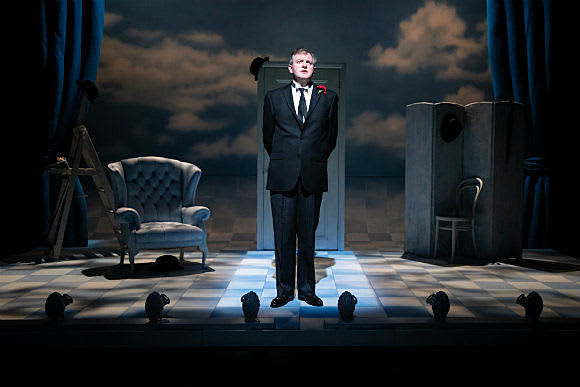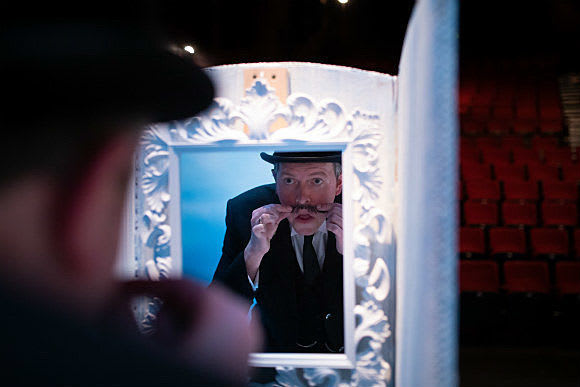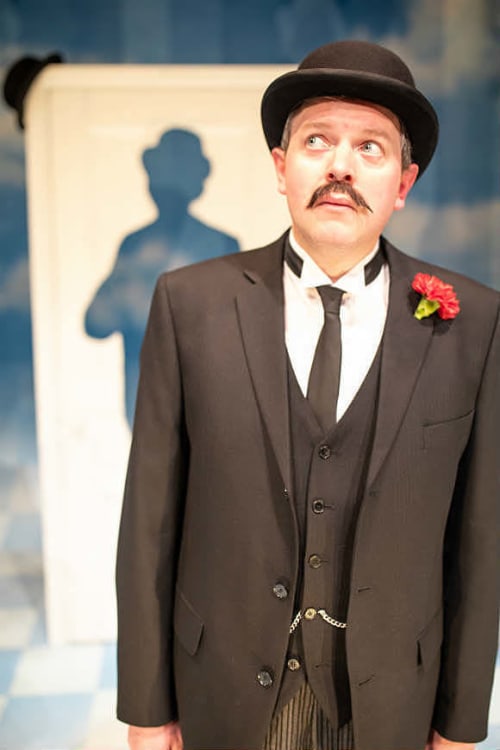 "The Life I Lead" is the signature song for the Mr Banks character in the Walt Disney film of Mary Poppins, which was played by actor David Tomlinson, and this entertaining one-man show has Miles Jupp as Tomlinson regaling the audience with anecdotes about his real life in which playing George Banks was a landmark.
Designer Lee Newby presents a sunny blue and white surreal setting that promises a happy show. It's a cross between a Magritte painting and an Angus McBean photograph with iconic bowler hats scattered around it, a silhouette hole in the door centre-stage just waiting to be filled by P L Travers's banker and a rolled umbrella waiting to complete the character image.
There is a row of old fashioned footlights to match the show's theatricality and its occasional playful inventions (are they Tomlinson's own or James Kettle's?) but this is a very honest presentation of a life that has dark clouds as well as humorous highlights.
Jupp is an accomplished performer who presents a Tomlinson already an archetypal Banks. He makes a couple of tentative entrances at the rear of the stage before coming forward apologetically explaining, when he sees the audience, that there is no other way out and or realising they are in a theatre asking what's on. From then on, Jupp has charismatic control of the audience as he delivers this clever script with a timing that makes it seem impromptu.
Acknowledging that few people now recall his earlier films (he made nearly 40 before Poppins) and that it is Banks they remember, he embarks on a whole series of anecdotes about his relationship with Walt Disney and fellow star Julie Andrews (an angel with an Equity card).
After his theatre debut in Leatherhead, he seems to have been in a number of plays in which a girl turned into an animal and when courting his second wife Audrey both were playing in farces and would make mid-show dashes across the West End to meet up. He doesn't talk much of his theatre work but his comments about some of his colleagues get a big laugh.
In 1940, he got his wings in the RAF, then found himself training glider pilots ready for the Arnhem landing. A dark shadow here, for it was clear many would lose their lives, but already Tomlinson had had to live with the suicide of his first wife, wed in New York after a whirlwind romance, when she jumped from a hotel window.
Tomlinson had a difficult relationship with his solicitor father Clarence Samuel Tomlinson (known as CST) who was obsessed with Napoleon, but it provides much laughter, especially re-enacting a courtroom scene (surely a fantasy) with him defending David after he blacked out and crashed a private plane he was flying.
He touchingly speaks of his youngest son, at first thought to be deaf but then discovered to the autistic, and hilariously describes how he invented an American agent, pretending to be him to turn down work when he decided to give up acting (stopping before people stopped asking him).
Selina Cadell and Didi Hopkins are directors with a light touch and the production moves easily between serious and comic, its sometimes abrupt changes of track deftly signalled by Eliza Thompson's music cues and changes in Lee Newby's lighting.
This David Tomlinson describes himself as a "professional idiot" and Miles Jupp delivers him believably and with professional insouciance. Younger playgoers may miss out on some of the references but this makes is a very enjoyable evening. It has to make way for The Man in the White Suit so catch it while you can.
Reviewer: Howard Loxton