The Life of The Party - A Celebration of The Songs of Andrew Lippa
Conceived by David Babani and Andrew Lippa
Menier Chocolate Factory
–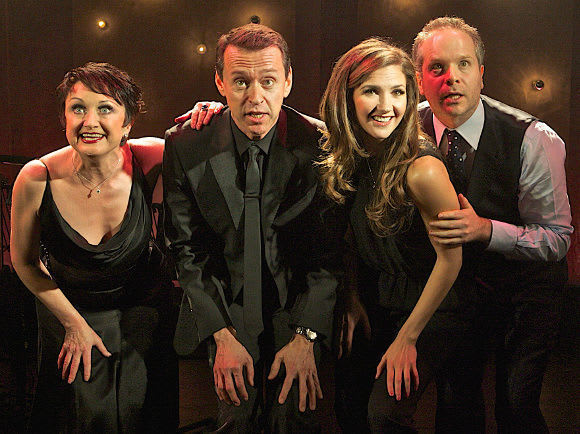 While not yet a household name in the UK, Andrew Lippa's music will be recognisable to any to any serious musical theatre fan.
Wild Party has gained a cult following and is beloved of drama schools all over the country, while The Addams Family recently enjoyed a Broadway run. That said, this show would be thoroughly enjoyable for anyone hearing Lippa's music for the first time; there are many factors but the main two are due to the personalities on stage.
Lippa himself is an integral part of this revue, narrating, playing the piano and singing his heart out. His infectious personality makes you want to like the music before you've even heard it and the anecdotes accompanying each show are delightfully told. He even sounds reminiscent of "The Man in the Chair" from The Drowsy Chaperone when describing his unfinished musical Betty Boop; "we ran out of boop!"
Secondly this is so much more than a standard revue. This is a show in its own right and has been very carefully directed by David Babani with light, shade a simple but effective set and three stunning performances from Caroline O'Connor, Damian Humbley and Summer Strallen.
Together (with Lippa) they convey a wide range of songs from the moving "Love somebody now" to the outrageous "Christ Almighty". There are solos and duets which all showcase their fabulous talent, but the most vocally impressive piece is the quartet "Poor Child" from Wild Party which Lippa proudly exclaimed "out-Verdi'd Verdi".
From these experienced performers, there is a real sense of the larger context of these songs. The audience is given a glimpse into each musical through the characterisation on display and the effective costume changes and dance routines ensure that this production is theatrical to the core. Only one song takes place in evening dress and that's the finale; the rest is a peek into the life of each show.
The band, beautifully directed by Andy Massey, also aids this sense of fullness and its versatility matches that of the performers as they weave their way through Lippa's back catalogue.
The audience at the Menier responded with great enthusiasm (even during the tiny amount of audience participation) and gave a standing ovation at the end. This carefully constructed show is uplifting and fun giving London audiences a taste of New York shows that haven't yet transferred and also previews of work in development.
Lippa's wit and cheekiness bleed through into the music and lyrics and the talented cast bring to life songs from Big Fish, A Little Princess, The Man in the Ceiling and The Addams Family to name a few.
In the programme notes Lippa argues that he isn't The Life of The Party but I think audiences would beg to differ.
Reviewer: Amy Yorston