The Lion King
Book by Roger Allers and Irene Mecchi, music and lyrics by Elton John and Tim Rice
Disney Theatrical Productions
Bristol Hippodrome
–

Listing details and ticket info...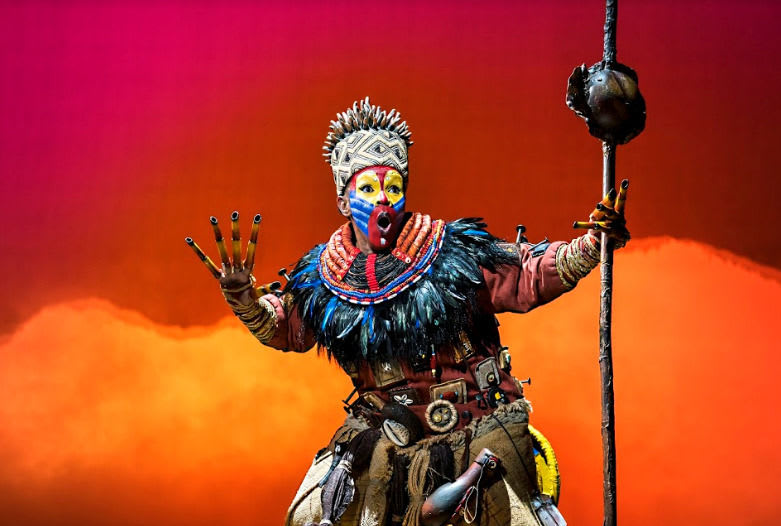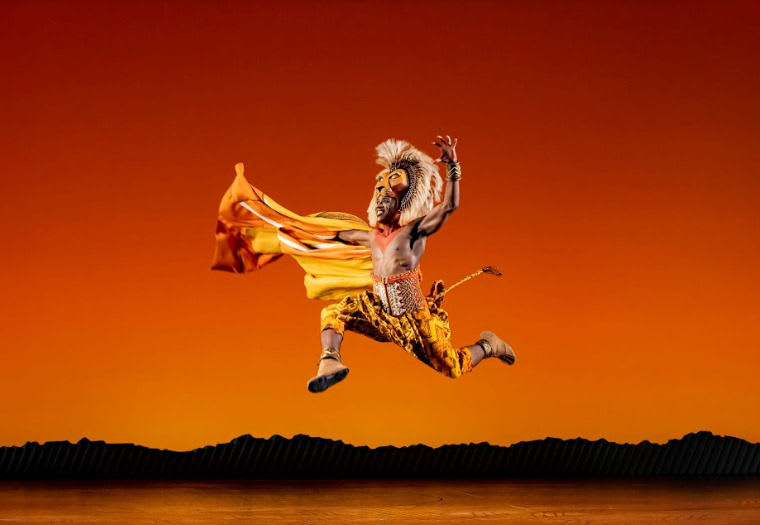 With over 100 million people having seen The Lion King worldwide, the most successful stage musical of all time needs little by way of introduction. Now Disney is marking the 20th anniversary of the show's run at the Lyceum Theatre in London by embarking on a tour of the UK and Ireland, kicking off in Bristol.
There can hardly be a more theatrically dazzling opening sequence than the gathering of animals at Pride Rock to celebrate the birth of Simba, the lion cub destined to be king. To the soaring strains of "Circle of Life" accompanied by a live orchestra, they assemble on stage from all corners of the auditorium: leaping gazelles, prancing zebras, stilted giraffes and swaying elephants depicted by majestic masks and fluid, graceful puppetry.
How do you follow such spectacle? As this well-known story of family betrayal and redemption with its roots in Shakespeare's Hamlet begins, the show borrows heavily from Disney's much-loved 1994 animated film. Sections of the dialogue are instantly recognisable when, in the shimmering heat of the Serengeti Plains, Scar plots to rid himself of both his brother, the current King Mufasa, and Simba, Mufasa's impressionable only cub.
While some characters swerve towards impersonation, others strive to echo rather than recreate their film personas. Members of the new touring cast have been drawn from around the world and South African Thandazile Soni is simply outstanding in voice and interpretation as the eccentric mandrill seer Rafiki.
Jean-Luc Guizonne exudes leonine strength and dignity as Mufasa, while Young Simba and Nala, portrayed on press night by Hunter Del Valle Marfo and Minaii Barrowes, are impressive and endearing in their professional debuts. As the cubs set off in search of adventure and encounter the menacing hyenas for the first time, there's another stunningly choreographed performance from the ensemble among the piled skeletons of the elephant graveyard, culminating in Scar's bleakly rousing rallying song "Be Prepared".
Comic asides are provided by neurotic courtier Zazu, played by Matthew Forbes, and Timon and Pumbaa double act Steve Beirnaert and Carl Sanderson. There's even the odd regionally-based quip to give the touring show some pantomime-style local resonance—with Zazu joking that one of the backdrops resembles a shower curtain from Bristol's St. Nick's market.
The production is visually breathtaking throughout; aside from director Julie Taymor's combination of African masks, Japanese Kabuki costumes and Indonesian shadow puppetry, the striking costumes and lighting design reflect the colours and heat of the African savannah. As Simba discovers his father's demise and escapes to his jungle refuge, he grows into Dashaun Young's initially tentative adolescent lion, emboldened through his reunion with Josslynn Hlenti's courageous young lioness Nala to return to the pride lands and claim his inheritance.
Songs from the film written by Elton John and Tim Rice are supplemented by an additional score and Lebo M's rousing African vocal arrangements. With each performance featuring 232 puppets and six African languages spoken or sung, The Lion King is an epic carnival of diverse styles. On occasion, the fusion can jar rather than blend, but this does not detract overall from a spectacular must-see celebration of the age-old triumph of good before evil.
There are still further tour dates to be announced: if you can't catch it in Bristol, the show returns to the region during July and August 2020 at Cardiff's Millennium Centre.
Reviewer: Claire Hayes