The Lion King
Music & lyrics by Elton John and Tim Rice, additional music and lyrics by Lebo M, Mark Mancini, Jay Rifkin, Julie Taymore and Hans Zimmer, book by Roger Allers and Irene Mecchi
Disney
Palace Theatre, Manchester
–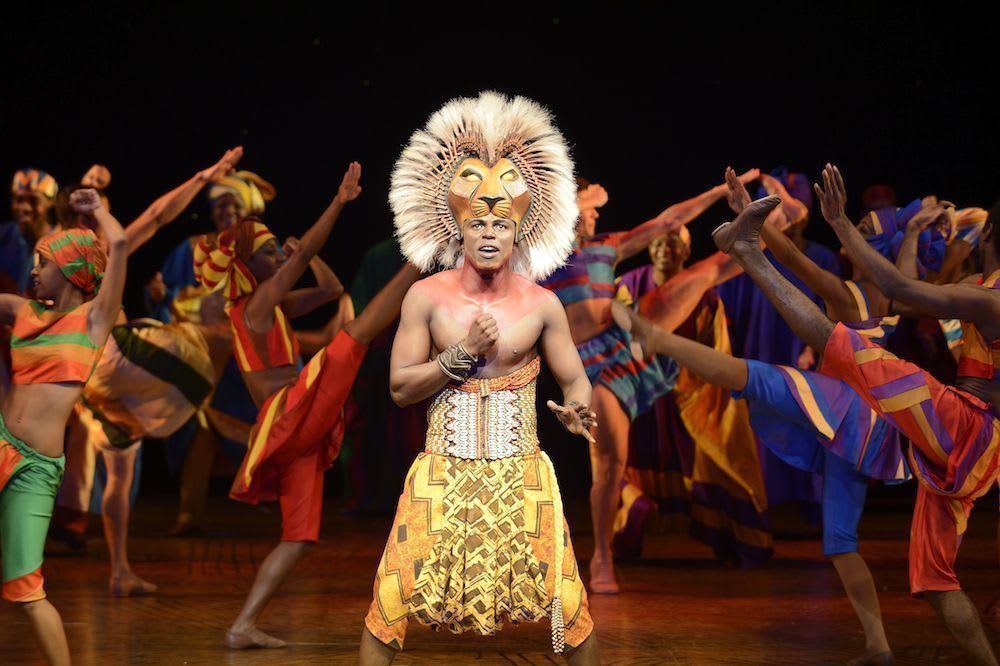 The front cloth flies to reveal Rafiki, an eccentric mandrill, alone on the African plain with a huge orange sun rising behind her. She hits the first note of an African chant to call the animals together to Pride Rock, soon joined by two other voices in the theatre's boxes.
Suddenly, the whole theatre erupts into life as huge animal puppets come from everywhere to assemble on stage, many down the aisles of the auditorium, including a rhino down one side and a life-sized elephant—that only just squeezes below the balcony—down the other. 2,000 people stare open-mouthed in wonder at the incredible spectacle happening around or below them. It is a simply stunning opening to a show.
The following two and a half hours can't possibly compete in terms of spectacle with the first ten minutes, but there are points where the show comes close. The act two opening fills the whole auditorium with flying, colourful birds on every level, Mufasa's ghost appears as a huge, wooden mask that assembles before our eyes, the wildebeest stampede is wonderfully imaginative and quite scary, and so on.
Julie Taymor was a radical choice for Disney to take its 1994 film to the Broadway stage in 1997 after previous adaptations, such as Beauty and the Beast, had a design that wasn't too far removed from the people in large plastic heads who walk around its theme parks. Taymor brought in her knowledge of various puppetry traditions and of Africa to create a show that still has the story from the film and the essence of its look but which is truly theatrical and stands up by itself.
The story is famously based on Hamlet, but in a very selective way. Unlike with Hamlet, we see the young Simba's growing closeness to his father, the King, and of his uncle Scar's (Claudius) growing jealousy for his brother's power, which will go to the young cub and not to him. Scar plots, with the help of some mangy hyenas, to dispose of them both, and Simba ends up in exile with two friends whom he formerly would have thought of as food: meerkat Timon and warthog Pumbaa.
Simba grows up, as does his childhood friend, lioness Nala, who finds him and tries to persuade him to come back and depose his uncle. Simba refuses, and it takes mystical Rafiki and the spirit of his father Mufasa to persuade him to fight for his rightful title. Being Disney, it all ends rather more happily than Hamlet, but with a beautiful sense of circularity—completing, as the song tells us, the "Circle of Life".
Aside from the whole look of the piece assembled by set designer Richard Hudson with Taymor herself taking care of costume design and co-designing the masks and puppets with Michael Curry, all beautifully-lit by Donald Holder, it sounds wonderful too—quite a rarity for any show in the troublesome Palace Theatre acoustics.
Elton John's pleasant pop tunes with Tim Rice's familiar style of lyrics put across the story well, but it is Lebo M's African chants and rhythms with their incredibly-rich harmonies that appear to go right across the spectrum of human hearing that really bring the music to life and create the atmosphere of the African savanna. There are some tacky references to things like Ikea and The Proclaimers thrown in pantomime-style for no apparent reason, which jar a bit but certainly don't spoil the experience.
Other than Pride Rock ascending from out of the floor—it would take more than a 5-month run for Disney to install a drum revolve in the Palace's stage—there is very little of the West End show at the Lyceum that isn't in this top-quality touring version. Even several of the performers have played the same parts in the West End.
Gugwana Dlamini gets across the quirkiness and humour of Rafiki and hits that powerful note that begins the whole show perfectly. Cleveland Cathnott brings the gravity to Mufasa that the part requires. There is a great partnership between Nicholas Nkuna as Simba and Carole Stennett as Nala, and a similarly great comic duo in John Hasler as Timon and Mark Roper as Pumbaa—although you have to wait until almost the interval to see much from these four.
Of course there is an army of children sharing the parts of young Simba and young Nala. On press night, young Auden Barnes gave an incredibly mature performance in a role that is quite large for such a young actor, certainly not playing second fiddle to the adult actors. He was supported well by Donica Elliston in the much smaller role of young Nala.
If you want to see a "big show" for all the family in the north west this Christmas, this is undoubtedly the one to go for. There's nothing to compare with it for spectacle—nothing that comes close—plus there's comedy, an uplifting story and some moral messages. Although with tickets starting at £20 and with ATG jumping on the "premium seats" (up to £75) bandwagon for its regional theatres, it certainly isn't a cheap night out.
Reviewer: David Chadderton