The Lion, The Witch and The Wardrobe
Dramaturg and original writer in the room Adam Peck from the novel by C S Lewis
A Leeds Playhouse Production
Theatre Royal Plymouth
–

Listing details and ticket info...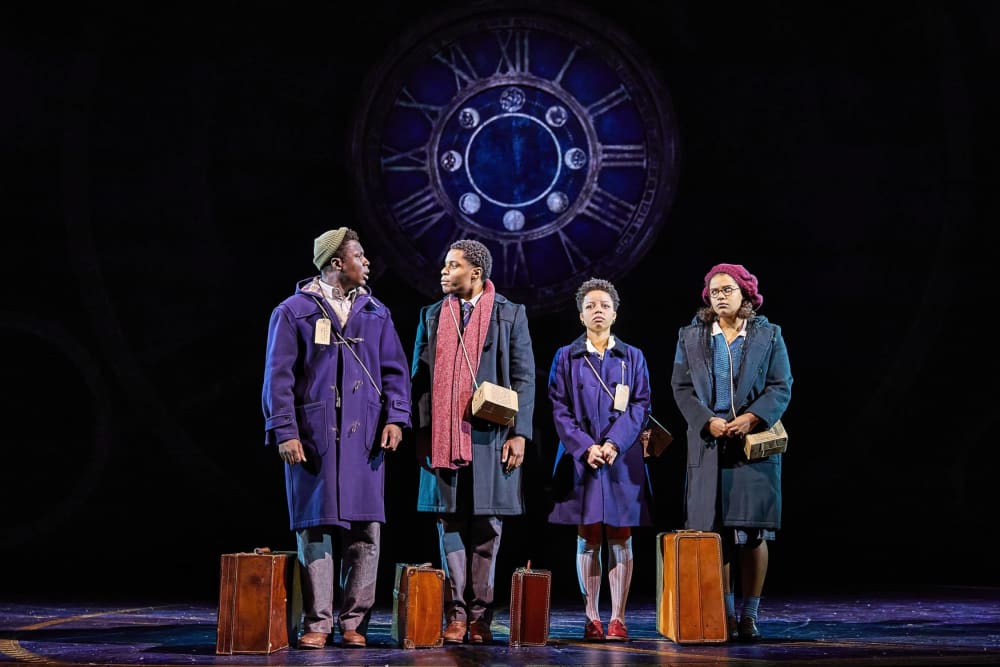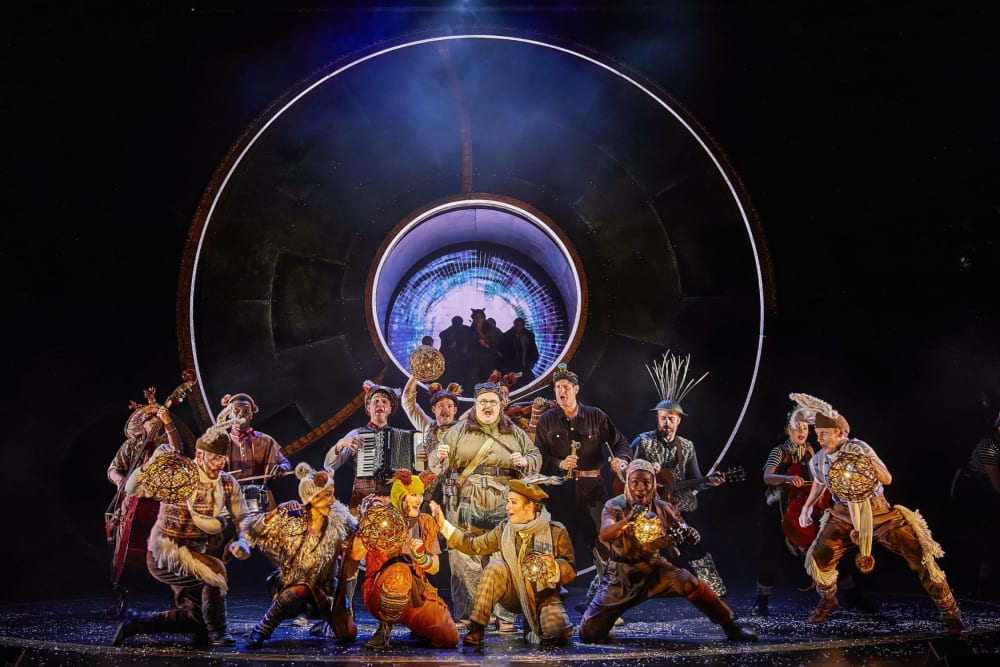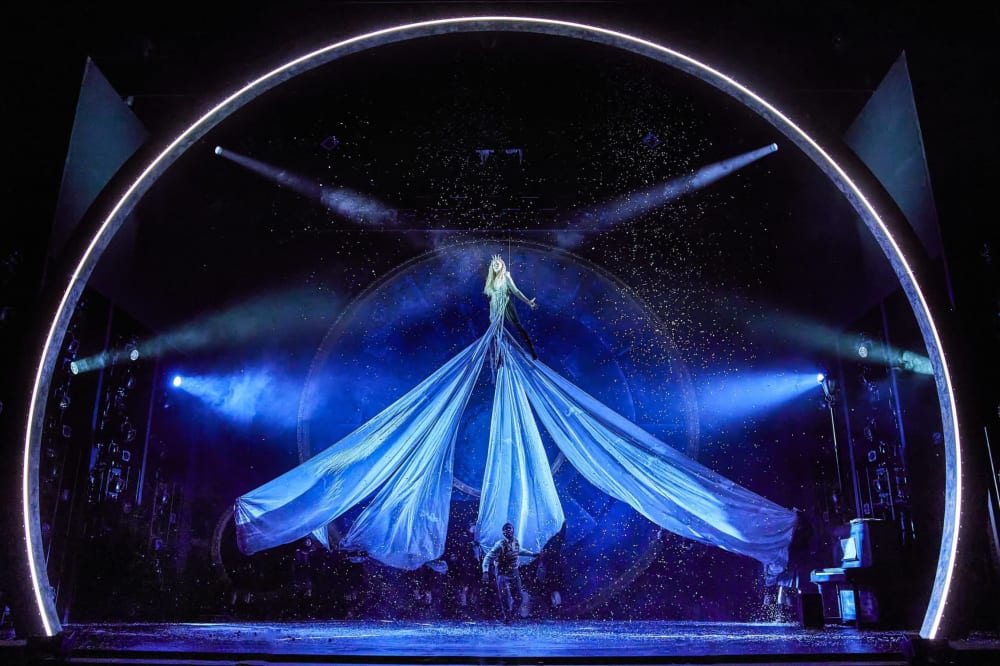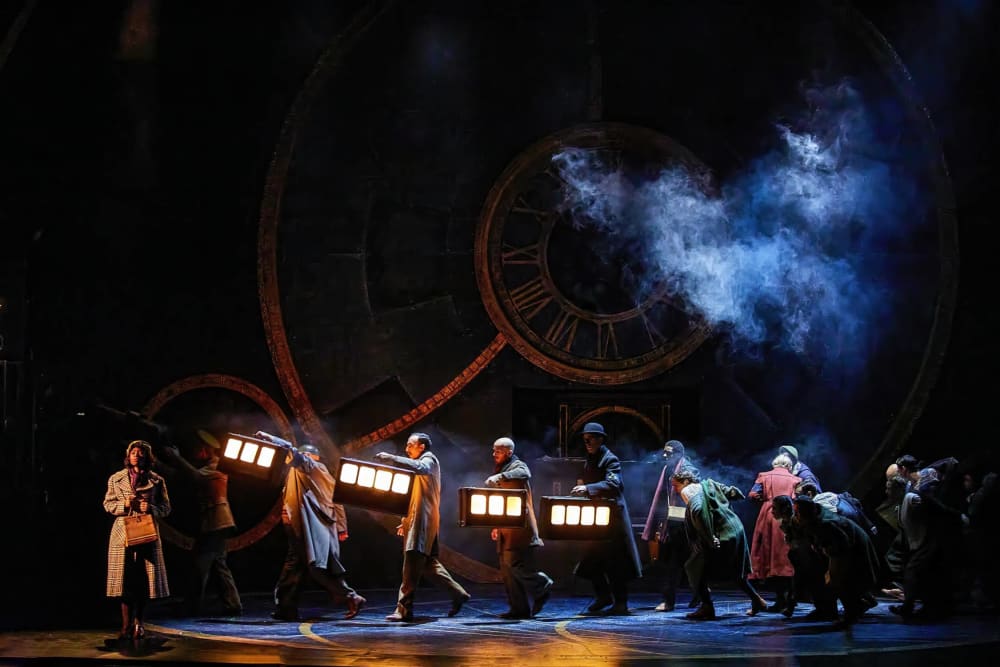 I am really struggling to put my finger on why I was not swept away by this undoubtedly spectacular production of a classic take of good v evil, betrayal and redemption.
C S Lewis's iconic The Chronicles of Narnia (published in the '50s) of which The Lion, The Witch and The Wardrobe is one of seven, conjure a world of magic, mythical beasts and talking animals rescued from the chilling grip of Jadis by two daughters of Eve and two sons of Adam. There is much religious allegory and derring-do. But this critically-acclaimed show seems to me all fur coat (and there are plenty of them) and no undergarments—but not for one moment due to any fault of the tremendously talented cast, lighting, design, choreography, music or special effects. That must leave the lack of engagement in the script and pace.
Indeed the first half indulges in a charming "We'll Meet Again", lengthy busy-ness at the evacuee station meeting point, the clever suitcase train and carefully synchronised journey to the far far north as well as slow scene setting at the professor's house and a tripsy Turkish Delight delight (courtesy of illusions and magic supervisor Chris Fisher) but only a quick meet of the villain of the piece (a soaring performance by EastEnders / Game On / Girl On A Train's Samantha Womack) and tea with Mr Tumnus (Amélie's Jez Unwin) to explain the 100 years of winter (with no Christmas but with many parasols and orbs), the terrible White Witch and the hopes for Aslan to return to redeem them all.
That leaves just the second hour to cram in the rest: the children's arrival in Narnia, meeting the woodland Resistance, Father Christmas's gifts of weaponry, Aslan's return, warfare, stone slab shenanigans, springtime and peace, and a return to reality. All rather rushed.
Based on the original production by Sally Cookson, director Michael Fentiman (Grammy- and Olivier Award-nominated Amélie) weaves an atmospheric fantasy with Rae Smith / Tom Paris's set and costuming blending steampunk with heavy WW2 notes: the White Witch's chariot an iron gun carriage and her henchmen wearing Nazi helmets and googles (and kilts). The huge clockface dominating the stage acts as a viewing point, a portal magically exiting characters or opening to showcase tableau or Aslan, the white stag and more.
Jack Knowles's lighting is superb: the icy silver hues of perpetual winter softening over time to a warm orange glow of spring as Aslan approaches while Max Humphries (Little Shop of Horrors, The Light Princess, Hansel and Gretel) provides the puppets—a scruffy Schrodinger, enchanting robin, and a striking aluminium and gold leaf statuesque (but little more) Aslan whose voice is confusing / disappointingly played alongside or without the puppet on stage at all by a charismatic Messiah-esque Chris Jared.
Will Burton CDG's casting of the Pevensie children is perfect. Shaka Kalokoh is a truculent, awkward and deceived-by-greed Edmund; Ammar Duffus (A Monster Calls, The Woman In The Moon) an understated sensible sort as Peter; Robyn Sinclair (Amélie, Wind In The Willows) is convincing as Susan, the brains of the family while Karise Yansen (in a tremendous professional theatre debut) is all heart as an endearing Lucy.
There are a plethora of woodland animals who provide whimsy, fun (particularly Sam Buttery and Christina Tedders as Mr and Mrs Beaver) and the musicality with cellos, violins, flute, piano and accordion played with alacrity on stage; the menacing Maugrim (Michael Ahomka-Lindsay) loping and vicious; and the stuff of nightmares as 12 creatures seemingly the spawn of an unearthly Hieronymus Bosch / Red Dwarf coupling are hellbent on shedding blood.
Shannelle 'Tali' Fergus (Mum)'s choreography is spot-on; Gwen Hales's aerial stunts stunning; Benji Bower and Barnaby Race's compositions folksy and forgettable; and the special effects really very special.
Feeling quite curmudgeonly not to have found the heart in this but, for me, definitely a triumph of showmanship over substance.
Reviewer: Karen Bussell