The Lion the Witch and the Wardrobe
Based on the novel by C S Lewis
Catherine Schreiber, Elliott and Harper Productions
Gillian Lynne Theatre
–

Listing details and ticket info...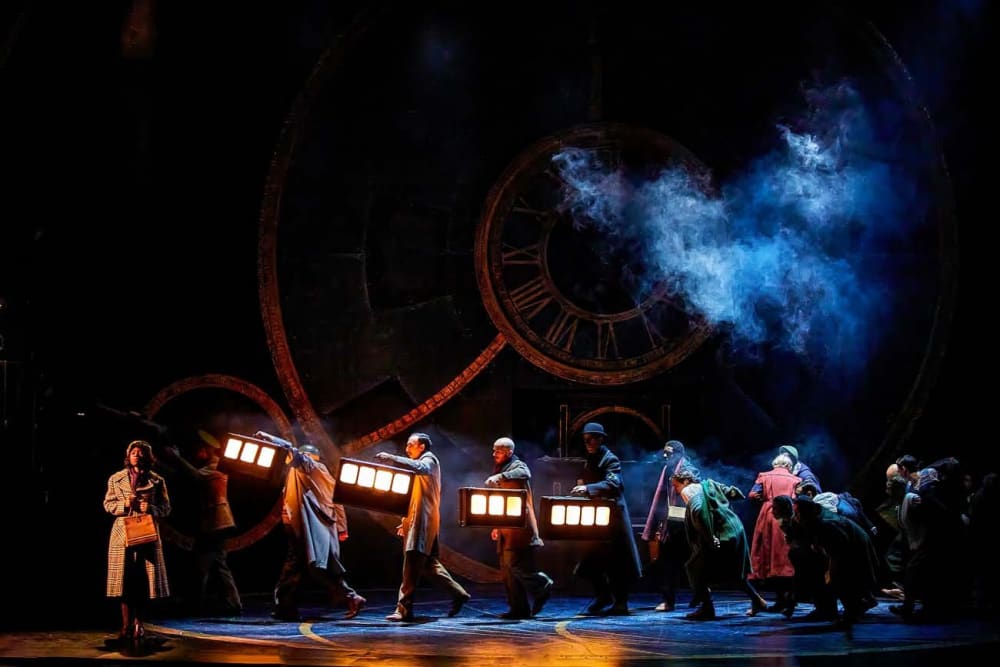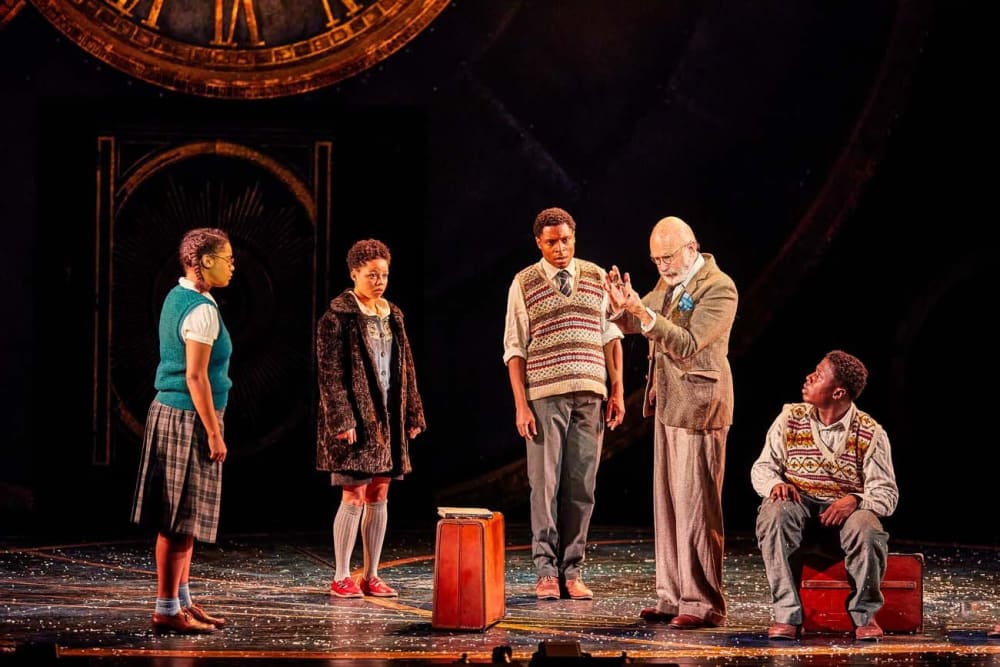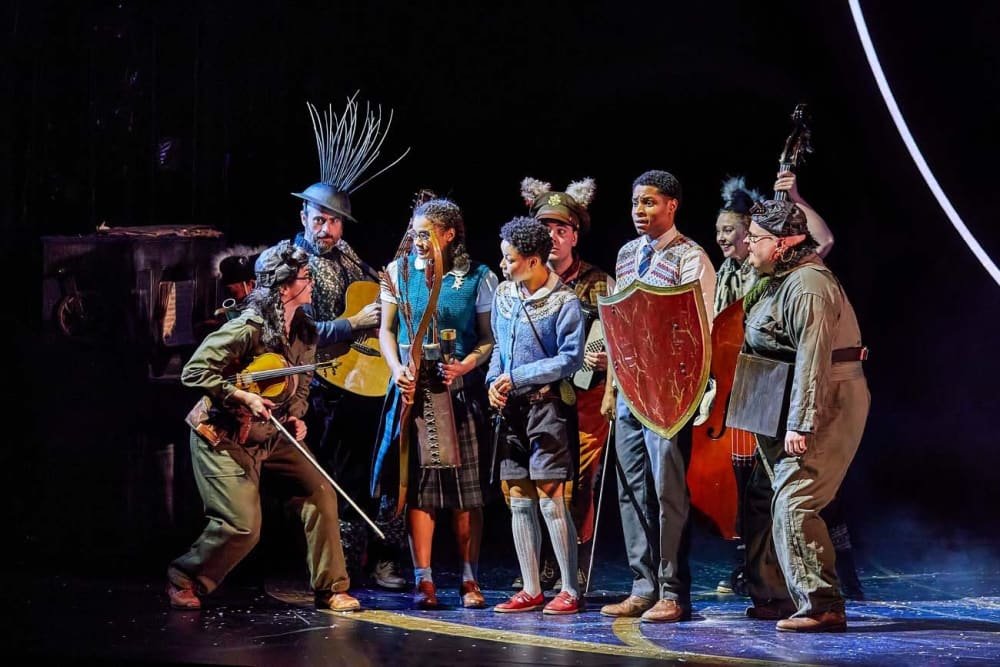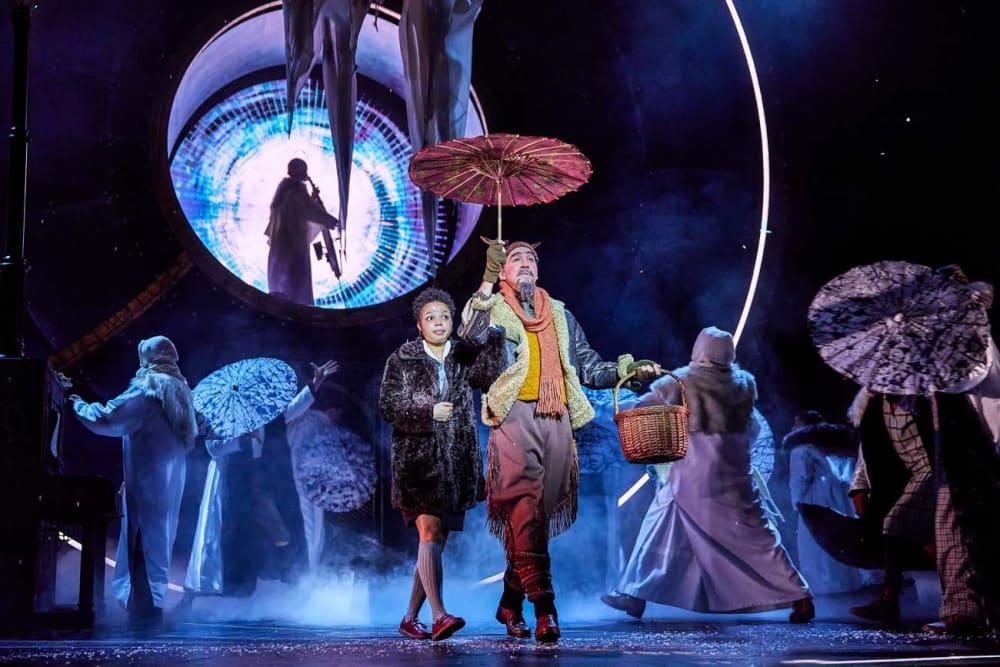 This update of Sally Cookson's production of C S Lewis's loved children's book was devised with the company and designed by Rae Smith for Leeds Playhouse in 2017. It was then redirected to tour by Michael Fentiman with Tom Paris as designer, and it is that version that now comes into the West End.
It joins Frozen, down the road at Drury Lane, in putting winter on stage in the midst of our heatwave as its World War II evacuees find their way through a magical wardrobe to a parallel world where a wicked White Witch has banished summer and created a century-long winter.
There's a pianist alone on stage to start with, a soldier in uniform and steel helmet. You can't really hear what he is playing above the audience hubbub, but when the lights go down and he is joined by the company of actor-musicians, it becomes "We'll Meet Again" as soldiers leave to go to war and evacuees line up on a station platform.
Entrained for their journey north, their suitcases held high become lit carriage windows (blackout regulations ignored here) as they speed along behind a smoke-streaming steam locomotive. The theatrical style is thus already established, carrying the audience with it, the imagination primed for theatre magic. They are got ready to follow Lucy Pevensie (Delainey Hayles) into the wardrobe in Professor Kirk's spare room and believe they are in Narnia long before her siblings believe her.
Lucy is the youngest Pevensie, Peter (Anna Duffus) the eldest, then sensible Susan (Robyn Sinclair) and Edmund (Shaka Kalokoh). Edmund can be selfish and sometimes makes fun of Lucy, buy that apart, they are not heavily characterised, though they are likeable youngsters. Of course, you are going to be on their side in the coming conflict.
It is the professor's cat Schrödinger (136 cat years old) who first leads Lucy to the wardrobe. This feline is delightful, a scruffy bundle of fur that puppeteer Oliver Grant brings to life with an inclined head or a tail twitch.
In Narnia, amid falling snow and twirling parasols, Lucy meets a faun, Mr Tumnus (Jez Unwin), who is frightened of the White Witch but goes against her by guiding Lucy homewards instead of delivering her to his evil queen.
When Edmund finds his own way to Narnia, he meets the White Witch (Samantha Womack), who travels through the air on a gun carriage and sometimes sails skywards. She may not seem evil until you notice the sinister black Cruels who serve her. She bribes Edmund with Turkish delight (its cubes turn into a dancing apparition) and soon has him in her power, demanding that he brings his brother and sisters to her.
When the Pevensies all go to Narnia, they find Mr Tumnus has been arrested for treason but meet Mrs Beaver and her husband (Christina Tedders and Julian Hoult) of the underground resistance to the White Witch. They become part of the battle against her. The arrival of Narnia's true ruler, the great lion Aslan, takes the story to the next stage.
Aslan is presented as a huge puppet alongside a live actor (Chris Jared). Though the puppet is impressive and Jared gives a forceful performance, the separation makes the puppet less compelling.
This telling of the story is straightforward. It will probably be well known by most of its audience, who can enjoy a spectacular staging of its main elements and most dramatic moments.
Michael Fentiman's direction keeps things on the move, even if it is only the scenery, the story seems swept along by a strong wind; it is not just the performers who break out in lively choreography.
There are not enough songs to call this a musical but, along with the decor and Jack Knowles's lighting, the music by Benji Bower and Barnaby Race plays an important role in creating dramatic effect. Performed by the cast mainly on strings, drums and an accordion, it has a Celtic folk feel. When Mr Tumnus, trapped in Narnia's winter, sings of the springtime that used to be and adds a wind tune, it recalls the English pastoral.
Toby Olié's direction of the puppets designed by Max Humphries is skilfully managed, and there is sleight of hand magic too. A small orange flower blossoms from the pages of a book Mr Tumnus is holding: an image that later recurs as a reminder of promise for the future, and such small, simple touches are as important as the spectacle of a stage full of dancing deer.
The spread of the White Witch's power is reflected in the way that her clothes can spread out over the whole stage, but her evil is most evident in the Cruels and her wolf warrior Maugrim, a terrifying figure as played by Emmanuel Ogunjinmi.
This is a fine example of a multi-talented company working together, often in multiple roles and as instrumentalists, and it looks good. The opening scenes ensure that the children win your support but, though warmly responding to the show's theatricality, it doesn't develop a strong engagement. It wasn't until Peter was battling with sinister Maugrim that I started caring, but Narnia wasn't a land I grew up with; those for whom the book is part of their childhood may feel very differently. The audience I saw it with clearly loved it.
Reviewer: Howard Loxton