The Littlest Quirky
Naomi Cortes
Theatre Centre
Stratford Circus
–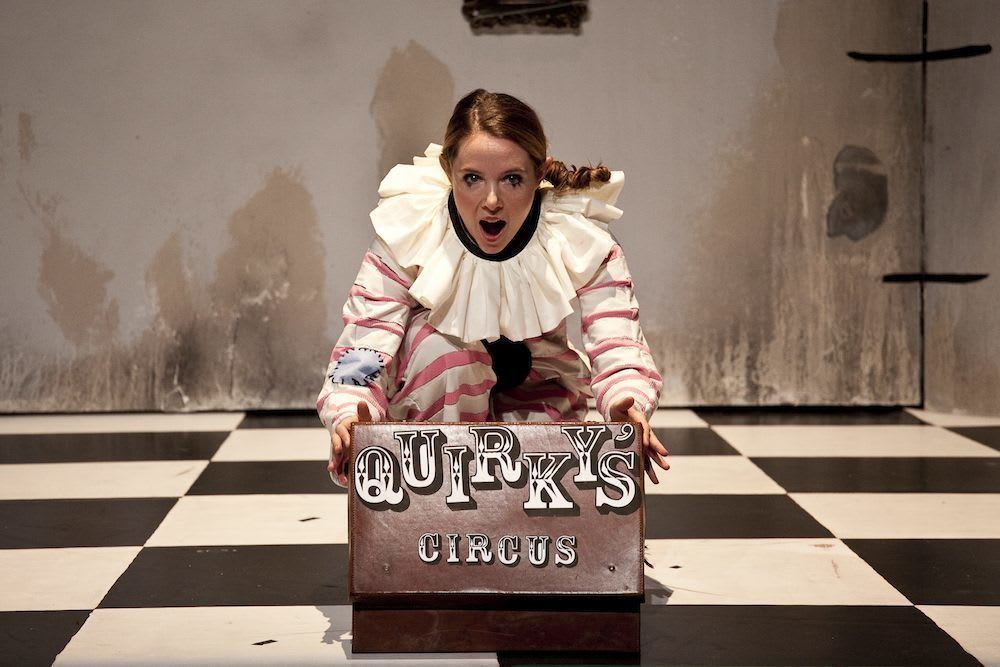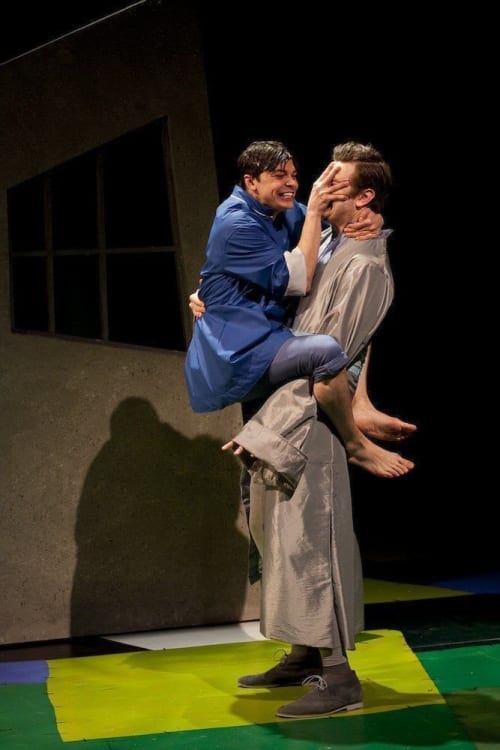 This is a show aimed at youngsters from 4 years-old upwards. It mixes encouragement to value difference in people and a lively interest in exploring the world around us (and not be afraid of it) with a great deal of fun as the audience share the Littlest Quirky's discovery of the world beyond her house.
The Quirkies are a family of circus performers who certainly look very strange. They are presented in puppet form and perform some of their circus tricks for us but because of their strange appearance they are sent away. To protect their little girl, the Littlest Quirky, they keep her indoors, the world outside is too nasty and dangerous to let her into it. And that is where the other chracters discover her, looking through the window.
There is Tree, whose first appearance at the beginning of this show is boldly theatrical for, as played by Natalia Campbell on stilts with her twiggy hair and fingers and red brown bark, she is a very tall tree—a very clever piece of design from Mika Handley. Tree seems to be in charge, at least as far as Wind (Thomas O'Connell) and Rain (Charlie MacGechan) are concerned. Wind is quite tall and seems to be the elder; Rain is a bit more giggly, but together they are just a couple of kids. Rain makes things wet: puddles to splash in, seas to swim in; Wind makes wind, he blows off at both ends, and seems to think it funny that some of his wind is very smelly. (So that's got all the kids, if not the grown-ups on his side.)
Wind and Rain play a game with Tree but they always lose; if they had someone else on their side could they win? Littlest Quirky lives in the house on the hill would she play with them? But she can't go out. We hear the doors bang shut and the keys turn in the lock and the moose head on the wall tells her that she has to stay in. She can practice her circus skills but she can't go out, until Wind and Rain find a way to release her.
As the Littlest Quirky discovers the elements, including some rather frightening thunder and lightning, and sees Rain's rainbow and finds out about colour, it is fascinating to see the young audience become more deeply involved. When Quirky goes off on her own and her new friends try to find her, the audience were guiding them en masse with shouts and pointing fingers that showed how fully they had become engaged. It is simple stuff with which this age group can easily identify while at the same time being captivated by some theatrical magic that includes some clever acrobatics and traditional magician's tricks.
This is a well-mounted piece of theatre with which to introduce young audiences to theatre-going and with the help of the company's resource pack be a starting point for class work at an infant level, succeeding partly because it is so easy for the audience to see themselves in the characters as played so engagingly by this team of actors under the direction of Gemma Fairlie.
Reviewer: Howard Loxton