The Long Song
Adaptation by Suhayla El-Bushra, based on the novel by Andrea Levy
Chichester Festival Theatre
Chichester Festival Theatre
–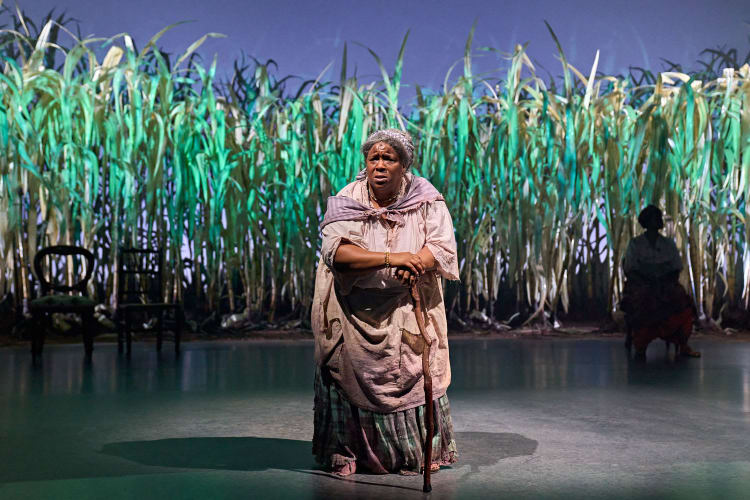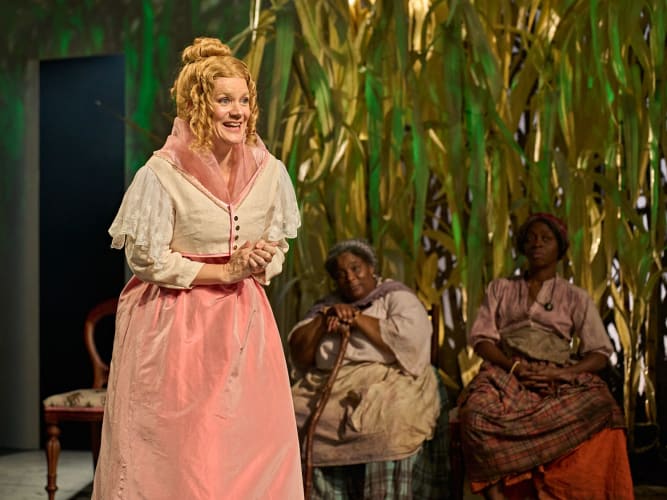 The play is set in Jamaica on a sugar plantation in 1815 but takes us through the turbulent years right up to the 1830s and the so-called Baptist revolution and beyond, right up to the point where the slaves were granted their freedom which, sadly, did not turn out as they had hoped.
The story is not of the slavery and the appalling brutality suffered by the slaves, although of course that comes into the tale, but of one brave and resourceful woman who tells her tale with conviction and dignity, although not always with complete truth.
We meet her as an old lady telling her printer son of her life from the beginning, with the object of creating a book for the world to know the truth from the perception of a slave, and as she talks, the tale is brought to life as the slaves emerge from the cane fields (realistic set by Frankie Bradshaw) and add their own version of what they saw and heard—every one different.
Born in the cane fields from slave Kitty, who has been 'used' by the vicious plantation overseer for his pleasure, she is named July. As an 'adorable' child, she catches the eye of Caroline, the plantation owner's sister, an indolent and vain woman newly from England who believes she can turn this child into a lady's maid and insists on calling her Marguerite—she is not even allowed her own name. From there, the fortunes of the two are bound together as July's rollercoaster life takes in oppression, injustice, love, longing, aspirations, trickery, anguish, fear and even humour.
Tara Tijani inhabits the role of Miss July showing every emotion including pride at having a white father and a wily cleverness as well as a possibly misplaced optimism. Rebecca Omogbehin as Kitty gives us the pain of childbirth, the anguish of losing a child and a brave and stubborn stoicism as she carries on with her life. In fact, all the characters seem very true to life with Syrus Lowe making an excellent presentation of son Thomas Kinsman as well as July's admirer, Nimrod. Olivia Poulet is shallow, petulant, manipulative, self-obsessed Caroline Mortimer and Llewella Gideon is a joy with her slight Caribbean intonation and her forthright conviction that she is correct in her recollection.
I am please that I read the book before the show as I could fill in the gaps in my mind as, of necessity, episodes had to be condensed from a nine / ten-hour read to a visual two and a quarter show and it is an excellent adaptation and presentation. As Andrea Levy said, "it is a story about a person's life, a lost voice from history which needed to be heard," and in the words of Old July, "Cha, I say, what fuss-fuss. Come, let them just see it for themselves."
I would urge everyone to do so. It is a brilliant interpretation of the story that had the audience gripped and engrossed from beginning to end. The applause, cheers and standing ovation said it all.
Reviewer: Sheila Connor