The Lost Boy Peter Pan
Adapted by Alexandra Spencer-Jones from J M Barrie's book
Action to the Word in association with Glynis Henderson Productions
Pleasance Theatre
–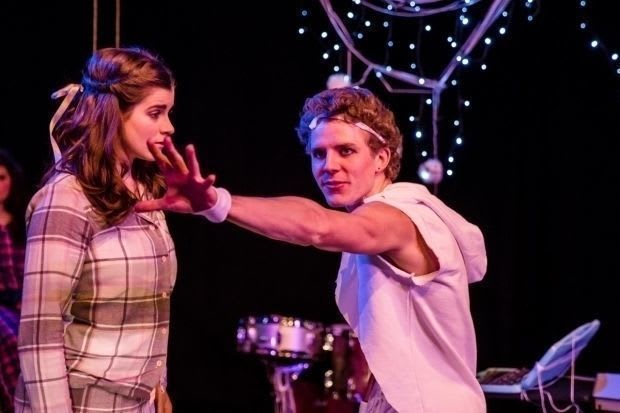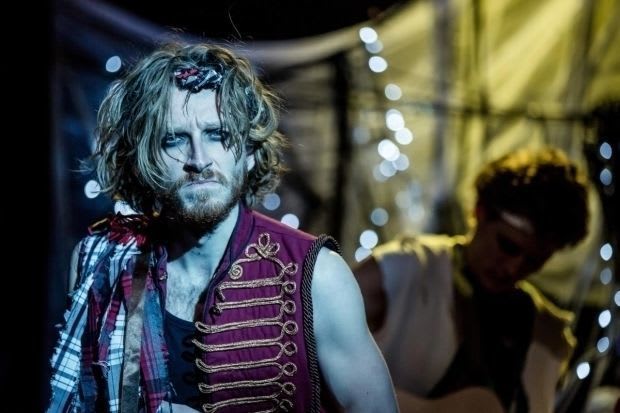 This is Peter Pan as a songfest. The programme describes it as "inspired by J M Barrie" which is perhaps more appropriate than adapted for, although it takes the basic elements of the story, this isn't what you might expect.
There is no flying family on wires and we don't see crocodile or dog nurse Nana. There are coyly camp mermaids, an opening back-story of how Peter got lost and ended in Neverland and the essential elements of Wendy and her brothers, Peter's Lost Boys, fairy Tinkerbell, Indian (as they used to call Native Americans) Tiger Lily and Hook and his pirates and of course (there has to be) that appeal to the audience after Tinkerbell drinks the poison that Hook had intended for Peter to demonstrate their belief in fairies.
The story is both narrated and acted out by just seven performers playing multiple roles who all sing and play musical instruments (most of them several). They burst into song very frequently. The whole show is infused with lively pop music, numbers that range from songs by The Beatles to Harry Styles and ELO that approximately fit a point in the story.
There is no scenery as such, just hanging loops of string and fairy lights, some boxes to sit on and racks to prop instruments against, and there is no real attempted to create location any more than when children are playing "let's pretend". That is exactly the premise that this show is based on: a group of children playing "Let's Pretend", and those children are adults playing let's pretend we are children.
That is both where it succeeds—because if you are pretending you can do anything—and where it fails, for these are actors pretending, not actually performing as children. They don't become characters based on real children's feelings, which is probably why Alexandra Spencer-Jones's production seems to become much more interesting after Captain Hook and his pirates appear.
Toby Falla may not actually fly as Peter but he leaps and bounces all over the place almost becoming airborne and he makes this Lost Boy even more obnoxiously full of himself than Barrie did. In contrast Wesley Lineham's Hook gets some out sympathy, he does seem to have had a hard time. Their spectacular fight is the high spot of this production.
Georgie Parker is a stoical Tiger Lily. Joshua Leese's John has a very real moment pretending to be grown-up and Thomas Fabian Parrish captures brother Michael's babyishness as he cries in the arms of Hannah Haines's Wendy—but the script doesn't give the Darling children much chance to develop their characters.
The music is well presented and helps to lift things—they aren't just pretending to be singers, but though the whole show is presented with energy it does seem to be treated as rather a giggle that they want to share with the audience.
The Pleasance Main Stage isn't instead a space that helps that happen, especially on a night with a thin house and almost all adults. The cast seemed to be enjoying themselves more than the audience but another night that might be reversed.
Reviewer: Howard Loxton