The Loves Of Others
Alexandra Keelan
Three Minute Theatre, Manchester
–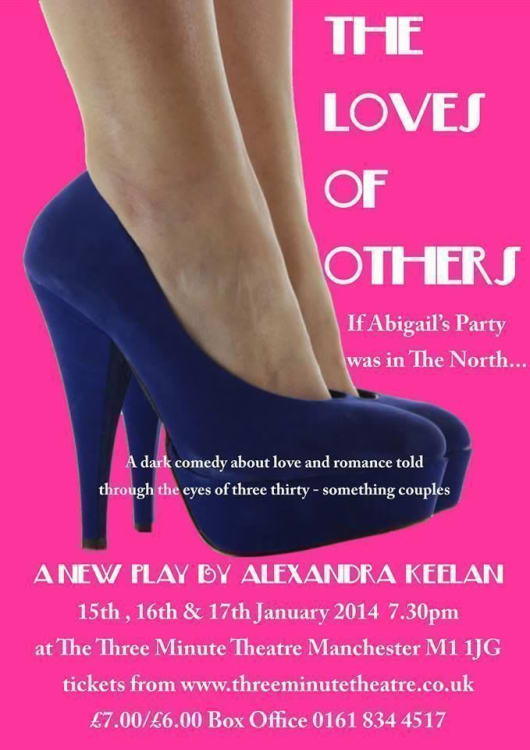 This is the first full-length play written and directed by Alexandra Keelan. It was developed from a well-received one-acter last August. The tagline "If Abigail's Party had been set in the north" is very appropriate. The production has much to commend it, is often very funny but not wholly successful.
The comedy, or perhaps more accurately dramedy, is one of modern mores and manners with a very northern flavour. The set-up is clearly heavily inspired by Mike Leigh's Abigail's Party. This is especially so in the central character of Leanne who is the hostess for the pivotal parties in which we see the three couples mingle and squabble. Perhaps she's Leigh's Beverley some 10 years later.
The tensions in all the pairings are revealed through reactions in these parties and also in the intervening linking scenes in the respective bedrooms. Themes explored include the boundaries between the public and private faces of relationships, infidelity, domestic violence and how and why people get into and remain in often ill-suited partnerships.
Leanne and Max have been married for 15 years. The dinner party in the opening scene of act one is where they play a very adult version of the tv game show Mr and Mrs with the two other couples Tina and Dave and Vicky and Ike.
Much of the ribald and hilarious comedy here is from the discrepancies between what characters think they know and what it turns out they actually know about each other. Max is a bully and a male chauvinist pig while Dave is just uncouth and Ike tends to choose the path of least resistance. The life of the piece is when all three couples are onstage bickering with themselves and each other. The bedroom scenes are less effective. The balance of comedy and drama works less well in these intimate spaces.
While Leanne dominates the social gatherings with her pretensions to being the perfect trophy wife and how in love she and Max are, Tina also reveals her dissatisfaction with her drippy husband. Vicky and Leanne loathe each other as Vicky is an intellectual who is more interested in ideas than acquiring belongings.
In act two, the scene order is reversed in that we see the three couples prepare for a vicars and tarts evening and when they all meet their costumes provoked a huge laugh from the audience. Vicky is dressed as the vicar, Ike as the tart with an appropriately dreadful blonde wig and Tina is dressed as a playboy bunny, though she's clearly not comfortable. When Vicky and Leanne finally have the flaming row which has festered through the whole piece, the party breaks up and we see the aftermath for each couple once they have returned home.
While the characters are well portrayed by all the actors I feel that the male roles are slightly underwritten. The female roles are much more meaty and this is a shame as it makes of the well-written conflicts a bit one-sided. There are also times when the staging doesn't bring out enough of the contrast between the characters and sometimes the focus is rather muted. If this was wouldn't have mattered as the camera would do some of the work, but it doesn't quite come off in the theatre.
Having said that, Alexandra Keelan as first-time director has coaxed some fine performances and there are some great laughs. These include when Ike reveals that Max wanted to know what Vicky was like in bed and she protests, not entirely convinced that he surely didn't tell him? The audience and this reviewer loved that. They also appreciated when Tina wipes Max's crotch when he's spilled his drink and this is completely misinterpreted by Leanne.
Some of the final group conflict where Max and Leanne fight over the choice of music reminded me very strongly of the finale of Abigail's Party. The gear shift into tragedy doesn't quite work, although it's not because of a lack of commitment on the part of the actors.
Leni Murphy is wonderfully brittle as the hostess Leanne with all her pretensions and she shows the character's mettle to fight for her man against the odds. Melissa Cudworth as Tina offers us a very believably fragile woman desperate for the affection her drippy husband just can't or won't offer her. Amy Du Quesne has the most difficult female role; as she has to be so intense and earnest for most of the time she is potentially insufferable. There is just enough self-awareness to offset this and make us care about her and that is a tribute to Amy's warm performance.
Sam Moran as Max, James Oates as Dave and Noel Wilson as Ike didn't really have enough to do as the play belonged to its women characters. What they did offer was effective comedic sparring as they all had good timing and some funny laugh lines of their own.
I think this play shows huge talent. Alexandra Keelan has a wonderful ear for quotidian comedy and I look forward to seeing more from her or this piece on its next outing, perhaps after some further development.
Reviewer: Andrew Edwards