The Machine
Matt Charman
Manchester International Festival
Campfield Market Hall, Manchester
–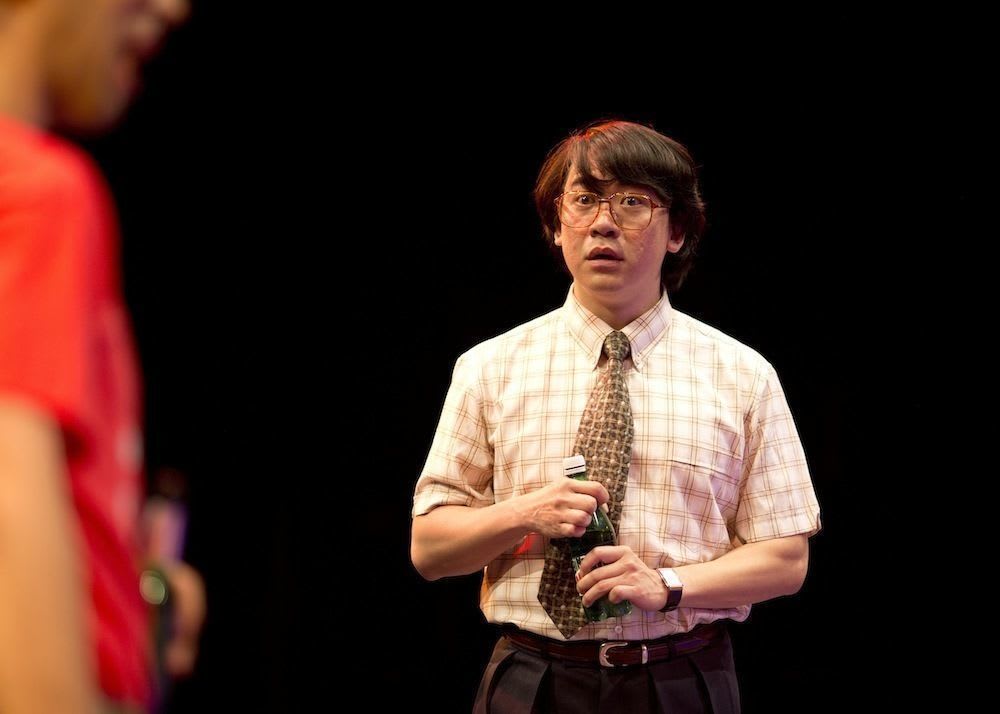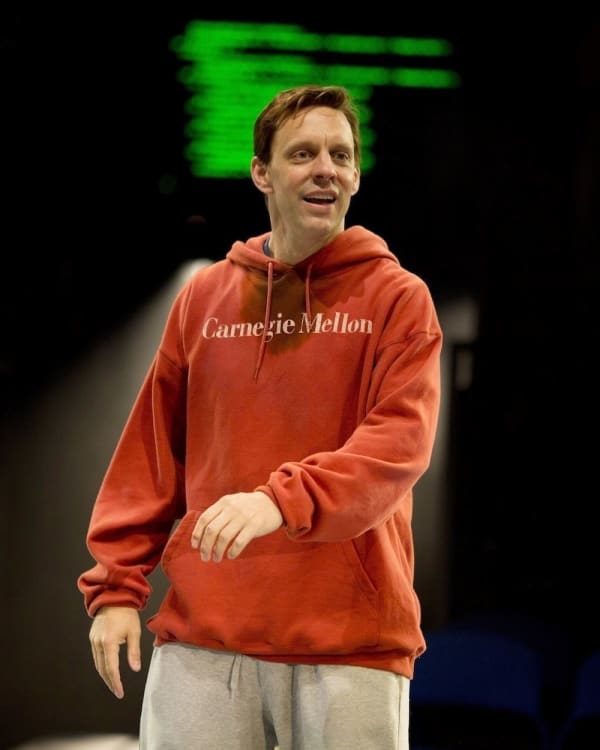 Salford-born Josie Rourke, now artistic director of London's Donmar Warehouse, returns home for her directorial debut in Manchester with a new play set in the world of chess.
Not normally a "sport" to attract huge interest—as TV commentator Mandy Dinkleman, played superbly by Phil Nichol in a part that must have been a gift to him, explains when he complains that he always gets the minority sports like chess and curling—but one event in New York in 1997 grabbed the attention of the whole world.
Young Russian chess grandmaster Garry Kasparov was challenged to a match, not by another chess player but by a computer. Deep Blue (originally Deep Thought after the computer in Douglas Adams's The Hitch-Hiker's Guide to the Galaxy but an IBM executive decided it sounded too much like "Deep Throat") was designed by Taiwanese chip designer Feng-hsiung Hsu with programming help from his Carnegie Mellon University room-mate Murray Campbell and developed by IBM. US grandmaster Joel Benjamin, who once drew a game with Kasparov, was brought in as an advisor when programming the computer's strategies.
The play is set principally in the TV studio with the theatre audience playing the studio audience in this in-the-round, impromptu theatre. Lucy Osborne's design places the action on a floor that at a glance looks as though it is marked out as an indoor sports pitch but on closer inspection is actually a simple electronic circuit board. Tracks in this board are used to trolley on chess tables, computer desks and other items in some beautifully-choreographed scene changes (choreography by Jonathan Watkins).
The suspense of the chess game is built up nicely, helped by the fact that the match hinged on the final of the six games. But this is not just about recreating a chess match. We see in frequent flashbacks that Kasparov and Hsu are almost identical personalities in their different fields, both totally obsessed with being the best at what they do to the point of excluding everything and everyone else from their lives—Hsu almost killed himself by falling asleep at the wheel while driving back from the lab late at night—and both trying to fulfil their families'wishes.
We never see Hsu's family back in Taiwan, but Kasparov is followed around by his formidable mother Clara, who pushed him into chess when he was a child after his father died and is still as obsessed with his progress now. This frightening, proud and often rude woman is given a formidable portrayal by Francesca Annis.
Musical theatre star Hadley Fraser brings the right level of intensity to the non-singing role of Kasparov in a very convincing performance. Kenneth Lee is wonderful as the awkward student Hsu who becomes the still-awkward but brilliant scientist. There's another great and often funny performance from Canadian actor Brian Sills, making his UK stage debut as the temperamental American chess champion Joel Benjamin, and fellow Canadian Trevor White, most recently seen in the UK in Long Day's Journey into Night in the West End, completes a solid principal cast as Murray Campbell. Other actors in the 15-strong cast play multiple roles.
There appears to be some confusion about the length of this play; the MIF web site says 2 hours, the programme says it finishes at 10PM (which would mean it was 3 hour long) and I was told 2 hours 20 when I arrived. It actually finished at 9:45PM from a 7PM start, and so the start of The Masque of Anarchy was delayed for those of us who had booked for both.
But whatever the duration, the time flew by quite agreeably for me. There are some strong themes about obsession, the sacrifices one must make to be the best at anything, commercial exploitation of others' talents and man versus machines—the porter in Kasparov's hotel tells him to win "for us", meaning for the human race.
Add to this the excitement of the match, even though we know who won, plenty of humour and a very slick production and this is another great piece of theatre for MIF—one that should have plenty of popular appeal without any of the pretentions to high art seen elsewhere in the Festival.
Reviewer: David Chadderton