The Machine Stops
Neil Duffield, based on the short story by E M Forster
Pilot Theatre and York Theatre Royal
York Theatre Royal
–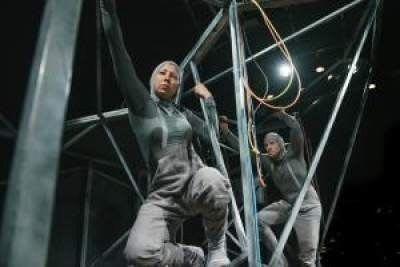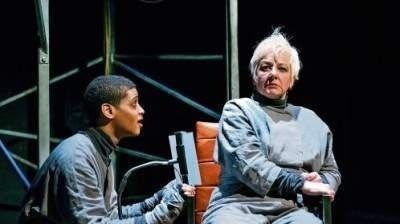 Best known for novels such as A Room with a View (1908) and Howards End (1910), the writer E M Forster has become synonymous with a uniquely English brand of emotional repression.
While there is a degree of truth to this reading of his work, much of Forster's oeuvre is also concerned with the vital importance of forging emotional connections with other people. Indeed, this is one of the prominent themes in his short story The Machine Stops (1909), which has been brought to the stage in a co-production between Pilot Theatre and York Theatre Royal.
Set in a post-apocalyptic landscape, The Machine Stops posits a future where the human race—no longer able to survive on the earth's surface—has been forced to retreat underground. Each individual lives in their own isolated cell and their every need is catered for by the omnipotent Machine. In this strange subterranean world, people communicate through Skype-like technology, and the concept of travel is considered outmoded and unnecessary.
Middle-aged academic Vashti (Ricky Butt) is reasonably content to live in this dystopian landscape, shunning human contact and delivering her lectures via video calls. However, her favourite son, Kuno (Rohan Nedd), longs to escape the Machine's clutches by reaching the earth's surface.
Written more than 100 years ago, The Machine Stops is a remarkably prescient piece of speculative fiction that predicts our increasing dependence on technology and our obsession with social media. Furthermore, its exploration of totalitarianism, the struggle for freedom and the loss of identity predates George Orwell's Nineteen Eighty-Four (1949) by an astonishing forty years.
Neil Duffield's adaptation is lean and tightly-focused, faithfully preserving the simple yet compelling storytelling of Forster's original text. Although most of the ideas contained in the play may now seem over-familiar to a modern audience, having been explored in a range of films and TV programmes, including The Matrix (1999) and Black Mirror (2011), The Machine Stops still merits being retold. Its exploration of isolationism and disconnection takes on fresh resonances in our post-Brexit landscape.
The vision of the future put forward in Juliet Forster's production is pleasingly old-fashioned, putting one in mind of sci-fi films from the 1970s such as Logan's Run (1976). Rhys Jarman's striking set design (a huge metal climbing frame) and an electronic score composed by John Foxx (of Ultravox fame) and Benge prove effective at creating the sense of an alternative future.
The Machine is personified by two performers—Maria Gray and Adam Slynn—who swing and slide on the frame whilst attending to Vashti's every whim. Their lithe physicality provides many of the production's most memorable and unsettling moments. Movement director Philippa Vafadari deserves praise for her sterling work.
Although the play is not overly concerned with vivid psychological portrayals, the cast ensure that the protagonists are more than mere ciphers. Ricky Butt skilfully conveys Vashti's physical and psychological dependence on the Machine. Her ghostly pallor and sedentary posture reminded me of Hamm in Beckett's Endgame (1957). Rohan Nedd demonstrates an impressive physicality as the increasingly frustrated Kuno, capturing the character's desperate longing for freedom.
The Machine Stops received great acclaim when it was first staged at York Theatre Royal last year, and I have no doubt that it will do so again as it embarks upon a national tour. Juliet Forster's production offers a chilling and claustrophobic vision of the future.
Reviewer: James Ballands