The Mad Hatter's Tea Party
Music by Josh Cohen & D J Walde, lyrics by Josh Cohen, Kate Prince & D J Walde
ZooNation
Roundhouse
–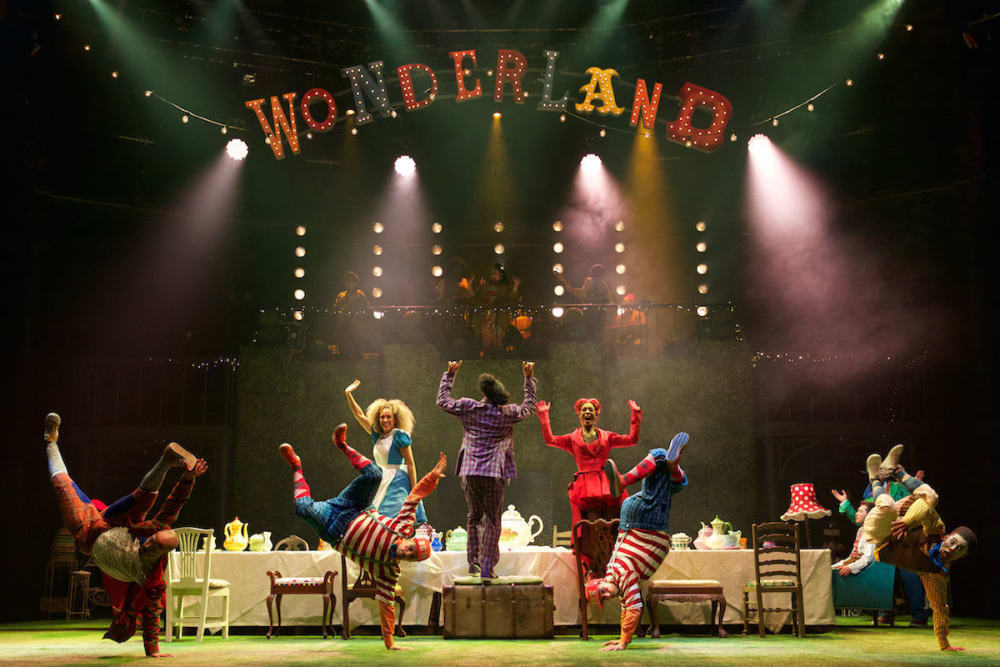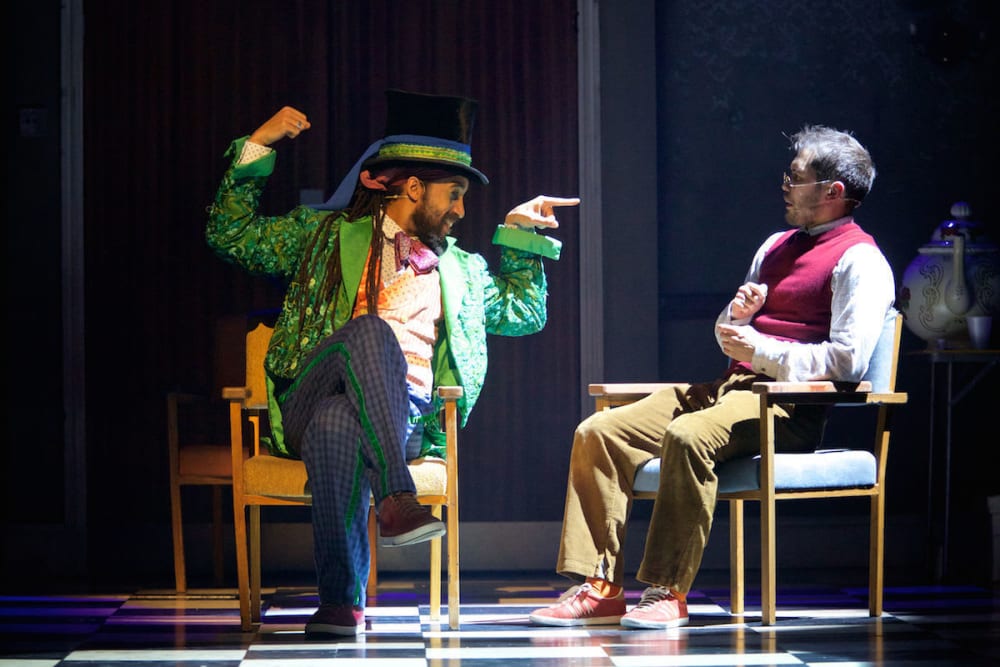 Commissioned by the Royal Opera House, where it was staged in the Linbury Theatre two years ago, this high-energy dance piece has been restaged for the Roundhouse with more songs, more music and more choreography. There is a great band with powerful singers and Ben Stones provides imaginative and colourful costumes and setting.
Though it does borrow some of Lewis Carroll's words as part of its rhyming narration, this is not a retelling of histories but a contemporary take on his characters. They are the patients at a West Country Institution for Extremely Normal Behaviour where newly-arrived doctor Ernest Andersen chalks a few extra letters on the blackboard to turn Tea Party into Therapy Party.
There is a serious undercurrent to the show challenging ideas of the "Normal" and negative attitudes to mental health problems that that doesn't stop this from being whizz-bang entertainment with a great band and fantastic dance that goes from b-boy street dance, hip hop and acrobatics to and free forms.
Composer and lyricist Josh Cohen plays Bertie who becomes the narrator (only at the end do we see how he fits into the story), which makes the simple storyline easy to follow as each of the patients is presented.
Alice (Kayla Lomas-Kirton) is confused and has an eating disorder. That's hardly surprisingly after the way her identity has been challenged and all that business of cake to make you grow and drinks to shrink. The Queen of Hearts (Taneisha Bonner), elegant when dancing a tango with her therapist, can turn into a screeching bully: she had a brutal upbringing, Tweedle-dum and Tweedle-dee (Rowen Hawkins and Manny Tsakanika), tumbling acrobatically, could be a split personality or is one of them dead and now only there in imagination?
Bradley Charles's March Hare is an emotional mess and Andry Oporia's Cheshire Cat seems to have an attention deficit disorder. Tick-tock driven White Rabbit (Jaih Betote), crippled by time as he frantically tries to catch up, is momentarily calmed when deprived of his watch but then goes into blind panic at not having it, while the Hatter himself (Issac 'Turbo' Baptiste) is affected by the mercury used in his millinery making.
Each of the patients has their own brilliantly choreographed character solo which then usually draws in the whole company until at length it becomes too much for Tommy Frazzen's therapist who goes into shock—he needs more than his asthma inhaler to recover. That allows those at his therapy party to use his electronic pass to escape and go off to their Wonderland, and they take him with them.
That's where they are after the interval, having the titular tea party in a high-hedged garden. Things now really take off on an even zanier level: it's hilarious and the dancing fizzes like fireworks.
This is a company that is exciting to watch. They know how to communicate with an audience and generate joy even when some of the things they are saying have a dark side. The dancing is stunning. Baptiste gives the doomed Hatter authority as he draws up a manifesto for Wonderland.
One of the Institute doctors, who have now tracked them down, declares, "that sounds like socialism", but Baptiste's diction lacks the clarity he brings to his dancing so I can only guess why. Betote, as the Rabbit, is a dazzling dancer, his white-face no mask but full of feeling and a body that communicates like language. Capping the lot is Frazzen's Ernest: at first, in contrast to his charges, never dancing, but when he does it is dynamic.
"Imagination is the only weapon we have in the war against reality," is one message that comes through clearly but it doesn't matter if you don't pick up on everything contained in this Mad Hatter's Tea Party because it is so much fun just watching it. It is one party you really shouldn't miss.
Reviewer: Howard Loxton