The Madness of George III
Alan Bennett
Nottingham Playhouse Theatre Company
Nottingham Playhouse
–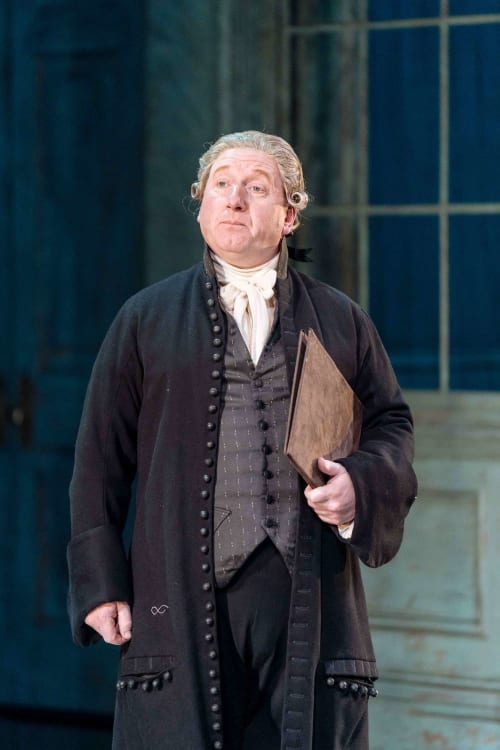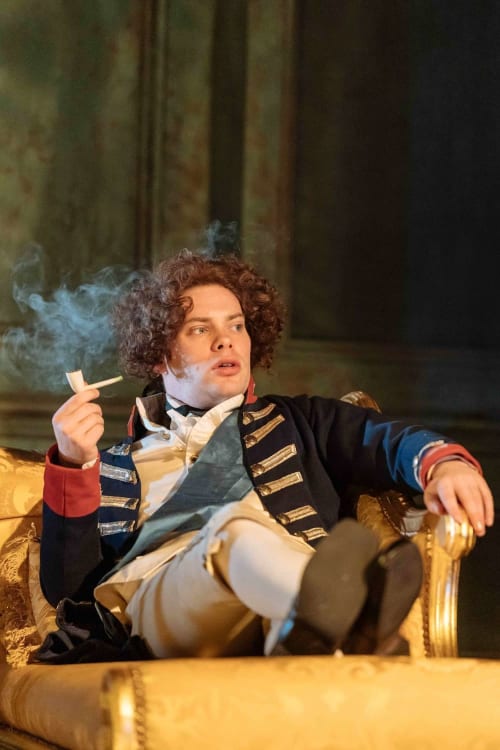 When Adam Penford became artistic director of Nottingham Playhouse just over a year ago, he stunned many people by announcing that Mark Gatiss had accepted the lead role in Alan Bennett's The Madness of George III.
What was just as eye-opening was the fact that Gatiss committed to the play more than 12 months before he was due to make his first appearance on the Nottingham Playhouse stage.
Penford and Gatiss had worked together on a play at the National Theatre. Both were keen to renew the partnership.
Gatiss, one of the most recognisable actors of his time through television appearances in The League of Gentlemen and Sherlock, is also a BAFTA winner. His decision to further his theatrical career in Nottingham has caused excitement beyond the East Midlands.
Gatiss and the other 16 members of the cast don't disappoint. This is theatrical gold.
In the programme Penford refers to Bennett as a "wonderful observer of human nature". In The Madness of George III, Bennett strips away the grandeur and pomposity of the Royal family, demonstrating that they are just as human as the rest of us.
Gatiss produces a compelling performance. He commands the stage as he shows us a king whose vulnerability and gradual descent into madness are touching and evoke pity without sentimentality.
It's a fascinating depiction, with Gatiss displaying uncontrolled body movements along with a speech impediment and nonsensical ramblings. His gradual descent into madness makes an uncomfortable yet gripping spectacle.
Adrian Scarborough is similarly imposing as revolutionary Dr Willis. While other medics carry on with their brutal, sometimes sadistic methods, Willis delves into the psychiatry of the King's illness. He is not averse to gagging George when he uses foul language. And Willis defies protocol to assert: "You are not the King, you're the patient." Scarborough thrives as the Lincolnshire outsider who persuades the king he can overcome his affliction yet has doubts about whether his approach will actually work.
The scenes featuring Gatiss and Scarborough are magnetic, two charismatic actors sparking off each other in memorable fashion.
Penford directs skilfully, bringing out all the wit and humour of Bennett's work which has taken on a greater poignancy since it was first performed in 1991. The Prince of Wales, waiting impatiently to be declared Regent once Parliament has decreed that his father is incapable of being on the throne, utters "the Prince of Wales is not a position—it's a predicament!" The line is delivered perfectly by Wilf Scolding, a feisty, ambitious Prince.
The production uses gender-blind casting, with women playing doctors and politicians to great effect.
It's all played out on a lavish, functional set designed by Robert Jones which serves as a palace, bedroom and even Parliament.
Some performances during the three-week run of The Madness of George III have already sold out. The pulling power of Gatiss and to a lesser extent Scarborough means tickets were always going to be hard to come by. Grab one as fast as you can. Otherwise get along to a cinema near you when it's broadcast by National Theatre Live on Tuesday 20 November.
Reviewer: Steve Orme