The Magic Flute
Music by Wolfgang Amadeus Mozart, libretto in a new English version by John Savournin and David Eaton
Charles Court Opera
King's Head Theatre
–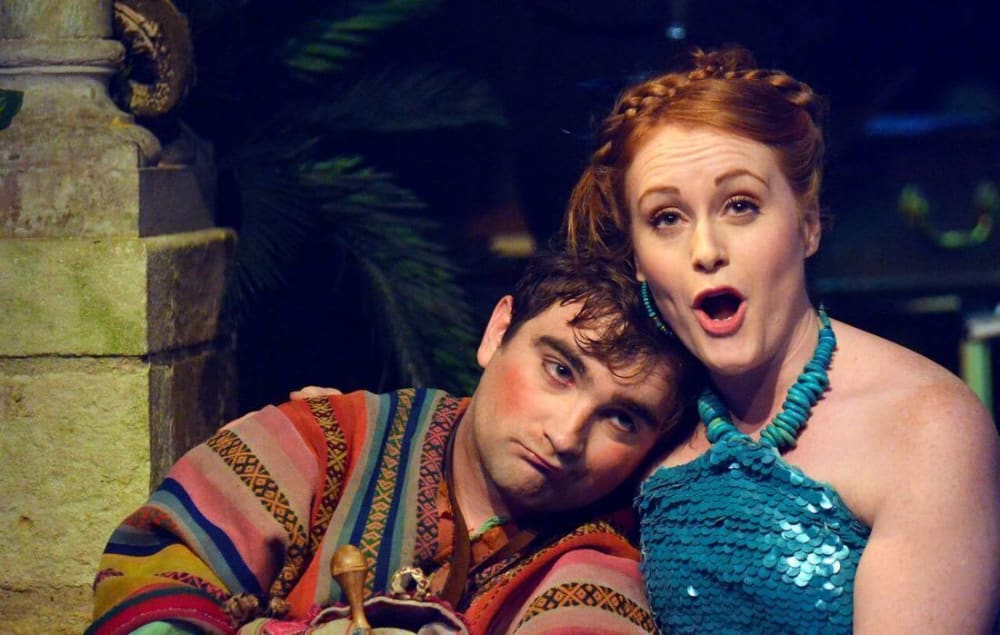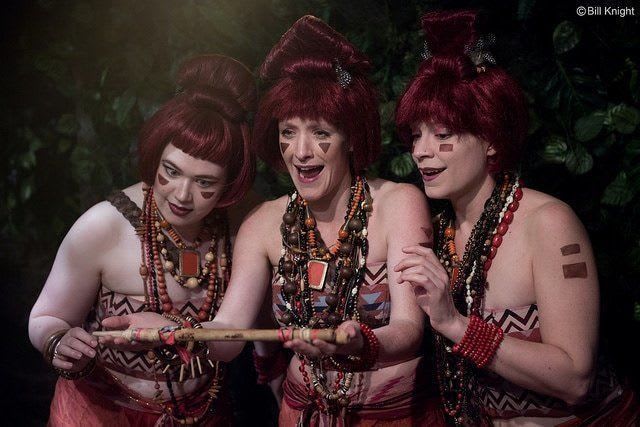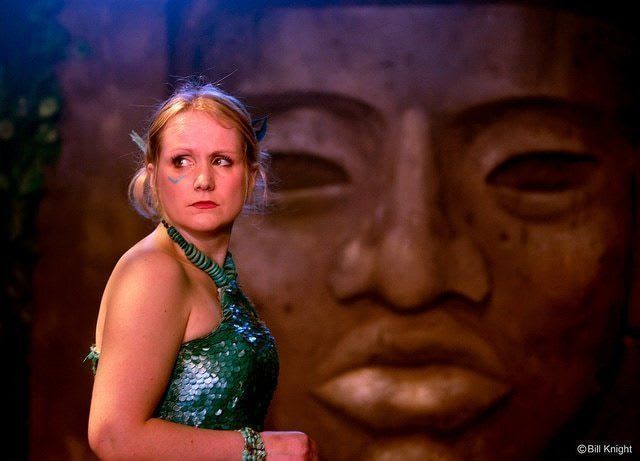 For their version of Mozart's perennially popular magical fantasy, John Savournin and David Eaton transport the audience to South America. They have turned the intimate King's Head Theatre into an Amazonian rain forest where dense trees and vines press against the walls of an ancient temple and toucans and parrots make an appearance along with imaginary serpentine monsters.
In this enveloping atmosphere, designed by Simon Bejer, atmospherically lit by Nicholas Holdridge, shafts of light find their way through thick foliage and with birdsong heard from the treetops you feel it was worth coming even before the music begins. And look, there's someone caught up in a net on the steps there. He's not moving.
Three women turn up who seem to have trapped him—they are beaded and braided with exotic markings—and we discover that he is Tamino, not a prince in this version but an intrepid explorer. He doesn't have a bullwhip or the flamboyance of Indiana Jones but he is in for a similar adventure and he's sung by Oliver Brignall, an excellent tenor.
The women rather like the look of him and free him but it is birdcatcher Papageno who is by when he wakes up so he thinks Matthew Kellett's endearingly comic Papageno is his saviour.
Nicola Said's Queen of the Night (whom Mozart marked out with those amazing top notes) sends Tamino off on a quest to rescue her daughter Pamina (Emily Jane Thomas an enchanting soprano) and charges Papageno to guide him. Not all is at it seems. The baddies it turns out are the goodies but as this is a fairy-tale story it will have a happy ending when Tamino has passed all the tests that are set for him by Julian Debreuil's High Priest Sorastro—and even for Papageno, who fails them.
This version keeps storytelling simple and with piano replacing Mozart's orchestra it's a simplified score too (though Papagano plays his own panpipes). It still sounds good and John Savournin's resourceful direction keeps it always engaging with Matt Ward as the Queen's rifle-carrying henchman Monostatos looking like a colonial officer and Polly Leach, Sarah Champion and Jennifer Begley (who also plays Papagena) a trio who play all the other triple roles and add puppetry skills to their singing.
This light-hearted, lively production seems entirely in the spirit of Schikaneder and Mozart's original and what it loses in instrumentation it gains in its intimacy. There were a number of children at the matinée I saw who were thoroughly enjoying it. It would make a good introduction to opera for newcomers for it is clearly sung and retains enough spoken text to ensure that the story is easy to follow.
Some roles are shared with other singers, who are performing depending on other commitments.
Reviewer: Howard Loxton