The Magic of Christmas
Russell Beard and Elizabeth Newman, based on a short play by Elizabeth Newman and Amy Liptrott
Pitlochry Festival Theatre
Pitlochry Festival Theatre Garden
–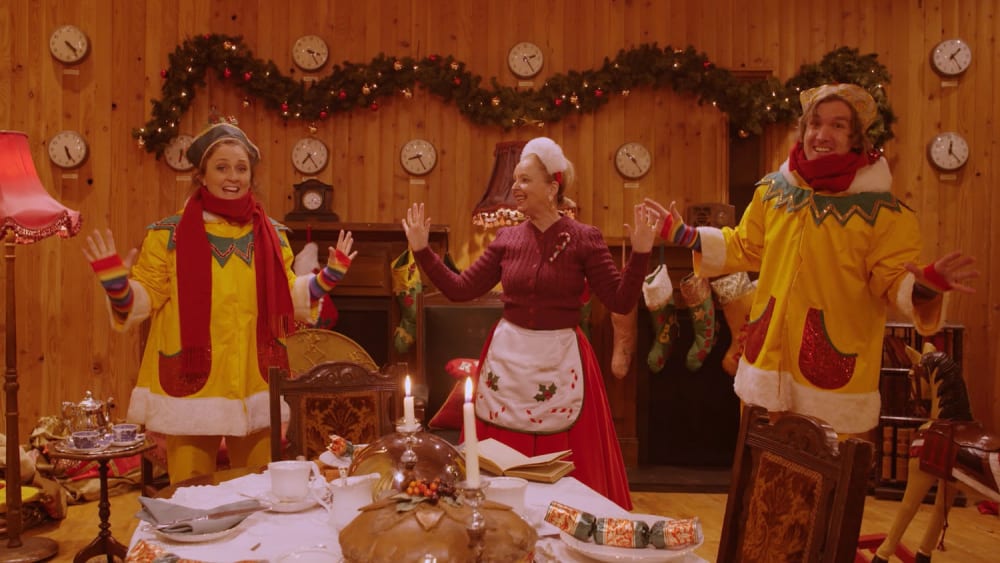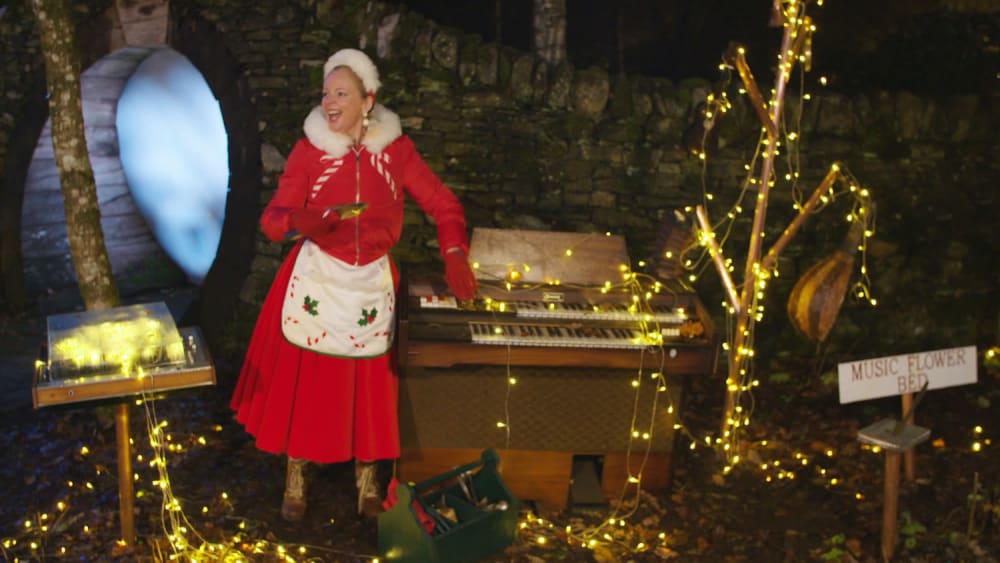 Pitlochry began the year with plans for a particularly ambitious season (as Artistic Director Elizabeth Newman told me for the BTG podcast in January) but, like many of our plans for this year, it never happened quite as expected. After releasing a series of online pieces, the theatre ends the year with this short festive offering, taking us on a tour of the theatre's picturesque grounds dressed impressively for the occasion by scenic artist Suzi Potts and the Pitlochry technical team.
We start, however, in a shop called Tinsel and Tartan in Stirling, which is apparently run by stars of TV, film and pop Colin McCredie and Clare Grogan (who knew?) who later appear in the story they introduce as Mr and Mrs Claus. Transported to the theatre's gardens, we meet two elves: Hari (Ali Watt, who will be familiar to Pitlochry audiences) and Lari (multi-talented actor-musician Barbara Hockaday, of whom we saw a lot at the Octagon in Bolton during Newman's tenure there).
Hari was playing football with the reindeer on Christmas Eve using the North Star, and it accidentally got kicked into outer space and was lost. The problem is, Santa needs the North Star to navigate his sleigh or he can't deliver any presents. Lari drags him off to see Mrs Claus who knows how to fix everything, then eventually they have to tell Santa himself and get the help of the audience to cast the spell to restore the North Star, just in time for Santa to set off.
During the panic, they do find time to stop at the giant advent calendar to sing the whole of "The Twelve Days of Christmas" with a routine that is closer to the original than the chaotic staple of modern pantos but still quite amusing in parts. Hockaday's music, mainly consisting of combined arrangements of well-known Christmas tunes, is woven into the action, adding to the festive atmosphere.
Technically, the most impressive aspect of this production is the bright, colourful set and costume design and very sturdy looking set construction, but then it may have to stand up to more than a normal stage set as it is possible to book to walk around where it was filmed (if current regulations allow you to travel there) in The Magic of Christmas promenade event. There are a few little blips with continuity and focus, but then it was filmed 'as live' even though there has obviously been some editing.
An indication of how much this production is a result of everyone pitching in is the number and diversity of job titles attached to each person; for instance, Rob Gear is workshop manager, script supervisor, best boy and clapper loader.
This is a slice of festive fun best-suited for the youngest of theatregoers, perhaps the CBeebies audience, and at just thirty minutes is about the right length for that age group. There is plenty of repetition plus songs and movements to join in with, and you can watch it as many times as you want up to 23 December after purchasing a ticket.
Reviewer: David Chadderton